In January, Southwest Institute of Healing Arts celebrates the art and business of Life Coaching.
As interest in holistic modalities grow, people from all walks of life are increasingly seeking out this powerful modality to create major positive change in their lives. SWIHA is so proud of the many talented coaches our program has guided! Our graduates work hard to identify their niche and style, cultivate a toolbox of proven techniques, and build a profitable private practice.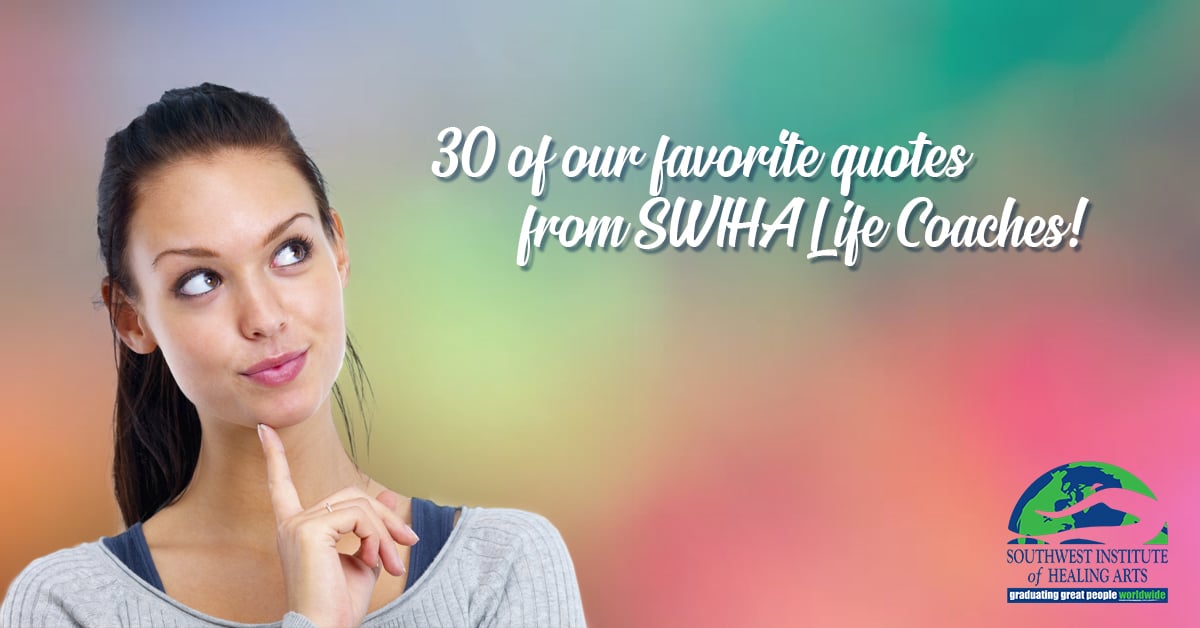 Here are thirty of our favorite quotes from SWIHA Life Coaches!
"If your soul is calling you to do the work there is a reason and a purpose. Show up and allow yourself to be utilized for the greater good of humanity. Show up & simply learn to hold space in a way in which you honor the client's innate ability to shift, to do the work." -Jillian Holper, EleMental Healing & Holistic Coaching
"Life Coaching is a sacred work because, as a practitioner, you hold space for a person that needs guidance. The person's ability to pursue their full potential is usually hindered by limiting beliefs and old paradigms." -Lori Beard, Life Coach and Author
"It gives my soul so much joy to be serving others in this capacity. It's completely energizing for me to coach others. I help them remove their blinders so they can see what possibilities exist for them." -Carmen Payne, SOAR! Transformational Life Coaching, LLC


"I was the oldest person to graduate from the 200-hour Yoga Teacher Training program and will be the oldest to graduate from the 600-hour Yoga Teacher Training program. SWIHA is for all ages! It has shown me that new, exciting interests are important at any age." -Roann Monson, Life-Long Learner and Author


"If you have a heart to give, I urge you to consider becoming a Life Coach. The beautiful thing about Life Coach Training is that you will undergo massive awakening and healing too!" -Kim O, HeartWorkUniversity
"It has impacted my life in a huge way. Life Coaching helped me rekindle my identity, settle down in this foreign culture with a lot more ease, define my life-purpose in a highly confusing time of life transition and give me a 'Tree' in my backyard when I had only hoped for dead twigs." -Rima Desai, Life Coach and Certified Counseling Therapist
"For too many years I did what I thought I HAD to do and not something I wanted to do. For most of my adult life, I have devoted my time in pursuit of someone else's dreams and goals. Now, with my own business, my dreams and goals can be achieved." -Michele Root, Life Coach and Clinical Hypnotherapist
"Life Coaching gave voice to my own wisdom and life experiences. I became more conscious of how I was connecting with others and how I was showing up in the world. Because of this shift in perspective, I was able to create a life that supports my desire to help others heal and, at the same time, honor my own journey." -Jennifer Emperador, Sol Discovery
"Life Coaching is an exciting journey; no day is like the one before it. Empower yourself to step out and embrace the wisdom that's inside." -Erin Murray, Look Within Life Coaching


"Every day, we have a choice of how we choose to show up. Stay in alignment with your work, be spiritually reliable, and know that you work for something much greater than anyone can imagine." -Maribel Hernandez, Yoga Teacher, Intuitive Healer and Life Coach


"Life Coaching radically transformed me. In the process of studying, I was coached by myself and my peers. I discovered my purpose, my strengths, where I needed healing, and how I could create the life of my dreams." -Reane Russell, Wombman Healing
"Life coaching is holding space for another to be open without fear of judgement. It's a space where they can be open, honest and themselves.The goal is to help clients reach their authentic self and have confidence in making decisions that create their best life." -Quantanique Williams, Holistic Nutritionist and Life Coach
"It's never too late to step onto your true path. Life Coaching may bring you to tears, stretch you further than you ever thought possible, strengthen you, take you on a fantastic journey, and reward you with new perspectives!" -Sue Shapiro, Finding Your Divine Spark
"It's great going to school with people who have the same desire to help others that I do. I love the camaraderie and listening to their stories inspires me to persevere despite difficulties. The faculty and staff constantly demonstrate the attitude that we are all here for the same reason—to help others find peace and healing." -Regina Bentley, Youcandoit Transformations
"This is the sign you have been waiting for; allow yourself to receive the great gift that is waiting for you. Life is what we create it to be and this is your moment to enter into a world of limitless possibilities and a greater understanding of yourself. Answer the call. It's waiting for you!" -Nicholas Stanley, Southwest Spiritual Enhancement Center
"You don't have to see the whole path. Just follow your joy, continue learning, growing and being your best self. Possibilities beyond what you imagine will happen for you!" -Liana Salas, Dreamcatcher Coaching
Can't get enough of Life Coaching? Check out our Facebook Page for replays of the daily LIVE coaching sessions we did this month.