Rima Desai is respected in the field of Psychology, holding a Master's degree from her home country of India and fully dedicating her career to helping others. When she moved her family to the United States in 2011, however, her education was not able to be used in her new home and she couldn't do the work she loved as a counselor.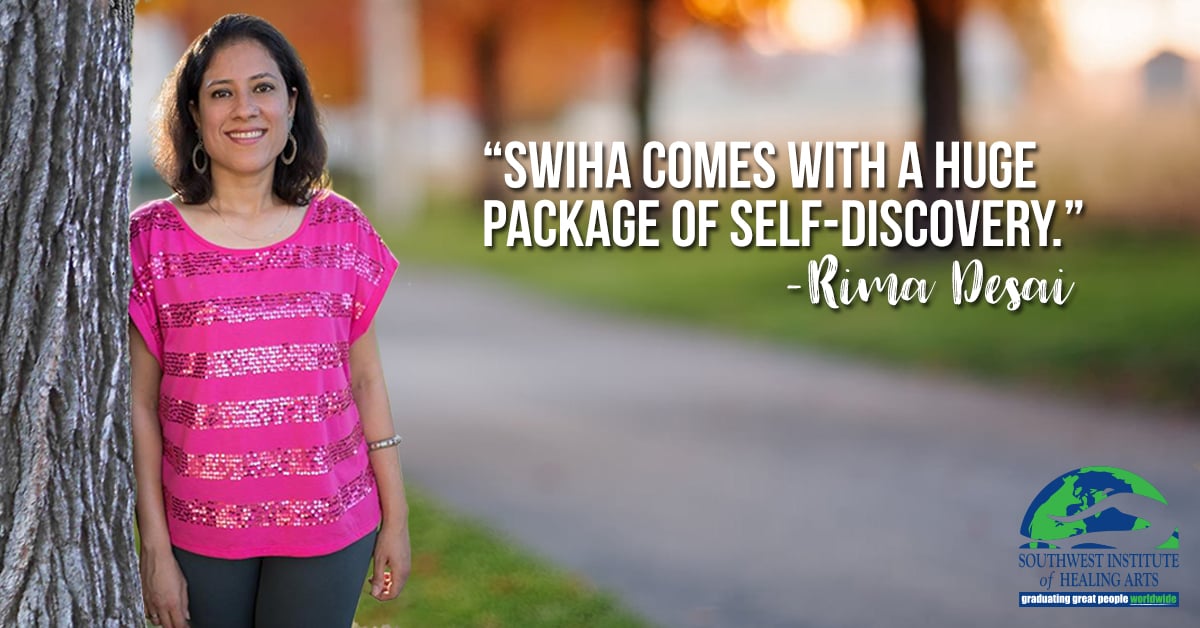 "My life and my daughter's life were endangered in massive mob riots in Africa. We had burnt up all our savings just to migrate to the USA. We were looking for a secure place to live," Rima tells us, "I faced a lot of depression from culture shock. Being a person who is very passionate about psychology and my work, it was a huge blow to my well-being. I did not have any money to borrow or invest for studies since we were new to the country, and had zero credit to get loans. Besides, I could not afford to be a student with a three-year-old daughter and no money to send her to daycare. I also didn't like the idea of handing her over to someone else. I wanted to spend time with her and make the most of the early years."
One day, Rima was told about Southwest Institute of Healing Arts and the Life Coaching program: "It sounded very similar to counseling, so I took it up. I am so grateful I took the opportunity with trust and blind faith. If I did not have SWIHA to show me the road map back then," she says "I may have still been lost and depressed."
Rima describes Life Coaching as "a powerful modality that facilitates, reconnection with one's inner self and helps develop very healthy, coping and emotional wellness strategies for day-to-day or deeper life problems."
She's found that her clients have been able to steer through rough times with a lot more ease, find their missing enthusiasm in life, develop goals and strategically solve their personal and professional problems: "I primarily serve women who experience feelings of overwhelm, depression, anxiety, lack of meaning, low self-confidence, parenting problems or struggle in their career and relationships. I utilize oracle readings, astrology and deep healing meditations to support my clients...I had a client who completely turned her life around in just sixty minutes using the Manifestation Tool [learned at SWIHA]! I added my own in-depth inquiry and potent questions when needed, and she went from feeling the need to stick to a thankless, unfulfilling job to realizing how deeply she wished to sing and immediately started singing classes."
Life Coaching has also helped Rima on a deeply personal level: "SWIHA comes with a huge package of self-discovery and work as we practice and experience sessions on each other. It has impacted my life in a huge way, helped me rekindle my identity, settle down in this foreign culture with a lot more ease, define my life-purpose in a highly confusing time of life transition and given me what I call a 'Tree' in my backyard when I had only hoped for dead twigs."
She offers this insight for anyone considering becoming a Life Coach: "Should you choose to be a 100% vulnerable during the 100-hour program, you will gain 200% from it. The more you use and apply the exercises both personally and professionally, the more clearly you will see the power of Life Coaching. The best part is that SWIHA offers so much support after you graduate!"
Rima encourages everyone to attend Gifts & Graces, an event at SWIHA on the first Friday of the month, as both a guest and future practitioner.
"It is a life-changer!" she says.