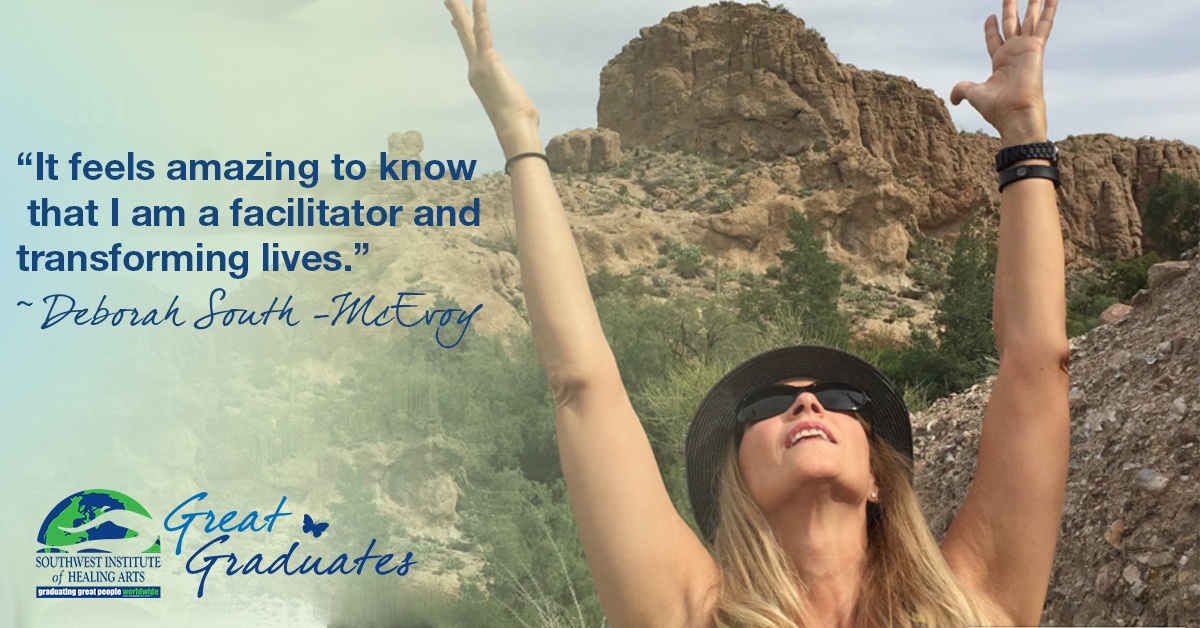 A Story from our Great Graduate Deborah South-McEvoy
Deborah South-McEvoy happily admits that something bigger than herself brought her to Southwest Institute of Healing Arts (SWIHA). She had heard of the school and was intrigued by it, and she even said that she fought the urgings to enroll. After three years of thinking about it, she finally enrolled in the Yoga Teacher Training 200-hour program along with Yoga Nidra and Yoga Gong.
Yoga was not new to Deborah. She had been taking yoga classes off and on for the six years prior to starting her teaching training. During those six years, this Leo-Lioness started to yearn for more knowledge. "I was on fire with passion and know I needed to pass the information on to others through teaching."
Since completing her training, Deborah has gone on to create Dare to Soar Yoga, LLC . She is passionate about bringing affordable yoga to the people of Casa Grande, as well as building a yoga community in the town she has resided since 1980. She now teaches beginner and intermediate yoga classes at Central Arizona College. She also facilitates a chair yoga class and a yoga nidra and gong class at the local Cancer Support Center in Casa Grande, AZ. It is the lack of yoga studios in Casa Grande that fueled her passion to go into business for herself. She rented a space at first and is now thrilled to be offering yoga at these two facilities. She still rents a space when she has opportunities to work with private clients. Her services include Beginner, Advanced, and Chair Yoga along with Gong Meditation and Yoga Nidra. Her teaching has a strong emphasis in alignment; breathing and meditation; and also integrating the physical, mental, energetic, and spiritual teachings of the tradition. Deborah believes that yoga enhances the balance between body, mind, and spirit, bringing health to the body and soul through movement, meditation, and the use of breath work as a way of relaxation and gazing inward.
Read More