A Story from our Great Graduate Deborah South-McEvoy
Deborah South-McEvoy happily admits that something bigger than herself brought her to Southwest Institute of Healing Arts (SWIHA). She had heard of the school and was intrigued by it, and she even said that she fought the urgings to enroll. After three years of thinking about it, she finally enrolled in the Yoga Teacher Training 200-hour program along with Yoga Nidra and Yoga Gong.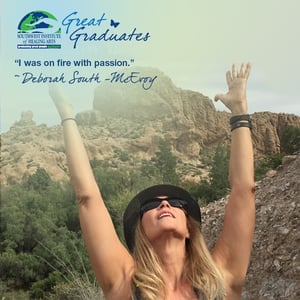 Yoga was not new to Deborah. She had been taking yoga classes off and on for the six years prior to starting her teaching training. During those six years, this Leo-Lioness started to yearn for more knowledge. "I was on fire with passion and know I needed to pass the information on to others through teaching."
Since completing her training, Deborah has gone on to create Dare to Soar Yoga, LLC . She is passionate about bringing affordable yoga to the people of Casa Grande, as well as building a yoga community in the town she has resided since 1980. She now teaches beginner and intermediate yoga classes at Central Arizona College. She also facilitates a chair yoga class and a yoga nidra and gong class at the local Cancer Support Center in Casa Grande, AZ. It is the lack of yoga studios in Casa Grande that fueled her passion to go into business for herself. She rented a space at first and is now thrilled to be offering yoga at these two facilities. She still rents a space when she has opportunities to work with private clients. Her services include Beginner, Advanced, and Chair Yoga along with Gong Meditation and Yoga Nidra. Her teaching has a strong emphasis in alignment; breathing and meditation; and also integrating the physical, mental, energetic, and spiritual teachings of the tradition. Deborah believes that yoga enhances the balance between body, mind, and spirit, bringing health to the body and soul through movement, meditation, and the use of breath work as a way of relaxation and gazing inward.
A safe space to practice yoga and meditation is what Deborah loves to create for her clients. She is able to do this with her private clients, the students who enroll through the college, cancer patients, and others who come through the cancer support center (all of their classes are free and open to the public). She has noticed that most people who come to her meditation classes are from word of mouth and followers on Facebook. It is actually through Facebook, her website, and the local newspaper that she networks and markets her business. She found the most challenging aspect to starting her business was finding an affordable space to rent. She also experienced students requesting a yoga class and then not showing up to support it. Despite these initial bumps in the road, Deborah persevered and is happy she did. Her commitment to sharing yoga is conveyed beautifully in her mission statement: "Creating a community of like-minded yogis/yoginis, so that they may become aware, courageous, and mindful in their practice, on and off the mat, by providing a safe environment that welcomes each student as an individual."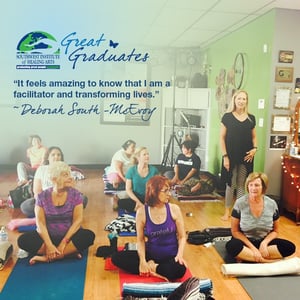 Deborah feels so grateful to be able to share the knowledge that she gained at SWIHA with her clients. "It feels amazing to know that I am a facilitator and transforming lives, so that people can come back to their true selves." Since she teaches a semester at a time to beginners, she has come to realize how empowering it is to watch students grow in their practice and in themselves throughout the 17 week, 2 times a week classes- from their breath work, posture (sitting up taller), asanas, strength, and a softness-of-being happens. "Such a beautiful transformation transpires right before my eyes." She really knows how to make beginner yogis feel safe and confident. She even has a Yoga Etiquette page on her website:
New to Yoga? Get the lowdown on courteous conduct before you head to class.
Arrive early. Getting to class about 10 minutes early can help you settle in and align your attitude with the purpose of the class. While you are waiting, you can practice a pose, do a few stretches, or just sit or lie quietly, breathe, and get centered. If you need to leave class early, let the teacher know ahead of time.
Create an intention. To help focus, you might find it helpful to dedicate your practice to a certain intention. This might be to become more aware and understanding, more loving and compassionate, or healthier, stronger, and more skillful.
Dress for yoga. Wear comfortable and non-restrictive workout clothes. Wear pants, shorts, and shirts that are form fitting rather than baggy. Choose a shirt than can be tucked in or one that is form fitting. Select pants or shorts that all you to move comfortably and fit well. Yoga is done barefoot.
Find the Quiet. Turn off cell phones. If you are on call, please leave it on vibrate so that the peace of the practice is not disturbed.
Injuries. Be sure to let your teacher know of any injuries or relevant medical information (ie. pregnancy) and definitely sound an alert if you feel pain in any pose.
It's your practice. Instead of trying to go as deeply or completely into a pose as other might be able to do, do what you can without straining or injuring yourself (ahimsa/non-violence). You will go farther faster if you take a loving attitude toward yourself and work from where you are, not from where you think you should be. If something does not make sense to you, please ask questions. Practice saucha (cleanliness). Bring a towel if you sweat a lot, and arrive clean and free of scents. Such products can be difficult for people with allergies. Wearing lotion to class can cause your hands and feet to slip on your mat.
Do not eat a heavy meal 2-3 hours prior to class. A light snack of fruit or granola an hour before class is acceptable.
Drink water before and after class. In yoga, we typically don't drink water during the practice since its purpose is to heat the body up, not cool it down. Of course, if you need to, please drink water. Always keep yourself hydrated.
Sticky mat. Bring your own mat. Having your own personal mat is more hygienic.
Stay for Savasana. As everyone settles in for a long Savasana (the ending of your yoga practice where body and mind balance), you may feel like sneaking out. Relax and stay put.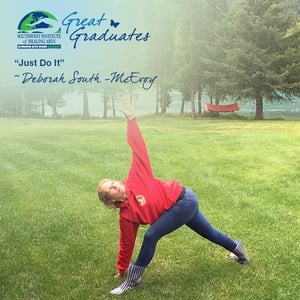 Deborah also encourages others to follow in her footsteps. She has said, "Just do It," to several of her students that have had the urgings to go to SWIHA for training. She knows that at least three have gone and several others that she has highly encouraged to do so in the past five years. "I had a student in my fall semester last year who started in my beginner yoga class at Central Arizona College. I was able to see that she wanted more, so I asked her if she wanted to start coming to my intermediate classes. She started blooming in that class, started asking questions after many of the classes. She eventually asked, 'Where do I go to learn how to teach, as these classes have been life changing to me.' I steered her to SWIHA. I sent her an email a few weeks ago asking if she had pursued the Yoga Teacher Training (YTT). Her reply was she had just finished her first section of the fast track YTT program and had signed up for the 600-hour program."
One of the most valuable and profound things that Deborah discovered during her time at SWIHA was about her ability to teach and share without having to worry. "I can get in front of people and let Spirit work through me." Getting in tune with her body and breath while taking the courses really helped her open up to her abilities. She was also able to get to a deeper spiritual place, due to meditation and Yoga Nidra.
Deborah's message for SWIHA students and graduates looking to follow in her footsteps:
"Be true to yourself. Let your teaching come from within! It's all there, just let it flow!"
At SWIHA, we teach an authentic expression of yoga with a transformational approach, honoring a diversity of practices and belief systems. Our program is based on the principle that yoga is a unifying tool for creating health, well-being and a deep spiritual connection. We provide structure, yet educational freedom, so all may find their own truth, while incorporating a 'living yoga' approach to their lives. Learn more about Yoga Teacher Training programs available at SWIHA.
Keep in touch with Deborah online!