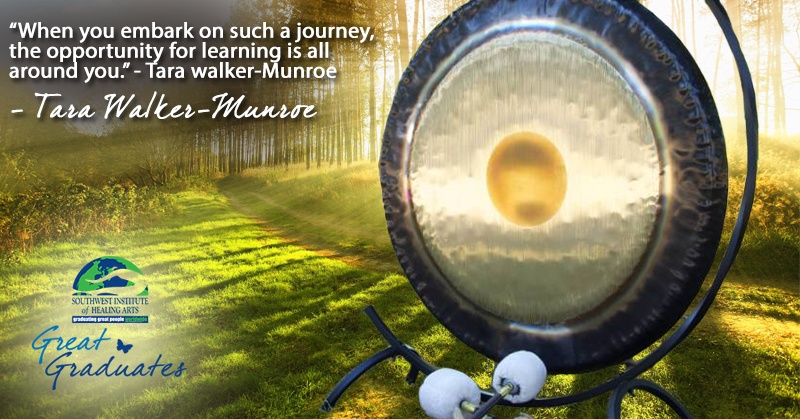 The monthly event, Gifts and Graces, is initially what brought Tara Walker-Munroe to Southwest Institute of Healing Arts (SWIHA). That evening led her to enroll in the 800-hour Yoga Teacher Training program at Spirit of Yoga (SOY), SWIHA's extended yoga school and studio. Now that she has graduated, Tara reflected that the first 200 hours of her Yoga Teacher Training were actually her favorite part of the entire program.
"There is such a sense of community that is built. So much love and compassion shared all while learning how to help others find themselves, find stillness, and cultivate peace. It's a beautiful experience. Even if someone is not interested in teaching, the 200-hour Yoga Teacher Training program is great for self discovery, self growth, self knowledge."
During her yoga training, Tara found that her favorite teachers were Laura McKinzie, Duane Armitage, Aradhana Kaur, and India Bee. She shared that they all taught with compassion and grace. During her training, she learned the tools needed to succeed and were instilled with the confidence needed to face self-doubt. "I also have to say my fellow classmates inspired me. When you embark on such a journey, the opportunity for learning is all around you." Tara wanted to add that she also loved her Polarity teachers- Gilad, Tracy, and Dina. In all honesty, she knows there are people she is leaving out so she shared that it's safe to say that she loved all her teachers at SWIHA/SOY.
Read More