Nicholas Stanley believes he was guided to SWIHA by his "Angels, Ascended Masters, and loved ones". In 2015, Nicholas was involved in a serious car accident in Long Island where he passed over into the light and came back into his body with a new awareness, mission and purpose.
"When I woke back up from not being responsive, I didn't know who I was, where I was, or what I had been doing for the past few years. I felt a sudden switch in my mind, body and soul," he explains.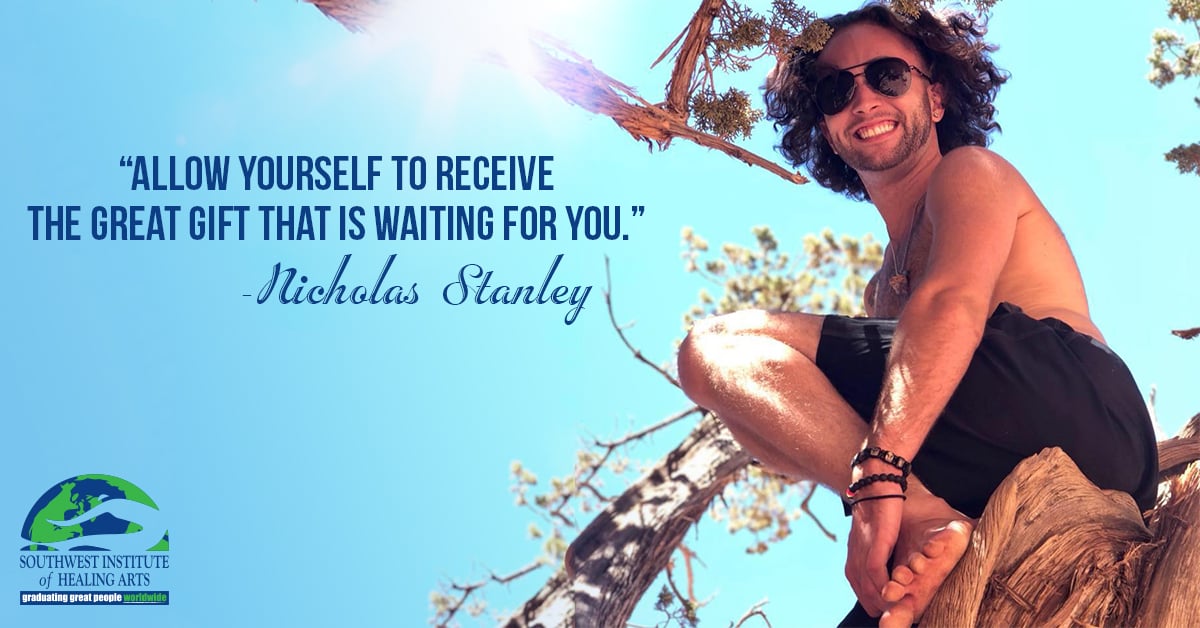 Nicholas initially moved to Arizona to receive outpatient treatment at the Zen Institute in Scottsdale. Once he'd progressed on his healing journey, Nicholas was guided to take Reiki at SWIHA and felt that he'd found where he needed to be and that he'd finally stepped onto his path. He ultimately enrolled in the Mind Body Wellness Practitioner program, choosing Life Coaching, Clinical Hypnotherapy, and Reiki as his specialities.
Nicholas now assists Recovery Innovations International by teaching stress management, meditation, yoga, dance, and providing individual coaching as a Wellness Coach for the company. He is also gaining confidence and changing lives as he builds his own personal business, Southwest Spiritual Enhancement Center. Nicholas uses Life Coaching tools, breath work, yoga and dance, energy modalities, cards, crystals, and hypnotherapy to create shifts within his clients.
"They are seeking growth from within and an understanding of who they are as a human being," explains Nicholas, "My job is to connect them to their true and highest realm of existence.
"The most profound realization I've experienced is that everyone that was in my coaching class was a reflection of what I carry within myself," says Nicholas, "I am one with myself and my environment. I have so much gratitude for my teachers, friends, and acquaintances that I have met along the way. I have a huge purpose and mission to follow through with and I am excited to be a part of this community. I have been released from the Heavens to go out into the world and spread healing energy, and to invite others to discover their own mission and purpose for the new earth that is among us."
Nicholas offers this affirmation: "This is the sign you have been waiting for; allow yourself to receive the great gift that is waiting for you. Life is what we create it to be and this is your moment to enter into a world of limitless possibilities and a greater understanding of yourself. Answer the call. It's waiting for you!"