Some people get messages very early in life that they are destined for greatness. This is the case for Becca Briley. When she was a little girl about eight years old she had a very powerful and beautiful vision. It was no ordinary dream! "It felt so real," recalls Becca tapping into a very vivid and visceral memory. "Jesus himself appeared to me, at bedside, with the simplest of message: 'You Can Fly.'"
Becca continues: "Even then I knew humans do not fly, yet those three words have served as my life's marching orders. In the vision, I stepped to my windows ledge and felt the most liberating sense of freedom. I jumped into the wind that carried me to elevations only winged creatures were capable of."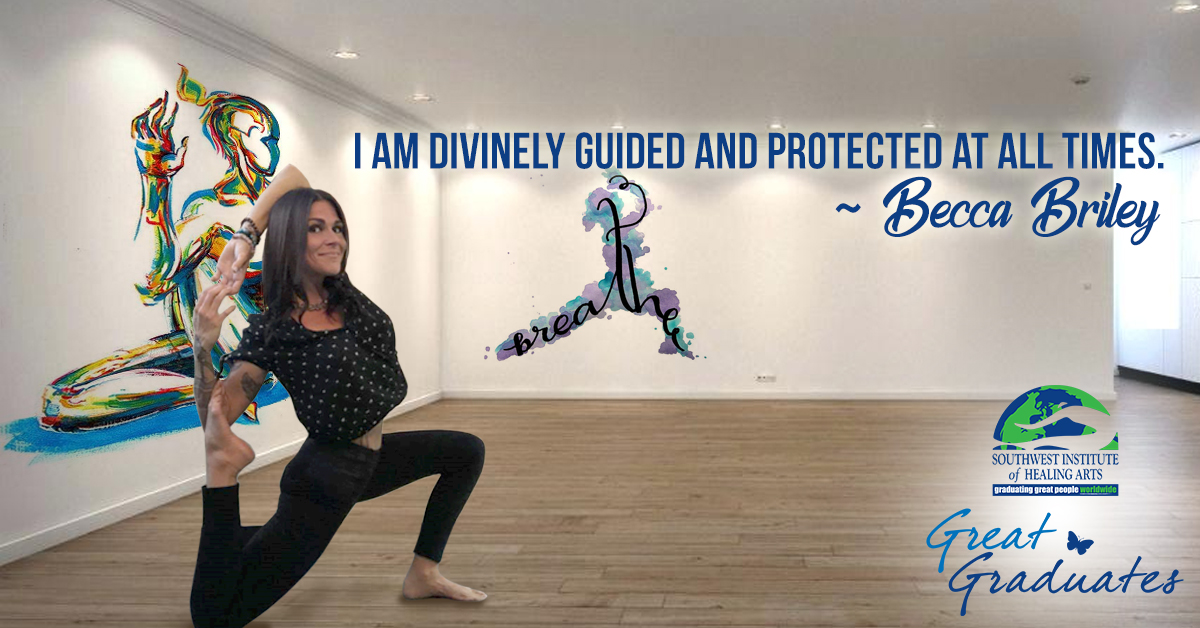 As an old soul in a young body, Becca always felt something was missing from her religious upbringing. She set off to find the truth – her truth – that resonated with the message she embodied years earlier.
She attended Arizona State University and studied Psychology and Religion, hoping to understand the mind of God. Called in a different direction, Becca eventually settled into Journalism and Mass Communications. It finally clicked for Becca and she knew, "This is my way to reach the masses and touch the minds of seekers."
In 2011, Becca brought her marketing expertise to SWIHA. She became both student and employee, completing the 100 Hour Life Coaching program.
"Life Coaching is the way that help others 'fly'! One of my greatest gifts to challenging people to believe in themselves and let go of whatever has been holding them back!" exclaims Becca, "I have the deep knowing that I'm here to live a life of service, where I fully utilize my gifts and graces. I believe our collective mission is to help humanity evolve."
When asked to describe Life Coaching from her perspective, Becca says: "Life Coaching is holding sacred space for others, so they feel safe to show up authentically, speak their truths and share openly. This is the one of the most honorable act of humility and kindness we can offer fellow human. Setting aside all labels, masks and expectations is essential in supporting clients in getting to the root of what they need. Every Coach knows that the client has every answer within them. Therefore, asking the 'right questions' is how real answers are found. Drawing out these answers is the art of Life Coaching!"
Life Coaching has personally impacted Becca: "Life Coaching is the foundation from which I serve in the world. I able to communicate better, ask the 'right questions' and serve to my highest ability. I coach myself, my son, and my family and friends, on an as needed basis. Most importantly, it reminds me of my own Divine Connection, power and purpose. It allows me to serve with grace and gratitude, not living through the ego. Life Coaching has shifted my world! I have the ability to focus on the positive, not focused on any negatives. To me, every life experience is an opportunity. Everything is a choice. And I choose to live an abundant happy life."
When asked what type of clients she works with, Becca shares: "I strongly believe that people are guided to me. I serve anyone who seeks answers. No matter who they are, where they come from, or what they are seeking, I strive to ask powerful questions, to spark the inner light and divine knowing. I serve whoever God puts in my path!"
Becca also incorporates other modalities in to her work, "I love incorporating Yoga into my Life Coaching sessions. I completed my Yoga Teacher Training this past year and love the combination I can now offer!"
Spirit Guided Healer is Becca's brand, practice and life mission. She posts daily motivational inspiration on Instagram; You can follow her on Instagram at @spiritguidedhealer.
"You are more powerful than you have been led to believe," Becca affirms, "Spread your wings… It's time to fly!"