When Jillian Holper first enrolled at Southwest Institute of Healing Arts, she kept telling everyone she knew: "'It's as if the Universe materialized a school just for me'. I was almost in shock the first couple of months!"
Jillian completed the Mind-Body Transformational Psychology degree program and believes Life Coaching and Hypnotherapy have been the tools with which she's created the best version of herself.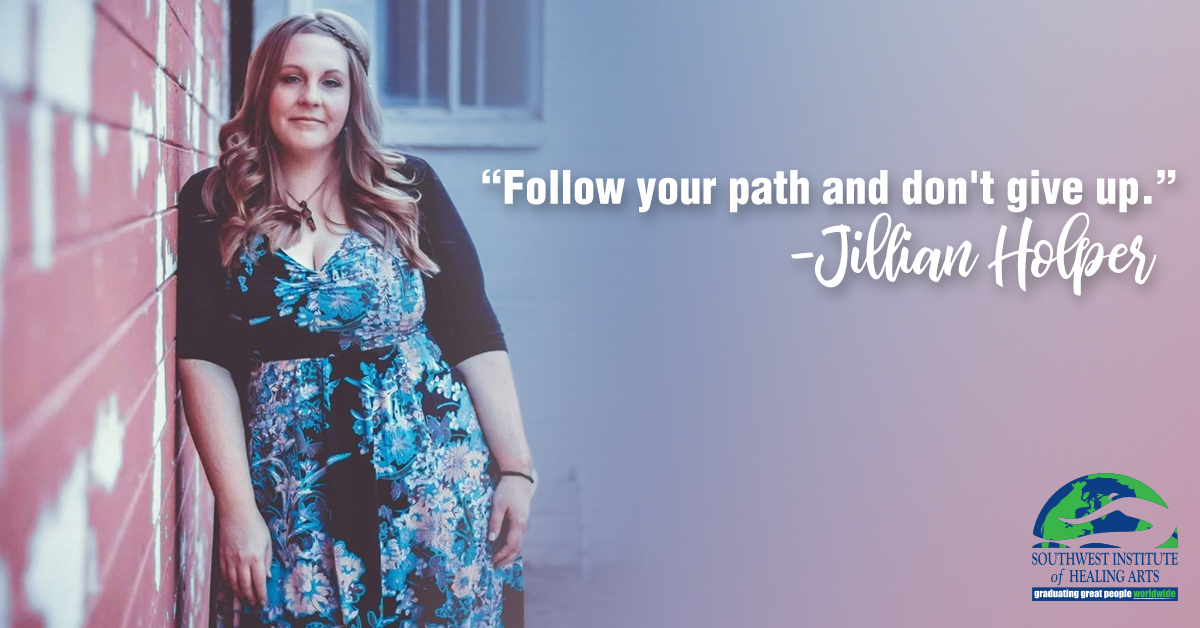 "It has allowed me to understand the way humans operate on a deeper level than I could've ever realized," she says, "Most importantly, it's given me the absolute honor of seeing what incredible things we can do when someone holds the space for us to heal. Miraculous things occur when we connect to our own innate wisdom and healing."
Jillian created EleMental Healing & Holistic Coaching, where she is a Transpersonal Clinical Hypnotherapist & Empowerment Life Coach working primarily with those whose trauma is manifesting in harmful ways.
She explains: "It most often will manifest as the client showing up for support with anxiety or depression, weight management, problem habits, phobias or just those who have tried and tried but can't seem to get past something on their own. I love utilizing life coaching techniques to draw out the core issue and then utilizing hypnosis to shift what came up with coaching. There are lots of other modalities I'll utilize such as EFT, NLP & aromatherapy but coaching & clinical hypnotherapy are my bread & butter."
"Can you tell me more about that?" and "What do you need to feel whole & complete?" are Jillian's favorite and most utilized coaching questions.
"You can practically have an entire life changing session only asking those two questions!" Jillian tells us, "When you have a client that has been working with a major limitation and/or trauma for the majority of their life, they've probably tried everything they can think of. When this is their last ditch option and literally everything changes in a single session--it's an incredible honor to witness that on a regular basis. It's equal parts humbling and empowering."
She says to those feeling called to SWIHA: "If it is what your soul longs for - do it! Follow your path and don't give up. Make baby steps if you must, but do it. If your soul is calling you to do the work there is a reason and a purpose. Show up and allow yourself to be utilized for the greater good of humanity. Show up & simply learn to hold space in a way in which you honor the client's innate ability to shift, to do the work. All you have to do is just show up for them and hold the space. That is enough."