Regina Bentley is a student in SWIHA's Mind-Body Wellness Practitioner diploma program who's using her story as a big vision for her future as a holistic entrepreneur.
A few years ago, Regina was bullied out of what was, at the time, her dream job.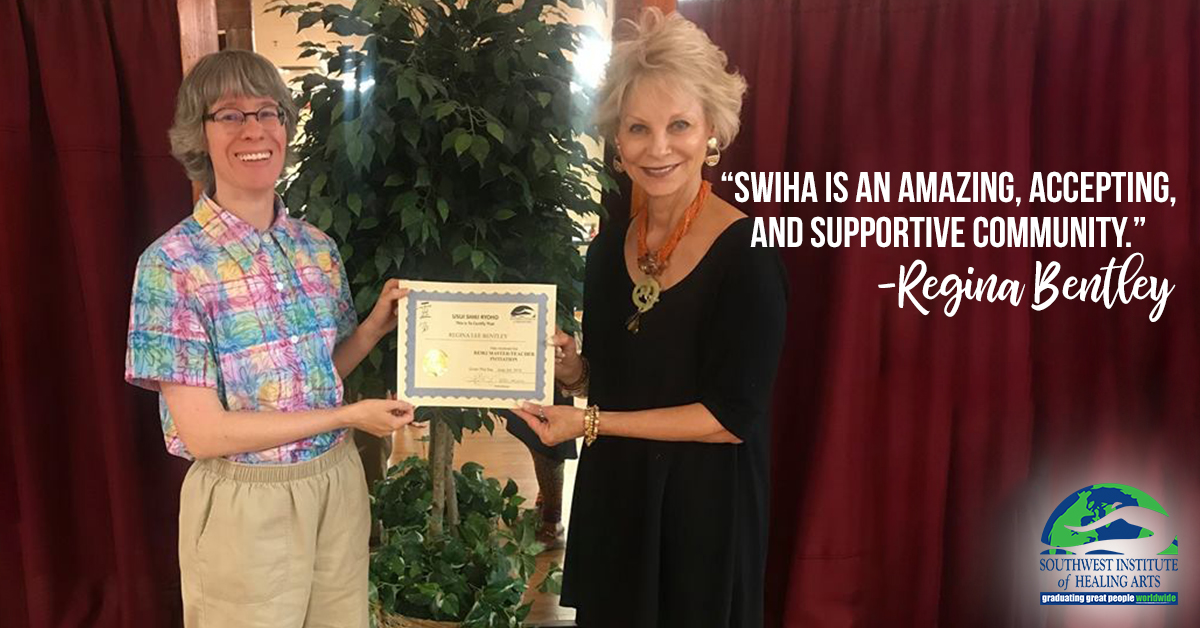 "My physical, mental, and financial health were shattered," she says, "The resulting anxiety and depression were almost unbearable. There were so many times I wished I had someone to help me make sense of what happened and point me in the direction of recovery from the trauma. The post-traumatic stress disorder made it impossible for me to continue working in the same field. So, I spent months doing research and informational interviews to figure out what to do for my next career."

With the desire to help other targets of workplace bullying as her compass, she began to search for her soul path.
"After researching multiple life coaching programs, I chose to come to SWIHA because of the ongoing entrepreneurial support they offer," Regina explains, "I knew I would need lots of help starting up my coaching practice. What impressed me most of all was that SWIHA's Entrepreneurial Success Center was available to assist both current students and graduates for the rest of their lives."
Regina is training in Transformational Life Coaching, Reiki, and Yoga Nidra. She has started a coaching business called Youcandoit Transformations where she works as a clarity coach supporting people who 'hate' their jobs.
"I'm a clarifier and a cheerleader for them as they create positive change so they can love their
work!" says Regina.
One of the things Regina values most about her SWIHA experience is the sense of unity she experiences: "SWIHA is an amazing, accepting, and supportive community. It's great going to school with people who have the same desire to help others that I do. I love the camaraderie and listening to their stories inspires me to persevere despite difficulties. The faculty and staff constantly demonstrate the attitude that we are all here for the same reason—to help others find peace and healing."
To future SWIHA graduates, Regina says: "Work hard and do your best. What you learn and become at SWIHA will change your life and the lives of those around you."