Sharon Rose lights up any room she enters—and it's not just an illusion; it's her signature glitter makeup! She finds her power in feminine energy and leaves a little sparkle wherever she goes. That simple philosophy has become the foundation for her successful coaching business, The Soul Stylist.
"To me Life Coaching is the space where we can finally take full responsibility for how our life turns out," she says, "The practice opens you up to see the experiences, emotions, people, and life itself from all perspectives. There is no room for blame or shame, only acceptance and forward movement."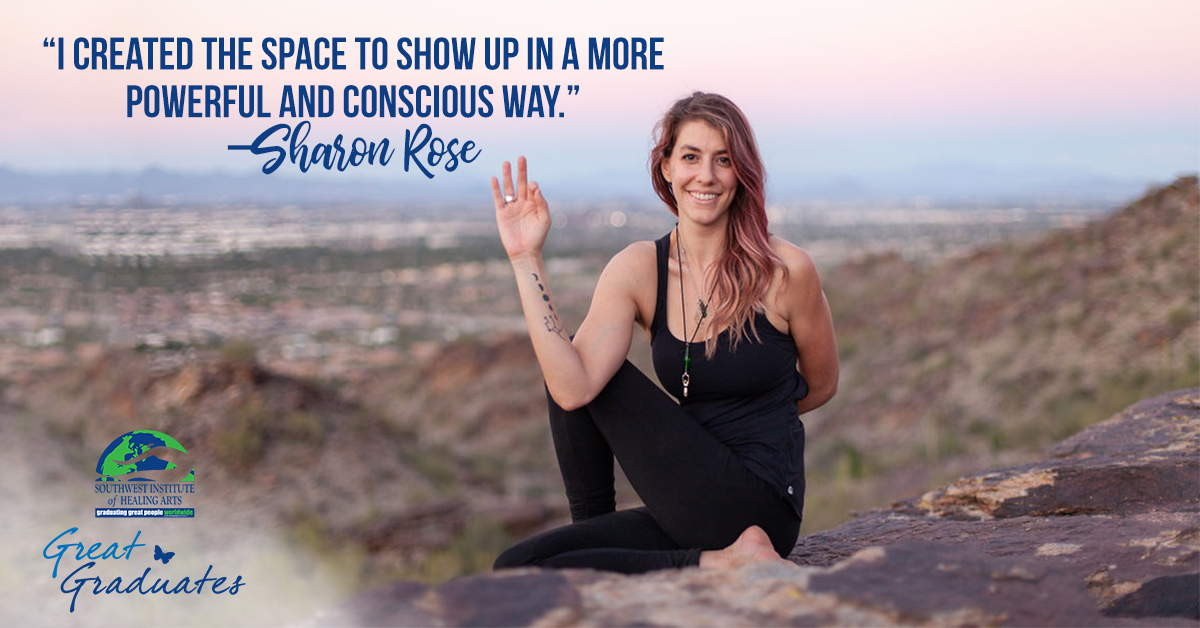 Sharon found Southwest Institute of Healing Arts shortly after making a cross-country move from the East Coast to Arizona. She was at a crossroads, unfulfilled in her current hospitality career path and seeking a major change.
Sharon tells us: "I knew when I moved out here that teaching yoga was going to be a part of my life. I was l trying out yoga studios and found Spirit of Yoga. I started attending classes and after a few months of living in Arizona, I decided that I wanted to learn more about the Yoga Teacher Training program."
She was introduced to the concept of Life Coaching by a friend who often leaned on her for support regarding business, social media and life in general.
"From there, the Universe made it happen!" she says, "Signs came in from everywhere pointing me towards the program, so I enrolled in Life Coaching and it changed my life."
Her Yoga practice allowed her to heal internally, while Life Coaching provided clarity on how to show up externally.
"[I was] digging deep and taking an honest look at myself, clearing out the limiting beliefs, and seeing where I wasn't owning my actions, emotions, and responsibilities. In doing that, I created the space to show up in a more powerful and conscious way. I was able to forgive my past, love myself, and move forward from a place of trust, clarity, and acceptance."
She has since been guided to support women in achieving their dream lives through coaching with Goddess and Feminine Spirituality, hosting events such as New Moon circles, "Coffee & Coaching", and is in the process of developing a podcast on Divine Feminine Leadership.
"I believe that when women come together a space is created for expedited deep healing because it shows us we are not alone. We have meditations and discussion around topics that some would find to be uncomfortable and I invite them to view life through the feminine perspective rather than the masculine, which most of us have been raised in. We also sit in ritual settings, setting intention, and working with energy such as Reiki to heal."
In addition, Sharon also coach entrepreneurs on getting their business vision up and running. She assist them in finding clarity, removing fears and blocks, and then creating actionable strategy to get their work in to the world.
Sharon's favorite question to pose to her clients is: "Who would you be if that thought didn't exist? What would you do?" She often utilizes the Wheel of Balance, as well.
"I love the Wheel because it allows the clients to explore what is happening in each area of their life and define it. It also gives a visual to see where they are out of balance and what affects that is having on their life. From here, we can do so much work together to heal and move them forward to creating a life they really enjoy and thrive in."
For someone feeling inspired to pursue a career in coaching, Sharon offers this insight: "Be ready to do your own work first. You must be willing to walk your talk and be in integrity. If you have expectations of your clients, you must also meet that expectation. The best Life Coaches lead by example!"