Once upon a time, Michele Root worked as an employee for a large company that supported veterans. While attending a leadership program where each participant was assigned a coach, Michele was introduced to the concept of Life Coaching.
"I found myself coaching my coach!" she tells us, "I immediately knew I needed to learn more."
As Michele thought more about it, she felt called to help military men and women transition back to civilian life and needed to find a program to help her attain that.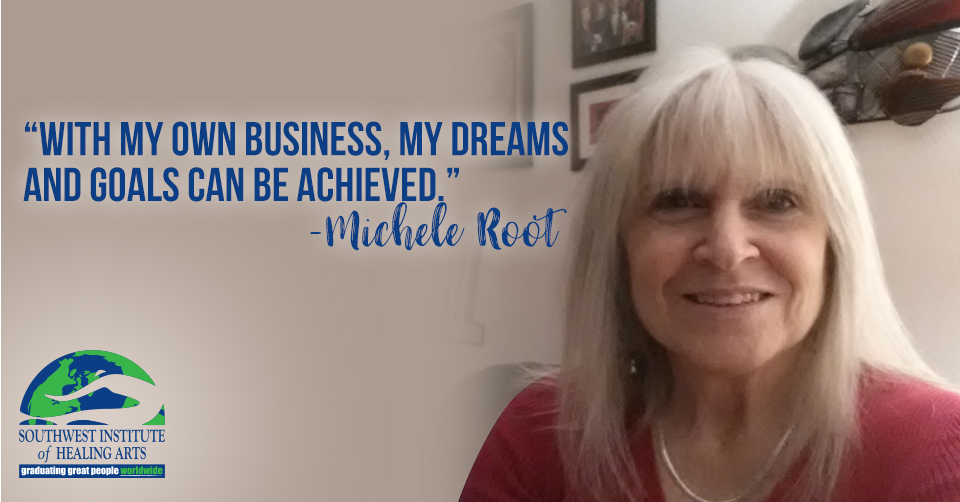 "Several people in my community said 'Go to SWIHA!' and I had no idea what I was stepping into," she says, "I attended my first nutrition class and I was hooked! At age 54, I enrolled in the Mind-Body Transformational Psychology degree program."
Michele is now a Life Coach and certified Clinical Hypnotherapist, helping those who are dealing with insecurity and diminished or non-existent self-care practices. The two modalities work together seamlessly in a powerful way. Michele discovers the root of her client's struggles through coaching questions and then releases them utilizing hypnotherapy techniques.
She shares: "My original thought was that hypnosis would be a good add-on for coaching. In reality, coaching is an amazing add-on for a hypnotherapist! The two go hand-in-hand. My hypnosis practice would not be as good as it is without my life coaching skills. It is an amazing experience to help someone clear their blind spots, remove their filters and see the truth of who they are!"
"I help my clients maximize their full potential and reach their desired results, while encouraging them on a variety of professional and personal issues," she explains, "It's amazing to see clients come in with many beliefs that no longer serve them and then watching the thoughts of not being 'good enough' vanish. It's a remarkable profession!"
Michele has not only transformed the lives of many clients, she's created fulfillment for herself!
"The direction of my life has changed dramatically," Michele tells us, "I no longer have an income based solely on what I am 'good' at. For too many years I did what I thought I HAD to do and not something I wanted to do. For most of my adult life, I have devoted my time in pursuit of someone else's dreams and goals. Now, with my own business, my dreams and goals can be achieved."