It has been a long road to get to where Tim Barber is today. By his account, that amounts to somewhere around 2,300 miles and 15 years since the graduate of SWIHA's 1000-hour Master Massage Practitioner and 200-hour Yoga Teacher Training program first realized that he wanted to become a Licensed Massage Therapist.
Tim spent most of his life in New York. No, not that New York. "Everyone always assumes I mean New York City when I tell them where I am from, which couldn't be further from the truth," he laughs. Born and raised in the Central New York region, most of his life was spent surrounded by forests and water— not skyscrapers. Houses were often a half-mile to a mile apart. The town he grew up in was so small that there wasn't even a four-way stop in it. His graduating class consisted of about 60 people. A trip to the mall would take about 45 minutes of driving to get there. The nightlife in his town consisted of crickets and lightning bugs. No, it definitely was not THAT New York.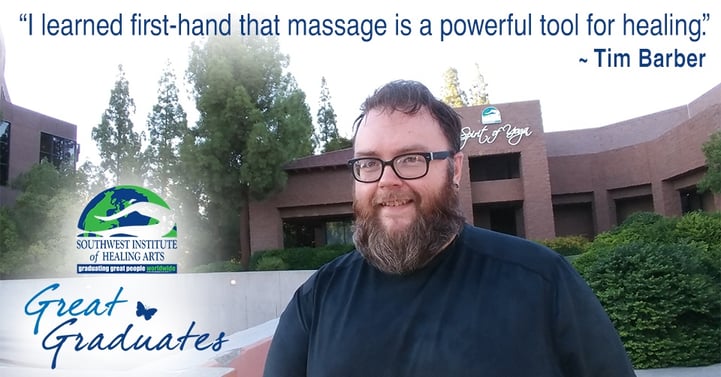 For most of his life, Tim stayed fairly close to home in Central New York. After a bit of wandering following high school, he found success in technology. He became the manager of a small computer sales and service store in a nearby college town. The store changed ownership a few times, and it eventually became his. Tim had never expected to own a business, and he soon learned how much hard work and time goes into it. Most weeks consisted of working ten hours or more every day of the week. He also went on to manage one of the largest Dial-up Internet service providers in Central New York towards the end of the days when people used their landline home phones to access the Internet instead of their cable providers.
Yet, when Tim was 23 years old, something happened that would forever change his life. While working on a computer in his office, he noticed something was wrong with his vision. "The screen looked like a funhouse mirror. The text was all distorted and difficult to read; I was really scared," Tim shared. He went to several doctors before he finally found one that understood what was happening to him. The doctor diagnosed him with ocular histoplasmosis syndrome, a condition where abnormal blood vessels grow underneath the retina, causing distortion and scarring of the retinal tissue. His options were limited and expensive, particularly since he didn't have insurance. After several laser surgeries, the spread of damage was halted after destroying most of the central vision of his right eye. "The loss of vision in my right eye was very hard to accept. I had permanently lost depth perception, I suffered from frequent headaches, especially when reading, and the doctor told me that it could possibly spread to my left eye at any time." With the threat of blindness looming over him and suffering from constant headaches when doing his job, he soon left his career in computers behind.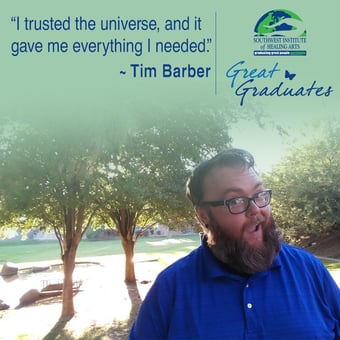 Reflecting on that time, Tim says, "I became a professional student for a while. I didn't know what I wanted to do. I knew I needed to find something that I could do even if I lost my vision." A year or two later, his girlfriend began studying massage at a highly respected school an hour away from where they lived. He started teaching himself Anatomy and Physiology so he could help her study, and she would practice what she learned on him on the weekends when they got together. "I loved it. I loved what she was learning and what she could do. I began to see this as my possible career move that would enable me to make a living and be happy no matter what happened to my sight." This idea stayed on his mind as he continued taking math and science classes in college.
Two years later, a second life-changing event struck. After so many years of sitting at a desk all day long, Tim's back went out— and stayed out. The pain was excruciating, and there were times that he didn't know if he could live with it. At 25 years old—and after several months of working with doctors to try to avoid surgery—he had the first of two L4-L5 laminectomies that he would end up having within a span of the next year. "I tell you one thing, if you ever end up having to have back surgery, make sure you are dating a massage therapist at the time. I learned first-hand that massage is a powerful tool for healing in the following months," he said.
Life went on, and his back got better; however, the pain didn't fully go away. It was something Tim thought would always be with him. Through a series of random meetings and making new friends, Tim met some people from Phoenix. "I was ready for a change. I had spent all of my life in New York, and I was sick of the cold, so I decided to do something crazy and leave everything behind to start my next chapter in the desert," he said. And he really did leave everything behind. He packed just two bags, and he got on a plane with his 75-lb dog of seven years, Venus, sitting on his feet the whole way. "I didn't need anything else. I had some clothes and my best friend, and I was ready for whatever life had to offer me. I didn't know the words for it then, yet I trusted the universe, and it gave me everything else I needed."
A few weeks after moving to Phoenix, Tim enrolled at SWIHA. "I knew now was my time to start pursuing my dream of becoming a Licensed Massage Therapist, and I knew immediately after walking into SWIHA for the first time that this was where I wanted to do it. The energy and atmosphere of SWIHA felt like home," he shared.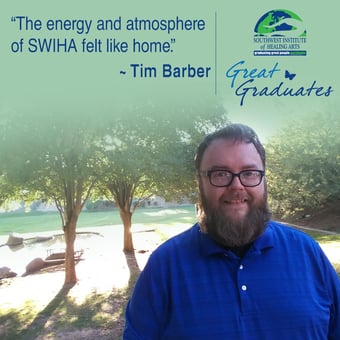 Even though he thought he knew which direction he wanted to go with massage—going into medical massage and working with chiropractors—SWIHA, as it often does, opened his eyes to things he didn't even know existed. Tim's first elective was Thai Massage with Loren Evans. Sharing his wonder at the abrupt turn his mindset took, he shares, "Thai blew my mind! It was my first real introduction to energy work and the mind-body connection. Giving and receiving Thai massage is like flying and napping and loving and being loved. It is calming and exhilarating. I don't know if I can ever thank Loren enough for the wonderful gift he gave us in teaching that class. It changed my mind on what massage is."
After Thai, Tim changed his entire schedule to try a little bit of as many modalities as he could possibly fit in. Tim said that, "I wanted to have the biggest toolbox I could possibly have. I wanted to learn everything!" That's exactly what he did, too. By the time he was done with his program, he had taken classes in Acupressure, Cranial Sacral, Deep Tissue, Hypnotherapy, La Stone, Moxibustion, Myotherapy, Myofascial, Polarity Therapy, Reflexology, Reiki, Rock and Unlock, Swedish, Swedish Sedona, and Thai Massage and continues to add more. "SWIHA gives you the opportunity to become the kind of practitioner that YOU want to be. There are so many options, and you get to really grow into your program and discover who you are as a therapist."
A few months into the program, Tim realized something else: "About halfway through the massage program, I realized that my back pain was gone. For ten years, I had lived with a dull ache and stiffness and thought that it would always be that way. Giving and receiving so much massage healed me. I'm sure it was a combination of all the amazing work I received from other students and how much stronger my core became from giving them that same work. I will forever be thankful for that."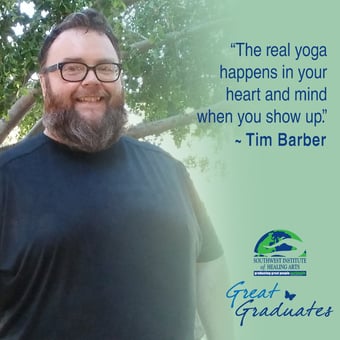 Tim then later went on to do the 200-hour Yoga Teacher Training program at Spirit of Yoga after a conversation with the school's founder, KC Miller. Sharing his thoughts at the time, Tim remembers the conversation they had about him starting the program. He had told her that he was interested in the program and was concerned that he wouldn't be able to do it because he felt that he was too big and not flexible enough. He said, "KC told me, 'Tim, your body just allows you to physically be there. The real yoga happens in your heart and mind when you show up.'"
Tim gets a little emotional thinking about all of his experiences as a student at SWIHA and SOY: "Whenever I talk about the programs, I tell people that my experience in the Massage program at SWIHA was the best time of my life, and that my time in the YTT program with Laura and India was the most beautiful time in my life. SWIHA has given me so much more than a career. It has given me strength, healing, love, and family."
Tim has come full circle and now works for SWIHA as well. He is the blog coordinator, and invites you to contact him at TimB@swiha.edu if you or someone you know would like to be featured as a great graduate. He also serves as a Licensed Massage Therapist in the SWIHA Massage Clinic. You can schedule a Transformational Massage with Tim by calling the clinic at 480-966-4425.