Courtney Long knew three things. First, that she had a big mission in life; second, that she wanted to help; and third, that she simply didn't know how! As a child, she felt restless in the world, always sensing that her fine-tuned sensitivity, her desire for the solitude of the outdoors, and her "weirdness" made her different from the other kids in Lambertville, Michigan.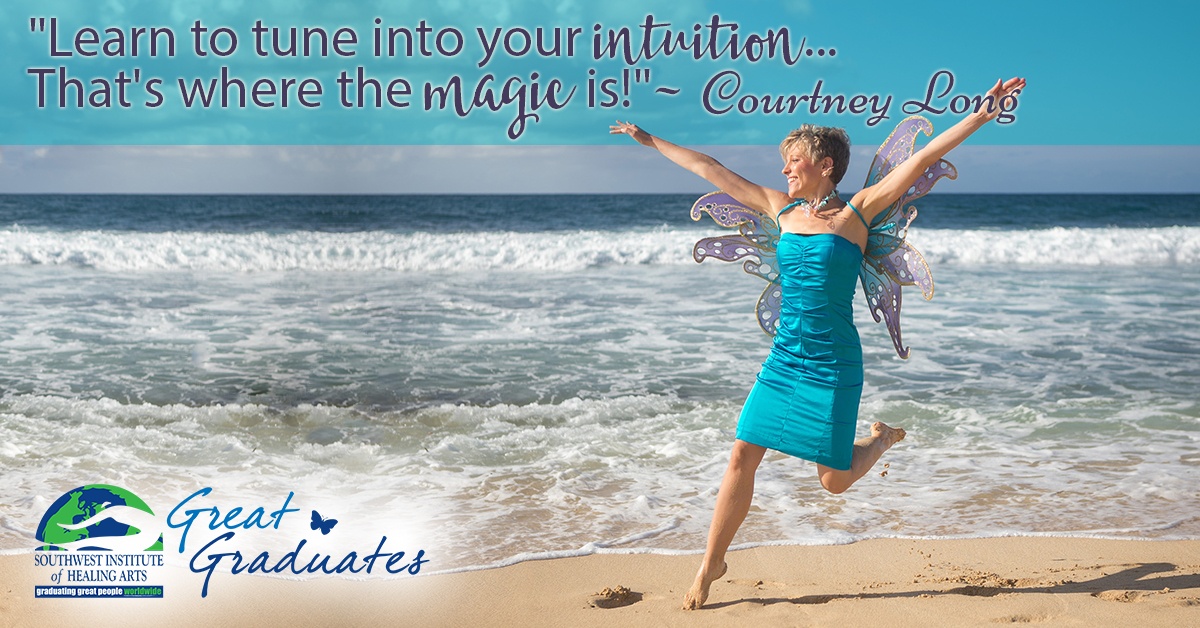 Longing to somehow fulfill that mission—and to overcome the depression, anxiety, and body image issues that had crept into her day-to-day life—Courtney wrestled through the loneliness of growing up as an outsider in a small town and finally arrived at the University of Michigan, where she pursued her Master's Degree in Social Work. Still, she wasn't quite satisfied…
"I knew that social work wasn't my true calling, yet I didn't know what was," Courtney explains. "In my last year of graduate school, I attended a women's empowerment workshop. I LOVED it. The speakers were phenomenal, and we did lots of self-reflection exercises. I learned so much about myself, and something lit up inside me. The speakers told us they were life coaches. I had never heard of life coaching before, and I was super intrigued by it."
Becoming a Life Coach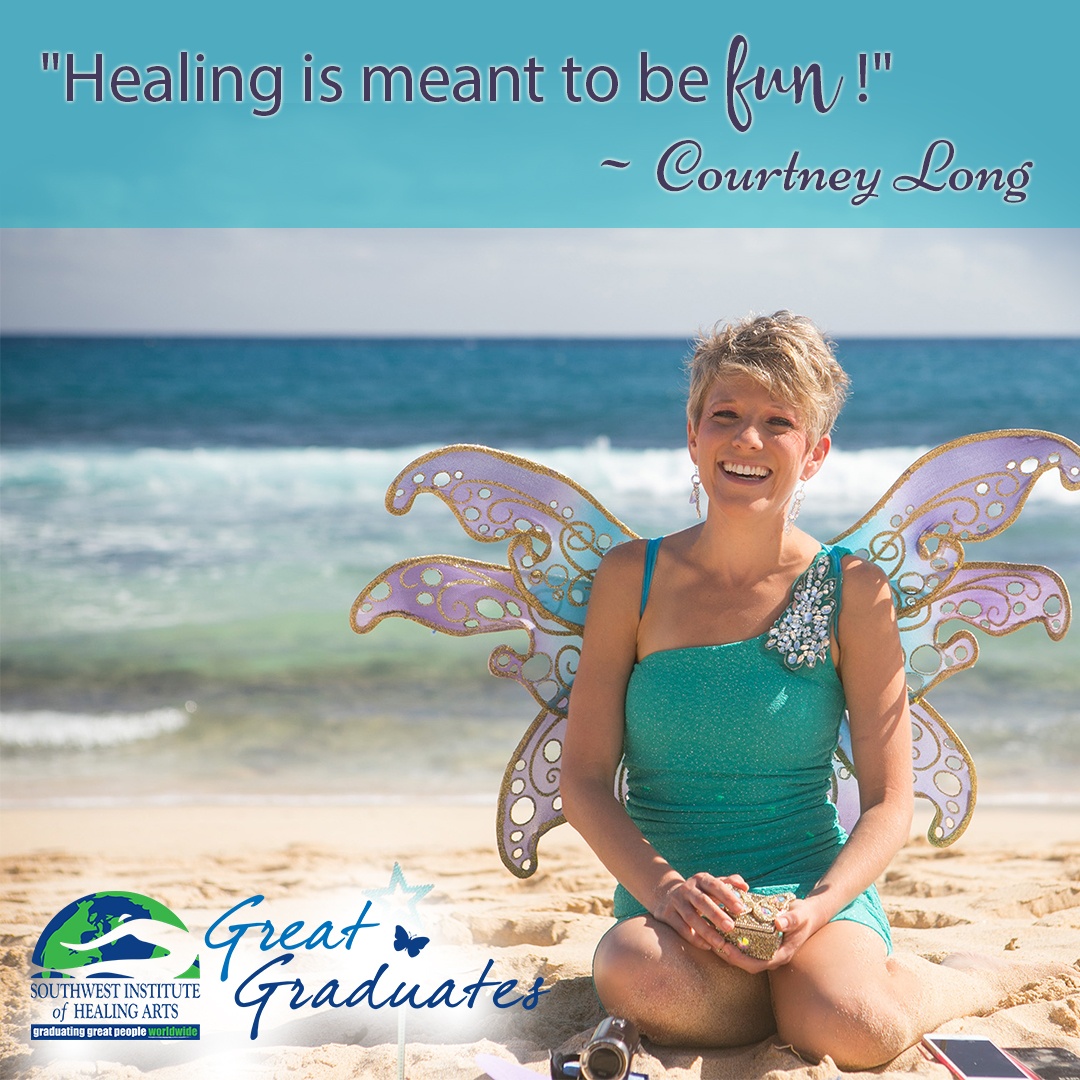 After completing her degree, Courtney made the daring move to Arizona to try her hand at social work, yet quickly found herself constantly stressed and overwhelmed by the unrealistic workload. One day, she heard a radio commercial speaking about the powers of becoming a life coach through SWIHA. Finally, after so many years of feeling uncertain, Courtney knew exactly what she had to do: she enrolled immediately in the Life Coaching Program at SWIHA and attended classes in the evening while working her social work job during the day.
"It was like the clouds parted in the sky and the sun stated shining through," Courtney remembers. "My heart felt so happy because I had found my true calling. I wanted to help people discover their inner strengths, light, and gifts."
Yet, the breakthroughs didn't end there. Courtney also graduated from SWIHA's programs in Hypnotherapy and Transformational Reiki—modalities which have entirely shaped her private business, which is now her full-time job! "During my time at SWIHA, I went through tremendous personal growth because I was connecting with my authentic self," she says. "SWIHA helped me discover my life purpose and calling of helping people in deep, meaningful ways."
Angel Whisperer and Fairy Guide
Two years into the formation of her business, Courtney received some powerful intuitive guidance that led her to start working with Angels. After being introduced to Angels during an acupuncture session with her naturopath, having the book Angel Numbers shown to her by a client, and then learning that Doreen Virtue was going to be performing her final Angel Therapy Practitioner® training in Kona, Hawaii, Courtney decided to take the leap. "Something in me just knew I had to go," she remembers. "I thought I was crazy at the time, and I thought I would never tell anyone about the workshop. I had no idea that my life purpose involved working with Angels!"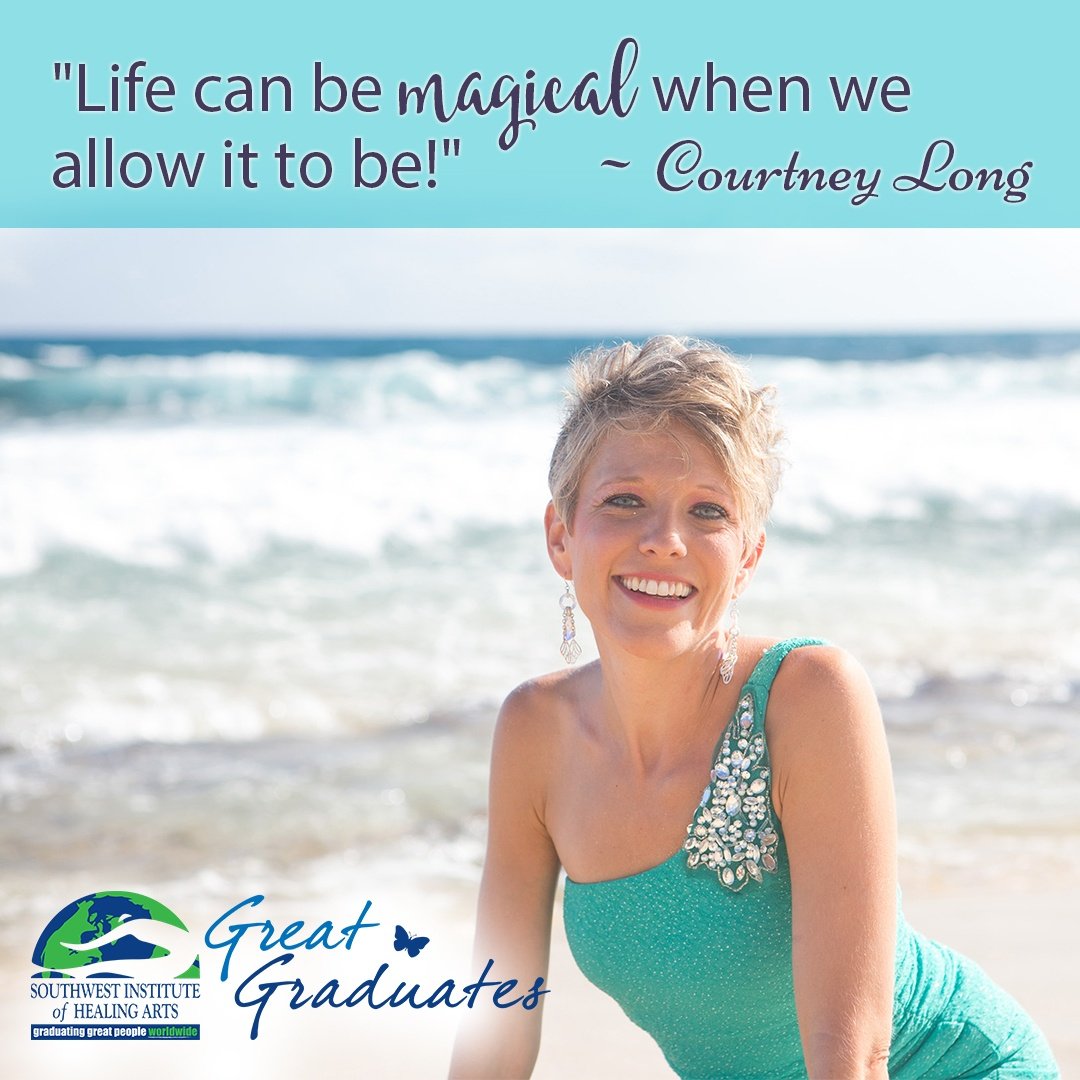 Despite her initial hesitance, Courtney started doing Angel Readings for clients as soon as she returned from her ATP training in Hawaii, and within nine months she was teaching classes about the Angels—beginning with a course focused on "Life Purpose with Archangel Michael"—and offering group readings.
For those unfamiliar with the concept, Angel Readings are conversations with the unseen guardians that support your life's journey; this dialogue is facilitated by an Angel Team Member who serves as the intuitive "middleman" between you and the Divine. Ultimately, they are meant to be an "uplifting energy healing experience" which help you feel "deeply understood, loved, and empowered" and lift you into "higher vibes of love, joy, abundance, inspiration, and new possibilities for your life." Courtney encourages those seeking out an Angel Reading to ask the questions that are closest to their heart… questions like:
"What's my Life Purpose?"
"When will I meet my soulmate?"
"Am I a healer?"
"Do I have subconscious blocks from past lives?"
"How can I be happier?"
Regardless of the questions asked, clients will receive answers from beings with higher dimensional frequencies—be it Angels, Ascended Masters, Departed Loved Ones, Spirit Guides, or even your own Higher Self.
In fact, Courtney is quite experienced in communicating with another element of the unseen: Fairies! "Fairies are nature angels and the guardians of Planet Earth," she discloses. "They have two missions. One is to help care for the planet and nature, and the second is to help us humans raise our vibrations to love, joy, and abundance. They help us be confident, believe in ourselves, take action, have fun, and keep things light so that we can fulfill our Divine Life Purpose and make the world a better place. Fairies are master manifestors and love helping us manifest whatever we need to fulfill our Divine Life Purpose. They may be small, yet they are powerful!"
Doreen Virtue's training introduced Courtney to Fairies, and she distinctly recalls feeling the presence of them while in Hawaii and even seeing colorful fairy orbs—smaller than angel orbs, closer to the earth, and sprinkled with red, green, and blue lights—in some of the photos she had taken outside. While her primary focus has been on the Angels, she has noticed the chattering of the Fairies is stronger of late. "Since I have added the Fairies to my work, I have noticed how joyful and light they are," Courtney says. "They want to help us humans now more than ever."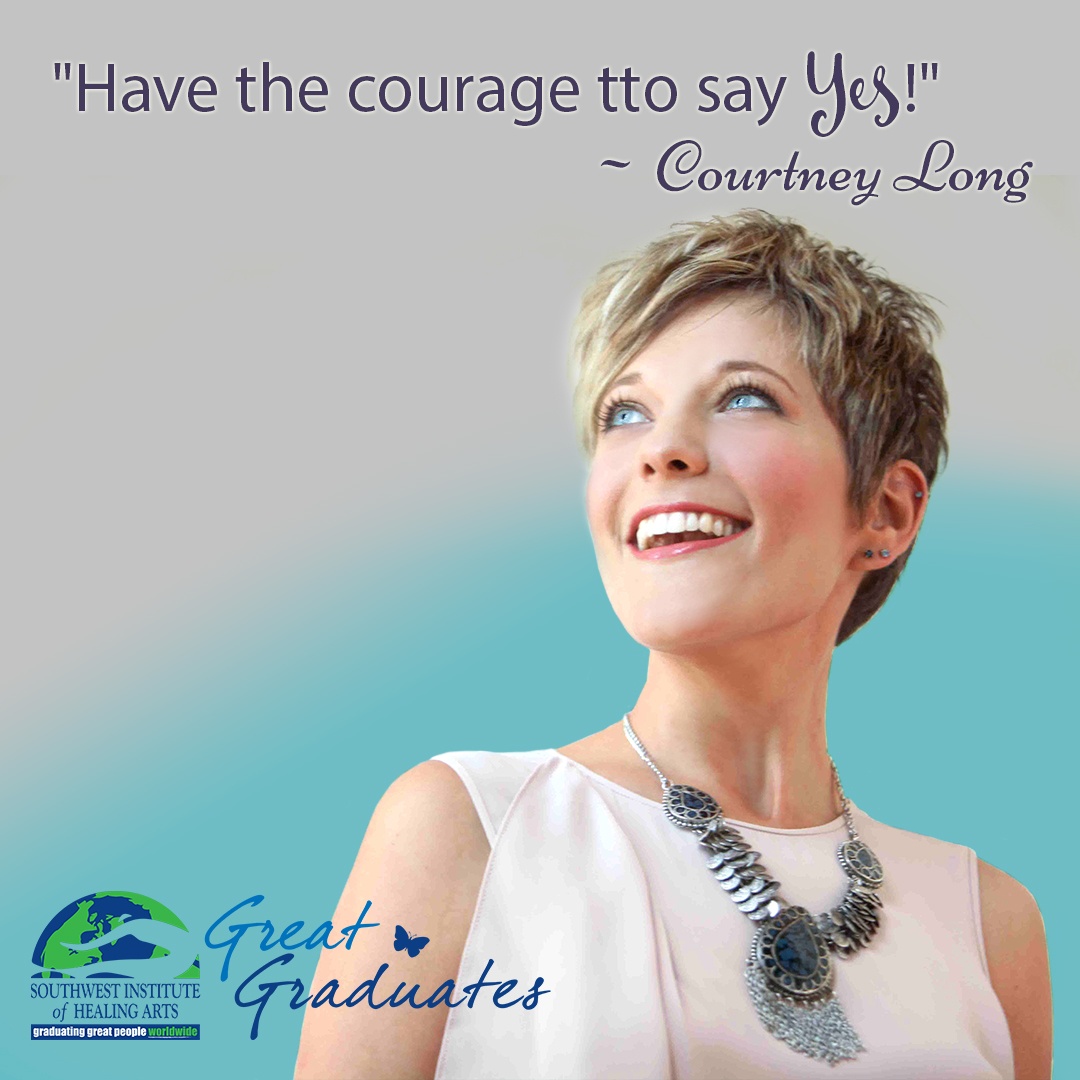 From Student to Teacher
After many years of working with clients privately, Courtney has now shifted her focus to teaching through her online school, which offers classes like "Illuminate Your Purpose: 12 Weeks to Clarity and Confidence in Your Calling" and "The Angel Abundance Ambassador Club: Manifest Money for Your Mission of Making the World a Better Place."
She also hosts a weekly YouTube video called "Angel and Fairy Insights," led the 2017 Fairy Walk at Mishka Productions Celebrate Your Life event in Sedona, operates a Fairy Meditation Circle (which is available both online and in-person in Phoenix, Arizona), is the author of two books (Authentic and Free: A Journey From Shame to Self-Acceptance and Rejuvenating Refuge: Uplifting Journal for Caring Warriors), and has creatively contributed to many other international bestsellers. Talk about a whirlwind of success!
Yet, of all her many gifts and specialties, Courtney's favorite thing to do is teach retreats. "People have such deep transformation during them," she explains. "I have taught several five or seven-day retreats in Sedona and Hawaii. They are SO fun and magical. In my last retreat, people had such incredible breakthroughs: healing old, deep hurts, discovering their gifts and purpose, and creating their most abundant, meaningful, joyful lives. Life can be magical when we allow it to be!" Because of the sweeping success of these offerings, Courtney is proud to say that she will soon be expanding her retreats to be offered in new locations, including Ireland and Spain.
Courtney's approach to life is now clearer than ever: "I have found that I can have a ton of fun while I help people. Healing is meant to be FUN!"
Advice from Above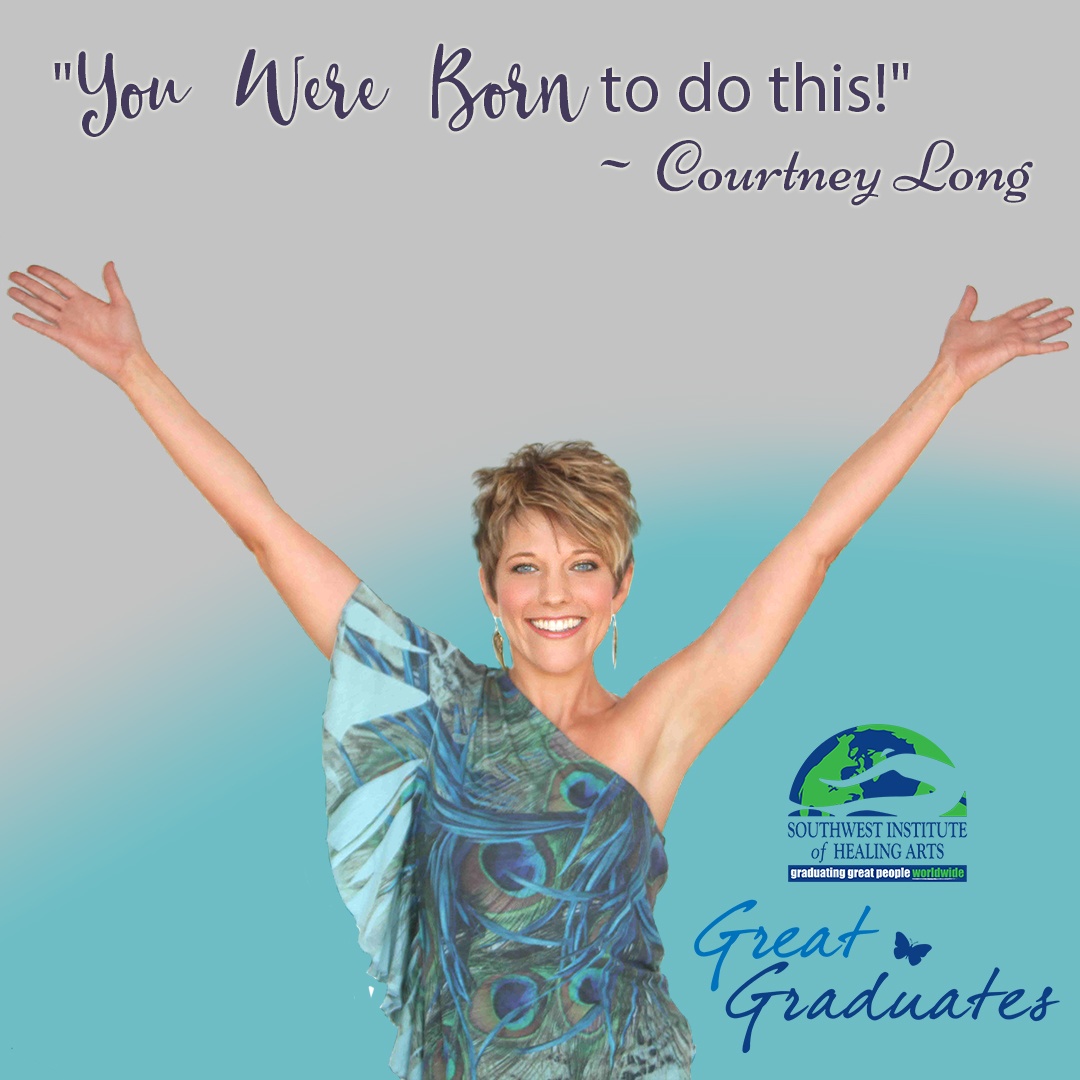 Courtney cites many of the mentors she had at SWIHA as powerfully shaping her path:
"The greatest lesson I learned at SWIHA was to be spirit-guided and trust the guidance of my soul. I love how KC Miller teaches us to ask, 'How may I serve?' That question has helped me so much over the years. I love how Life Coaching instructor Richard Seaman taught us how to tune into our head, heart, and soul to differentiate our ego's guidance versus the guidance of our soul."
So what bold advice does Courtney—who herself once taught Public Speaking, Alternative Lifestyles and Diversity, Stress Management, Support Group Facilitation, and Seminars and Presentations at SWIHA—have for future SWIHA students?
"Learn to tune into your intuition, then have the courage to trust and act upon it. That's where the magic is," she proclaims. "Be willing to let go of logic and say 'YES' to the adventure that your life purpose has in store for you. Your path will be revealed to you when you have the courage to say 'YES' and take action. You were born to do this!"