Before SWIHA, Carrie Guthrie-Gray was doing a job that would frighten most people to death: drawing blood. As a phlebotomist working for the same company for 15 years, she had great pay, great bonuses, and paid time off. Yet, despite the nobility of performing a service that is critical to the diagnosis and treatment of health conditions, Carrie found herself bored by performing the same task day-in and day-out with little variation.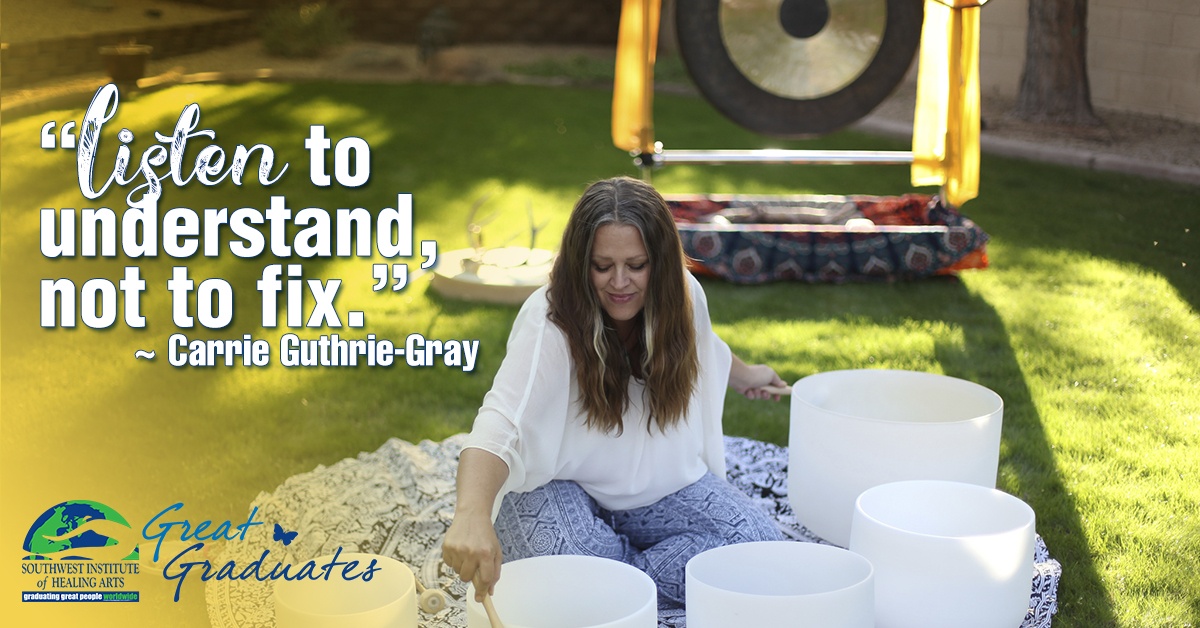 "When working in the medical field, you are only allowed to spend a certain amount of time with each patient," Carrie reflects. "It was like moving cattle. I was unable to connect with people, or if I did connect with someone, I had to usher them out of the room shortly after. When I worked in the oncology department, there were many occasions when I was the first person that the patient saw after being diagnosed with cancer, and they would literally start bawling in my chair. I wanted to spend more time with them. I wanted to listen and hold space for them, yet I wasn't able to do it in that setting. It broke my heart. It was draining the life out of me to be so pulled to hold space, yet not allowed to do so."
The final straw was watching her own mother's health deteriorate after a cancer diagnosis. In the process, Carrie became aware of how little control her mother had over her own health and how her lack of knowledge and confidence was desperately affecting her ability to make choices for herself—including choosing how to live out the rest of her life. In the interest of educating herself about alternative healing and being able to share this information with her loved ones, Carrie enrolled in the Holistic Nutrition and Western Herbalism programs at SWIHA, which then led to her completing her Hatha Gong training, as well.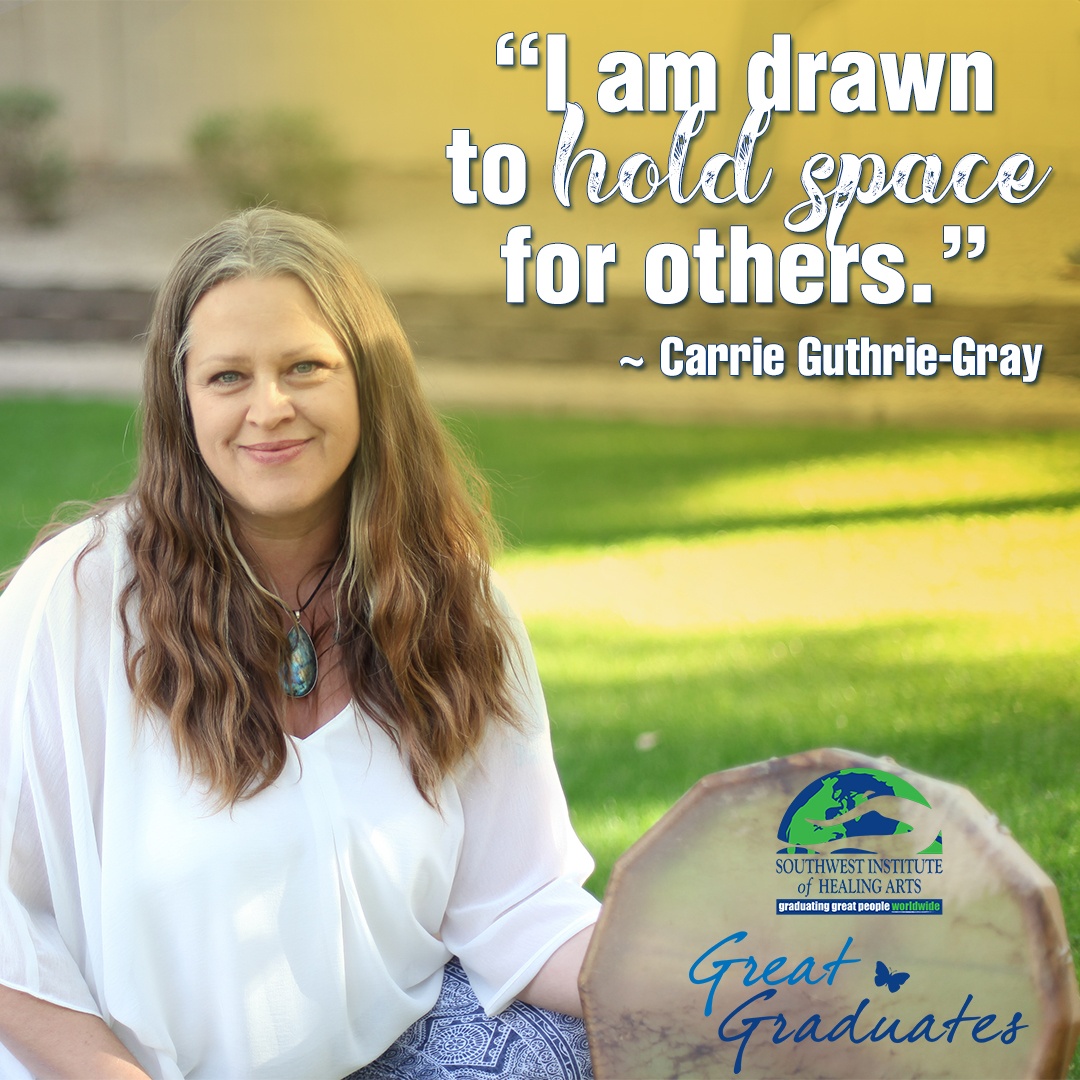 As she tells it, this was the catalyst that changed Carrie's life. The practice of Hatha Gong especially resonated with her, and Carrie now combines her herbalism, holistic nutrition, and vibrational healing skills when working with clients who are searching for mind-body-spirit transformation. She currently holds three gong sessions a month, hosts charity events, volunteers her services to those struggling with disease, and has her sights set on volunteering with hospice very soon.
"I think when anyone holds space for another and listens to understand, not to fix… that is a gift," she discloses. "That is one thing that I try very hard to maintain in my practice. Holding space. Listening to my clients to guide them to open up and release is where the true healing begins." Whether she is making and mixing tinctures and flower essences for their specific physical, spiritual, or emotional ailments or helping them engage in relaxation through the power of sound healing, Carrie is determined to make sure her clients feel cared for while also creating an opening for them to practice self-care.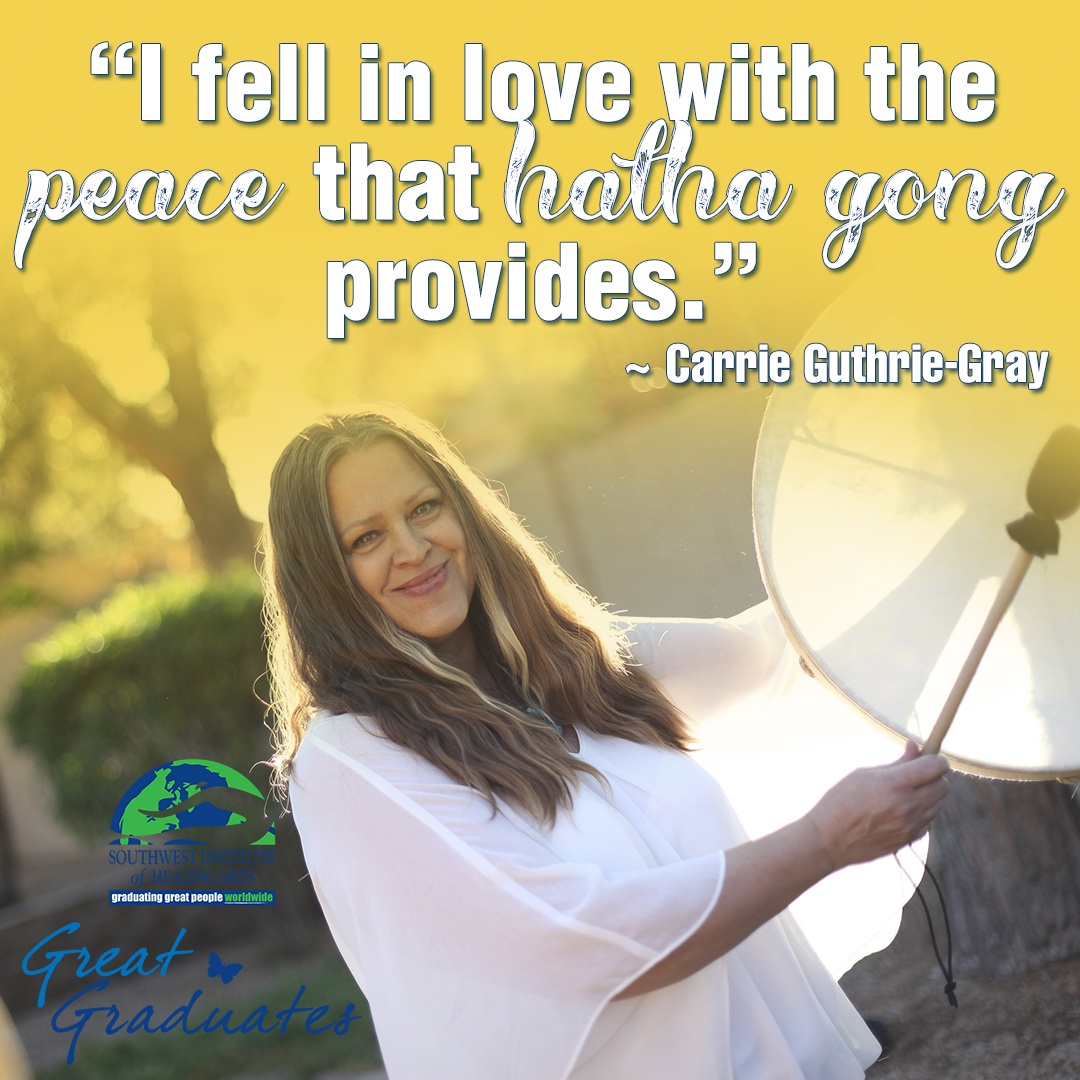 In a beautiful gesture of going "full circle," Carrie has also managed to return to the clients who first painfully tugged at her heartstrings in her days as a phlebotomist: the terminally ill. After much reading, research, and soul-searching, Carrie has now begun her journey toward becoming a Death Midwife—a caregiver for the end of life journey.
"No one wants to die," Carrie shares. "So, I will come with softness, guiding the dying by offering spiritual support and, of course, holding space." As a Death Midwife, Carrie will be able to provide guidance to those reaching the end of this life's journey, including educating them on their legal options and rights regarding this transition. As a practitioner who will take on only one client at a time, she will be focused on acting as a guide through the entire process, including helping the bereaved family as they deal with their grief. Carrie wants those not familiar with the term to know that being a Death Midwife isn't just for the physical death of a human; it can also extend to coaching those dealing with the death of a pet, relationship, divorce, job, or way of life.
At the end of the day, Carrie feels strongly that the greatest lesson she learned at SWIHA was that she had the power to take control of her own life. In doing so, she has honored herself and her mother—as well as so many others suffering from cancer and other diseases—and is helping individuals reclaim their power in some of the most challenging moments of their lives.