When you hear SWIHA Instructor Ann Cabano's story, it's hard to imagine that the path she has walked has been carved by anything other than destiny.
As the daughter of a teenage mother, Ann spent time living with and looking after her great-grandparents in Michigan, circumstances which caused her natural gift for caregiving to blossom as she learned to help out around the house. This joy in serving others led Ann to take a volunteer position as a Certified Nursing Assistant at a local hospice. It was there that Ann met Joyce, a woman suffering from the final stages of both colon and liver cancer. Little did she know that this patient would end up changing the course of her life...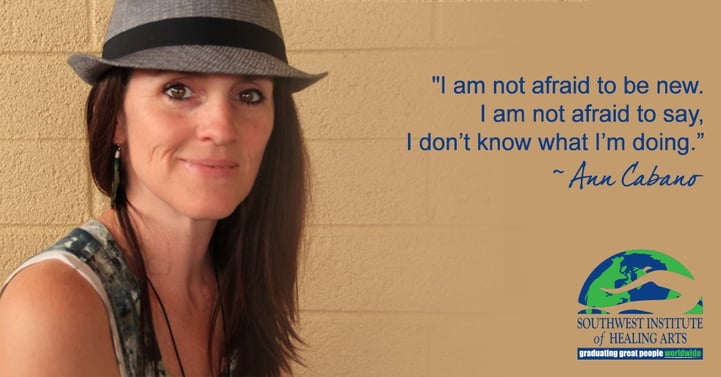 On a day when she was particularly hurting, Joyce asked Ann to step outside the normal duties of a CNA and to rub lotion on her legs. Ann was shocked to see the condition that the woman's skin was in—left translucent and paper-thin by the effects of age and illness.
Ann knew that she had to take a delicate approach—both physically and energetically—to this task, remembering, "She was very proud. She didn't want her family and friends to see her in this kind of pain." As Ann massaged the lotion onto Joyce's legs, Joyce began to moan in a way that initially made Ann feel uncomfortable… that is until she was hit with an epiphany:
"This woman was lacking human touch. When I made this connection, I realized that I could serve in this capacity. There are a lot of people out there who are lacking human touch… people who are embarrassed for other people to see their bodies, people who are sick and face prejudice over their illness, women who have experienced sexual or physical abuse. These people need someone who can show them what 'safe touch' feels like again."
What happened next was what Ann describes as a "very simple and effortless transition." Feeling called by the Universe to pursue a career as a healer, Ann signed up for the 1000-hour Master Massage Practitioner Diploma through SWIHA. It was through this education that Ann discovered the name of the modality that she had been unconsciously using her whole life: Reiki. Drawn to the idea of being an energy healer, Ann chose to practice Reiki as her elective specialty.
"It was all history from there," Ann says. "After completing my massage diploma, I continued to audit the Reiki classes at SWIHA, both Traditional and Transformational. I kept showing up and helping because I had found such profound self-awareness through this school!"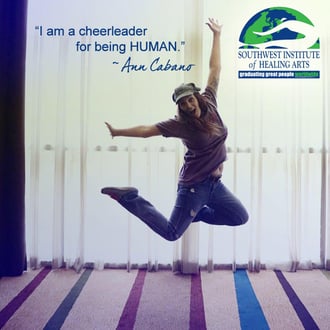 It was not long before SWIHA asked her to step into yet another new role as an instructor in the Transformational Reiki Program. When asked to describe her teaching style, Ann says, "I prefer to think of myself as an 'empowerment facilitator' rather than a teacher! I lead by my own example, I teach from my own lessons, and I share my own epiphanies. I listen between the lines, and I hear what is not being said."
This desire to guide others toward their "best self" is rooted in an understanding of what it truly means to practice self-care. "It's my hope that individuals who interact with me suddenly find the permission to put themselves first in a whole new way," Ann states. "You may think that advocacy, energy healing, and holistic work is selfless, and yet the truth is that you have to be selfish to be the most potent practitioner. Otherwise, you're giving from a place of obligation! I tell my students over and over… It begins with you. If you want to be a powerful instrument of service, you must navigate the internal landscape of Wounded Valley. Our mess is our message, and our experiences in life are our medicine. You must master YOU first."
Ann's focus on self-betterment and the art of healing doesn't just end with her career as a massage therapist, energy healer, and educator. Ann is also a multi-talented artist and filmmaker who sees herself as possessing a "powerful three way-view" of the world around her. As a member of the film community, holistic community, and advocacy community, Ann is determined to bring her strength and perspective to those around her so that they, too, may step into their own personal power. For Ann, the key to doing this lies within the subtlety and precision of the film medium: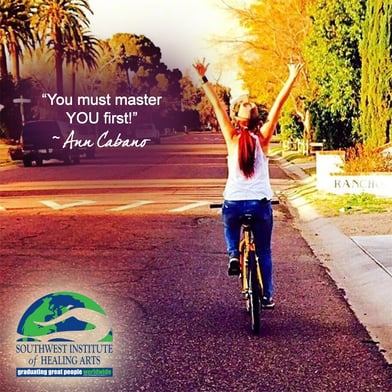 "The camera doesn't lie," she claims, "And because of that, I am able to capture humanity in a way that I never have been able to before." When asked why this is such an important mission to her, Ann states with startling clarity, "Because humans are art, and being a humanist involves using my gift to advocate for those who haven't found their voice yet. I am a cheerleader for being HUMAN."

In perfect alignment with these values, Ann's most recent pursuit is the creation of The Just Be Love Project, a film festival which has a two-fold mission: first, to educate the public about human trafficking and sexual trauma and second, to emphasize the importance of human connection. This event, scheduled to take place July 15th and 16th at Sun Studios in Tempe, Arizona, will include a curated selection of films, panels with the filmmakers, and a selection of speakers facilitating dialogue around these issues.
At the end of the day, Ann's vocational journey has illuminated just how many special gifts she has to offer to the world. To Ann, however, this is hardly surprising. It comes down to what is arguably her single greatest talent: the ability to keep an open mind and to position herself as a student of life.
"I"m not afraid to be new," Ann says with a huge smile. "I'm not afraid to say I don't know what I'm doing!"
To learn more about Ann visit: www.anncabano.com
To register for one of Ann's classes: https://swiha.edu/reiki/#reiki-transformational