Author and Life Coach Loree Bischoff was always intrigued by what makes people tick, why they think the way that they do, and what motivates them. In 2007, she and her sister noticed that many of the mothers they knew were struggling on some level to find balance in their lives. Recognizing a need for moms to have access to new tools and strategies for achieving a more balanced and fulfilling life, they developed a special event called "Motherhood Redefined"— a weekend seminar for mothers consisting of speakers, interactive workshops, and fun for everyone in attendance. What she didn't expect was that her event to help others find balance on their path would lead her to the beginning of finding a new path for herself.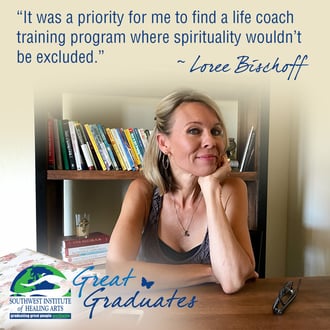 "Motherhood Redefined" was extremely well-received, and Loree knew then and there that what she really wanted was to begin her own private coaching practice. "I was not familiar with life coaching as a profession at that time. One of the speakers we hired happened to be a life coach and suggested I check out SWIHA," she says. "I had begun studying spirituality in the early eighties (thanks to my mother)… being an important aspect of my life, it was a priority for me to find a life coach training program where spirituality wouldn't be excluded." To her delight, that was exactly what she found when, in the spring of 2008, she enrolled in SWIHA's life coaching training program. Loree feels that, "There couldn't have been a more perfect fit."
The courses Loree took at SWIHA, as well as her experiences during the program, ended up being invaluable for building her self-confidence. As she learned new skills and became more knowledgeable, she stepped into doing things outside of her comfort zone, becoming more confident in her innate and learned talents. "My strengths became stronger and my weaknesses diminished. I grew," she states, embodying that inner strength and self-confidence. "It feels so awesome being able to apply the knowledge and skills I've learned at SWIHA and to watch a client have a breakthrough or see them shifting in the right direction with each session. Honestly, there are few things more fulfilling than that moment when, through the coaching process, I get to witness a light come on in a client's mind or their emotions well up as they have a new realization— a big, fat 'ah-ha!' It's hard to put into words; something happens at a deeper level beyond our five human senses. It's something that makes the heart smile and swell with joy."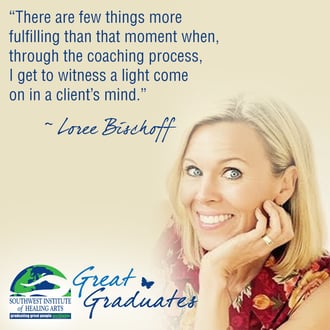 Within a few months, she had channeled that strength and joy into beginning her professional practice, New Paradigm Mind Body Wellness. As a holistic life coach, Loree works with people to help them accomplish their life, health, and spiritual goals. Her coaching methods promote emotional fitness and the health and healing of the mind, body, and spirit. She works with individuals and couples in the areas of relationships, health, nutrition, weight release, stress relief, clarifying goals, implementing changes, and creating more happiness and harmony in their lives. "What I've found is that most often, no matter what a client is initially focused on, there usually ends up being some connection to each of the aspects that comprise who we are— mind, body, and spirit. Each area affects the others, so we eventually find ourselves delving into each area to some degree." Loree also holds small group workshops, including what she calls, "Spiritual Salons," during which she picks a spiritual topic and leads a group in an interactive discussion around that topic.
"I believe that with each breakthrough, each success, each step in their growth, and each new level of awareness that's reached, what a client is really doing in effective life coaching is learning how to master themselves. Mastering oneself is the worthiest of goals. You can become a master of many things. Until you learn to master yourself, you cannot experience true and lasting fulfillment."
Enjoying the flexibility her practice gives her, Loree incorporates the use of technology to greatly increase her potential client base and reach. "Even though my office is located in Cave Creek, Arizona, which is where I meet with my clients and hold workshops and spiritual salons, my business really can be wherever I am!" Many of her clients are not local, so she utilizes Skype and phone sessions to provide meaningful coaching sessions wherever she or they may be, which is perfect for working with people through Phoenix's scorching summers when many residents, including Loree, seek more temperate climates. She spends summers at her home in Wyoming, where she can meet in person with clients who live in that area while continuing to work with her clients in Phoenix and beyond.
I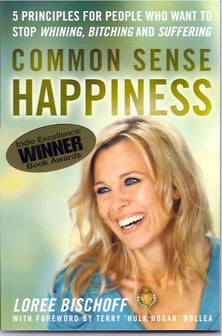 n 2011, Loree published a book, Common Sense Happiness, containing tools and strategies to help people become happy and stay that way, as well as client success stories. "I talk about my five Life A-Mazing Principles and how to use them to live with intention and create an amazing life, rather than allowing your life to unfold unintentionally or by default."
In the book, Loree shares one of her most unusual client success stories, a customized, intensive coaching weekend she developed for a mother and teenage daughter that included the three of them taking a flying trapeze lesson. "They agreed to it, and I had to do it with them since I couldn't ask them to do something that I wasn't also willing to do." When go-time came, neither of the clients volunteered to go first, so Loree had to step up. "I'll admit it was rather scary— insanely scary actually. The platform we had to climb up to for the trapeze overlooked the Pacific Ocean. It seemed like it was about the size of a dinner plate and high enough to be in a flight path to LAX. No matter how hard I tried, I could not stop my knees from knocking. I was shaking so much!" One by one, all three women conquered their fears, trusting the process and themselves, and taking that leap out of their comfort zones and into empowerment.
Loree refers to what she calls our "life maze," stating: "It's so interesting to look back on the pathways and experiences that have brought us to where we are now. We're able to see how cause and effect—decisions, actions, and results—brought us to the present moment."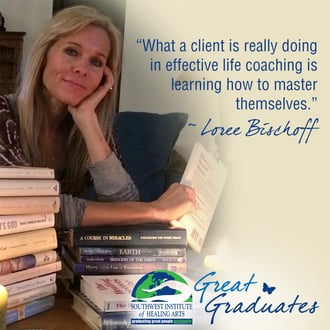 Her own life maze points to the beginnings of this process in her intentional pursuit of personal growth and spiritual studies, specifically New Thought spirituality, in the mid-1980's. This led to the creation of the "Motherhood Redefined" event, arising from her desire to inspire and teach mothers how to create a more balanced and fulfilling life and wanting to share what was working so beautifully for her. That event resulted in her becoming aware of life coaching as a profession, which then led to her enrollment in SWIHA's Life Coaching program. "What I've come to realize is that my soul tells me what I'm to learn and study, and that is a never-ending process. When I took action that was aligned with my soul, it brought forth good results. Because the directive is coming from a higher place, I not only welcome it, I can't get enough of it fast enough! It's leading me to what I need to learn in order to master myself, evolve, and contribute, which I believe are some of the highest needs of the soul."
Loree wishes to give the following advice to new SWIHA graduates: "Continue learning and adding to your skill sets so you always have new strategies, techniques and an expanded outlook to offer your clients. Start your practice in the manner that you feel most strongly called. For some it's very niche and specific and for others it's quite broad. Either way is right as long as you feel aligned with it. Becoming an exceptional coach means you never stop learning and practicing. Your clients are investing in you, so continue to invest in your own personal and professional growth."
New Paradigm Mind Body Wellness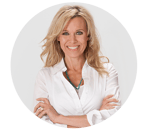 https://www.facebook.com/LoreeBischoff/