Did you know that July is National Watermelon Month? According to Mary Ritter, SWIHA's Chief Executive Director, this is perfect timing because watermelon picking is at its absolute peak the week of July 4th!! Watermelon has long been a favorite treat for Americans looking to consume something light and refreshing during the sweltering summer months. Interesting enough, over 300 watermelon varieties are grown in the US and Mexico.
So how do you choose the perfect melon? "The trick is to pick out a ripe, ready watermelon," shares Mary, known affectionately to many of us at SWIHA as the "Watermelon Whisper."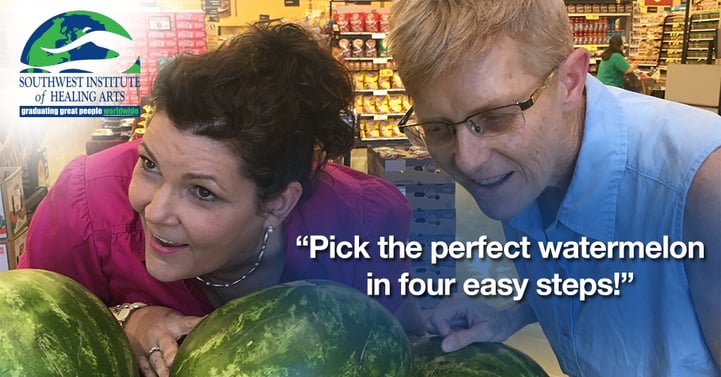 Mary's "Picking Protocol" involves four easy steps:
Look, Lift, Listen, and Turn
Look

the watermelon over. Look for a firm, symmetrical watermelon free from bruises, cuts, or dents. Take time to look the melons over, and pick the one that looks like it

'

s calling you!
Lift

it up. The watermelon should be heavy for its size. Watermelon is 92% water. The more water, the sweeter the taste of the melon.
Listen

as you thump it. While some say thumping a watermelon is an old wives tale, others who are especially tuned in to sound can hear a distinctive bass-like hollow sound when the watermelon is gently thumped or knocked.
Turn

it over. The underside of the watermelon should have a creamy yellow spot

(not white or green)

from where it sat on the ground and ripened in the sun.

Ground ripening—as opposed to hothouse rush-

ripening

, which causes the underside to be white—ensures mouth-watering taste and a

more delicate texture.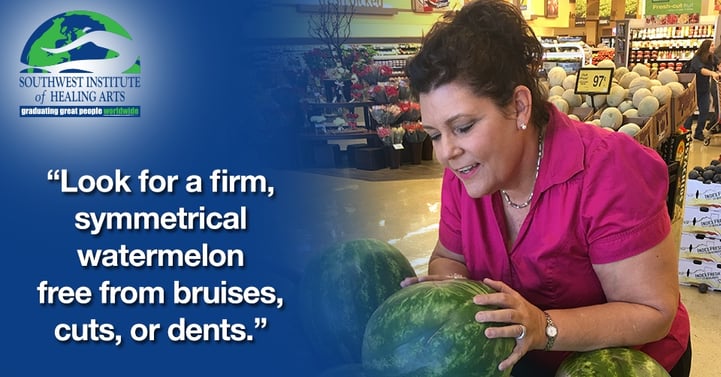 Now that you know how to pick out the perfect melon, consider these top four reasons to add watermelon to your SOUL-ful** food choices:
Watermelons help prevent dehydration and muscles spams.

While consuming pure water is best, watermelon is certainly a great second pick for hydration, especially on a hot day. A chilled watermelon thoroughly quenches our thirst, and it also contains potassium— a mineral necessary for water balance inside of our cells. Low potassium levels can cause muscle cramps; eating a slice of watermelon or blending watermelon into your water before exercise can serve as a natural sports drink. Watermelon is especially good for children to avoid cramps or dehydration when swimming or playing in the sun.
Watermelons are packed with vitamins. This sweet fruit is more than just a tasty treat; they're also incredibly healthy! Each slice of melon has excellent levels of vitamins A, B6, C,

antioxidants, and amino acids.

Vitamin A

boosts immunity by enhancing the infection-fighting actions of white blood cells called lymphocytes and is important for optimal eye health.

Vitamin B6

helps the body produce antibodies needed to fight disease and helps maintain normal nerve function. The more protein you eat, the more vitamin B6 you need to help break down proteins and form new red blood cells.

Vitamin C

bolsters the immune system's defenses against infections and viruses; it protects the body from harmful free radicals that can accelerate aging and conditions such as cataracts.

Watermelons contain Lycopene. This

powerful antioxidant and carotenoid (meaning molecules containing oxygen)

may block cancer cell growth.

It's the

bright red pigment in watermelon that stores the Lycopene, just like its fruity cousin tomatoes! Creating a cooling salad with watermelon, tomatoes, and fresh mint is a true prescription for health.
They are great for cleansing, detoxing, and weight release.

Because watermelons are mostly water and fiber, a wedge of watermelon contains only 47 calories

and

promotes a feeling of fullness almost immediately.

Of course, moderation is key; consuming too much watermelon too fast can cause a mild belly ache. The best thing about including watermelon in your diet is that

each wedge has five percent of the daily recommended intake for fiber, which slows digestion and promotes satiety— that satisfied state of being well-fed and content.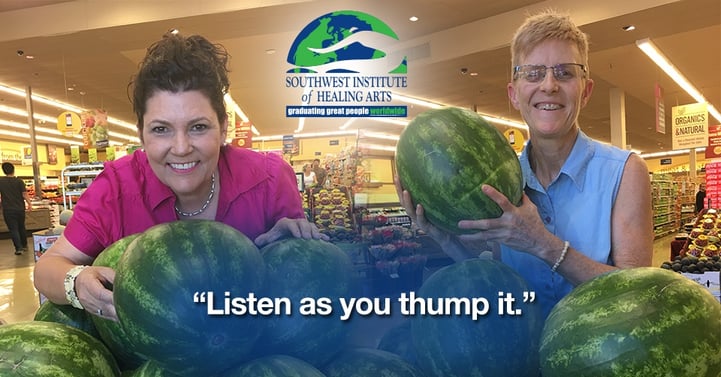 Janet Lee, a Raw Food Chef and one of the instructors for SWIHA's 200-hour Holistic Nutrition Certificate, was kind enough to share one of her favorite watermelon recipes with us this week:
Watermelon Gazpacho
5 cups chopped seedless watermelon
1/2 cup chopped yellow onion
1/2 cup chopped green peppers
1/2 teaspoon salt
1/4 teaspoon pepper
1 teaspoon cumin
1/2 cup chopped cilantro
2 teaspoons chopped jalapeno
1 tablespoon lime juice
1/4 teaspoon chili powder
1 cup finely chopped seedless watermelon (reserved for garnish
1/2 to 1 cup finely diced avocado (optional, reserved for garnish)
Janet instructs: "Just puree the first ten ingredients in a blender until smooth. Adjust the seasonings as needed. Chill in the fridge for at least one hour. Stir in the finely chopped watermelon and avocado at serving time if you want! " With her big smile Janet coaches, "Go raw. It's the purest and best way to live and love!"

Another of Janet's recipes is "Red, Water, & Blue" Infused Water.
Fill a beautiful glass water pitcher with ice and filtered water. Add watermelon pieces, organic blueberries, and your favorite herbs – basil, mint, or stevia. Serve with unconditional love!
For more recipes and facts about watermelons, go to www.watermelon.org, home of The Watermelon Board—representing 1,500 watermelon growers, shippers, and importers nationwide—whose goal it is to promote the nutritional, culinary, and convenient benefits of watermelon. This site has over one hundred recipes for the healthy use of SOUL** food.
** SOUL is an acronym used in SWIHA Holistic Nutrition curriculum to connote Seasonal, Organic, Unrefined/Unprocessed, Local food.
We offer on-campus and online certificates and diplomas. Our 755-hour Holistic Nutrition Wellness Practitioner Diploma is approved by National Association of Nutrition Professionals (NANP)
* KC Miller is the Founder of Southwest Institute of Healing Arts and served as a Coach and subject matter expert for the Holistic Nutrition curriculum both on-campus and online. KC tells a story of how her mother ate an entire watermelon the day before she was born. Her mother thought she was leaking watermelon juice, rather than realizing her water had broken. Due to the delay in leaving for the hospital, KC was born in the back seat of the car, even though KC's dad reportedly kept trying to push her back in. To this day, KC laughs, saying she loves watermelon and fast cars, yet can't stand to be pushed!