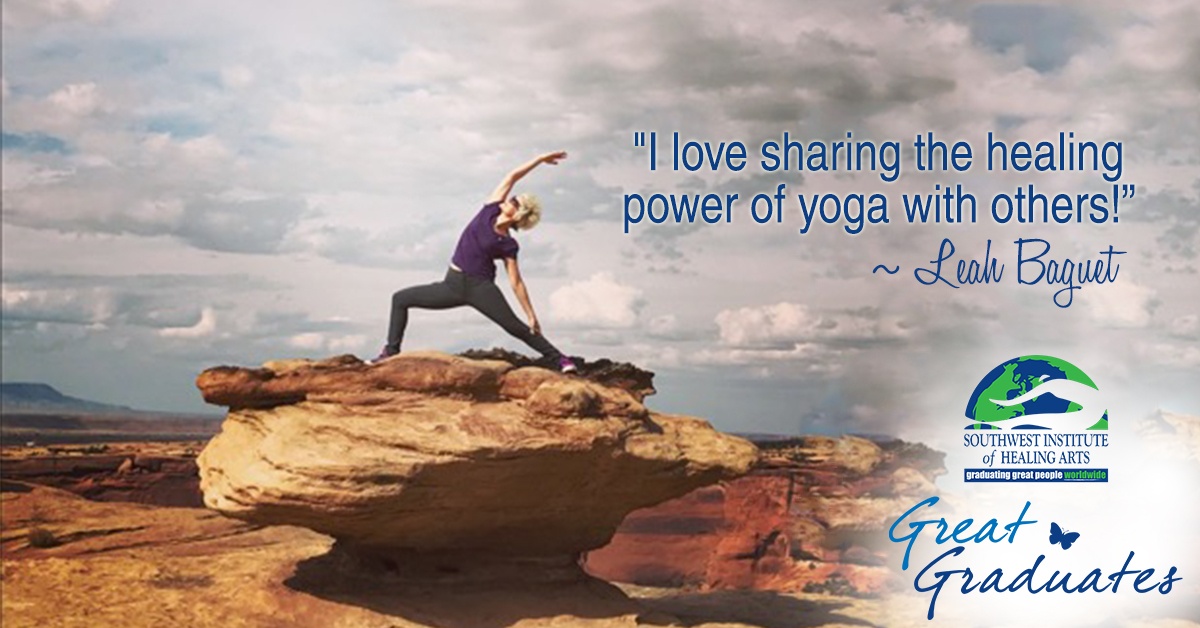 Like so many graduates, Leah Baguet's path to holistic wellness began with a journey. She was surrounded by stress at her job, working through a series of medical challenges, and coping with the premature death of a close family member.
So, what makes Leah's journey so different? Well, it was a literal one!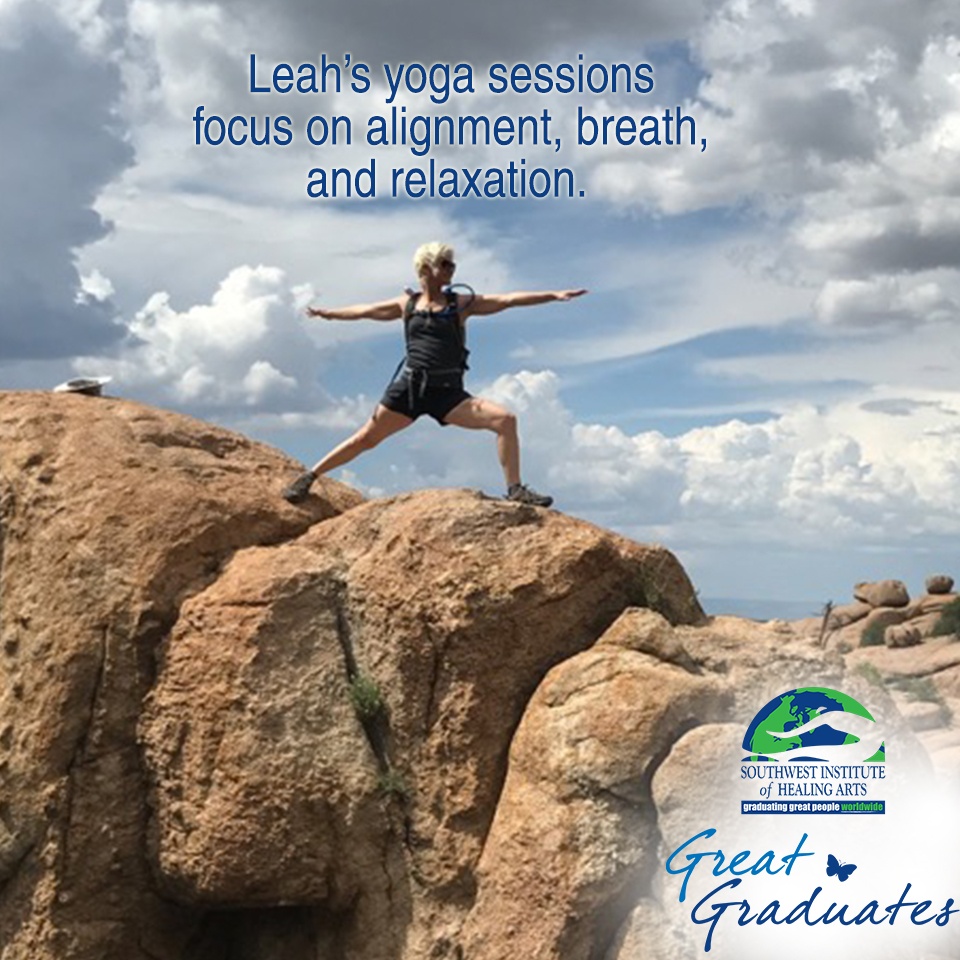 "I realized that life is just too short," Leah shares. "I decided to quit my full-time job and travel the world with my husband. Upon returning, I didn't want to go back to the regular hustle and bustle of a 9 to 5 job. That's when SWIHA came into my life."
At the time, Spirit of Yoga had just opened its doors… and it seemed to be spiritually—and medically—beckoning to Leah. "My naturopathic doctor had recommended yoga to me as a means of stress release. I loved it and was experiencing its healing effects, so I decided to look into yoga teacher training programs," she recalls. "SWIHA offered me an entirely new perspective. I have a degree in Applied Mathematics and was a very analytical person. The yoga teacher training program taught me that we are all connected, and this increased my compassion for others, as well as myself. Yoga has helped me to be a more patient person and to accept myself as I am. My studies have brought more balance to my life and made me healthier in body, mind, and spirit."
It was these changes that triggered a startling desire in herself to completely change vocations: "I never imagined being a yoga teacher, yet by the end of my program, I felt called to work with the Native American community and the City of Scottsdale, where I had been employed for over eight years. I love sharing the healing power of yoga with others and seeing the sense of peace on the faces of participants after teaching a yoga class."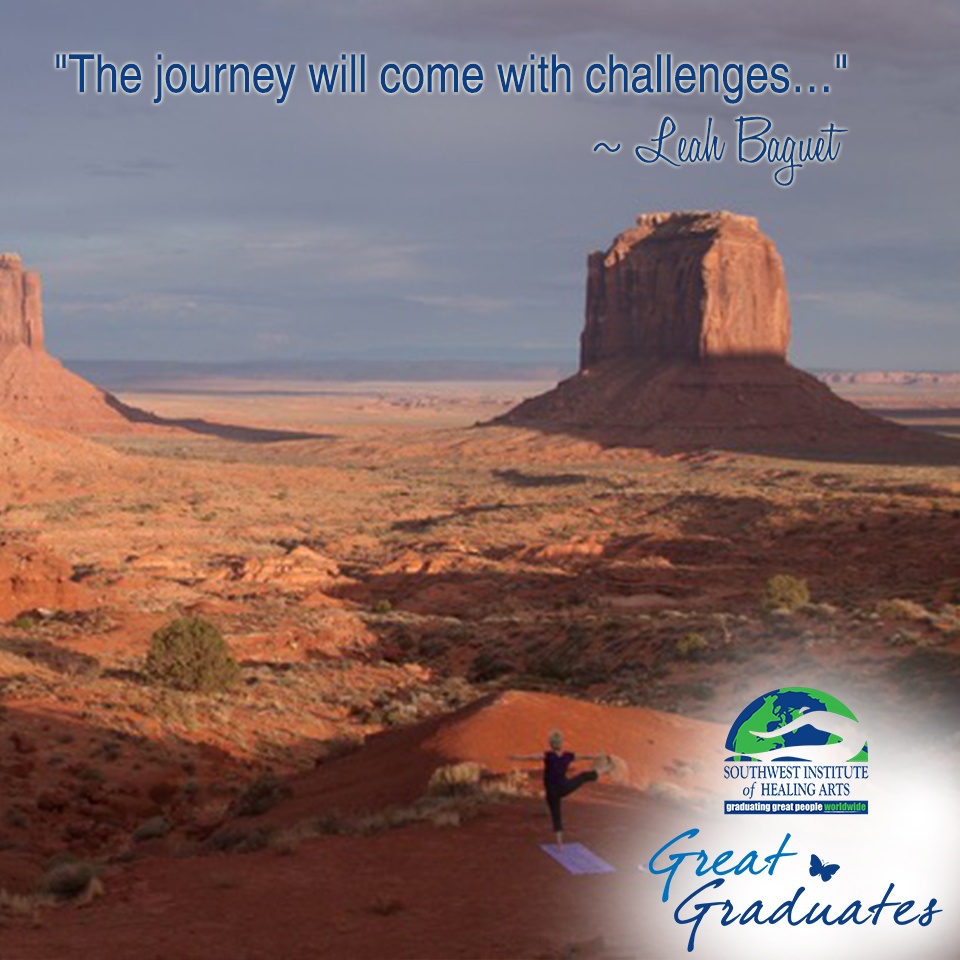 Yet, Leah didn't stop growing in her thirst for knowledge after graduating from SWIHA's 200-hour Yoga Teacher Training in 2011. She next enrolled in the Holistic Nutrition Specialist Program, where she continued to find inspiration for a more vibrant life. "I wanted to take my vegetarian lifestyle to the next level," she confides. "Through this program, my passion for healthy living thrived, and I learned how to coach others on their individual journey to their healthiest self. Holistic Nutrition is amazing because the body's innate ability to heal is nurtured through a whole food lifestyle."
In fact, it was two of SWIHA's own instructors that ended up being hugely influential in Leah's approach to holistic wellness:
"Dee McCaffrey started teaching at SWIHA while I was finishing my Holistic Nutrition studies. I learned so much from her and her book, The Science of Skinny. She is a wealth of knowledge, and her explanation of nutrition and whole food living really made sense and resonated with me. Another favorite class was Nutrition Coaching and Assessment with Janet Lee. This class provided a lot of practical application and some business development with coaching. Janet also teaches an amazing Raw Cuisine class which I later came back to audit!"
Now Leah has found a way to merge the best of both worlds. She currently teaches science at Rio Salado College—a reflection of her intellectual background—as well as group and private yoga through her personal business, In Tune Holistic Living, LLC. "I was inspired to start my own business to help reach underserved populations and empower clients through yoga, breath work, and edible education," she asserts. "I want my clients to discover their unique needs and healing potential for positive, healthy, lasting lifestyles." Through this business, Leah also offers wellness coaching, nutrition education, and workshops, including educational pantry purges and grocery shopping excursions for clients. A complete list of her services is available on her website, where you can also check out her blog and subscribe to her monthly newsletter, offering helpful tips for healthy living.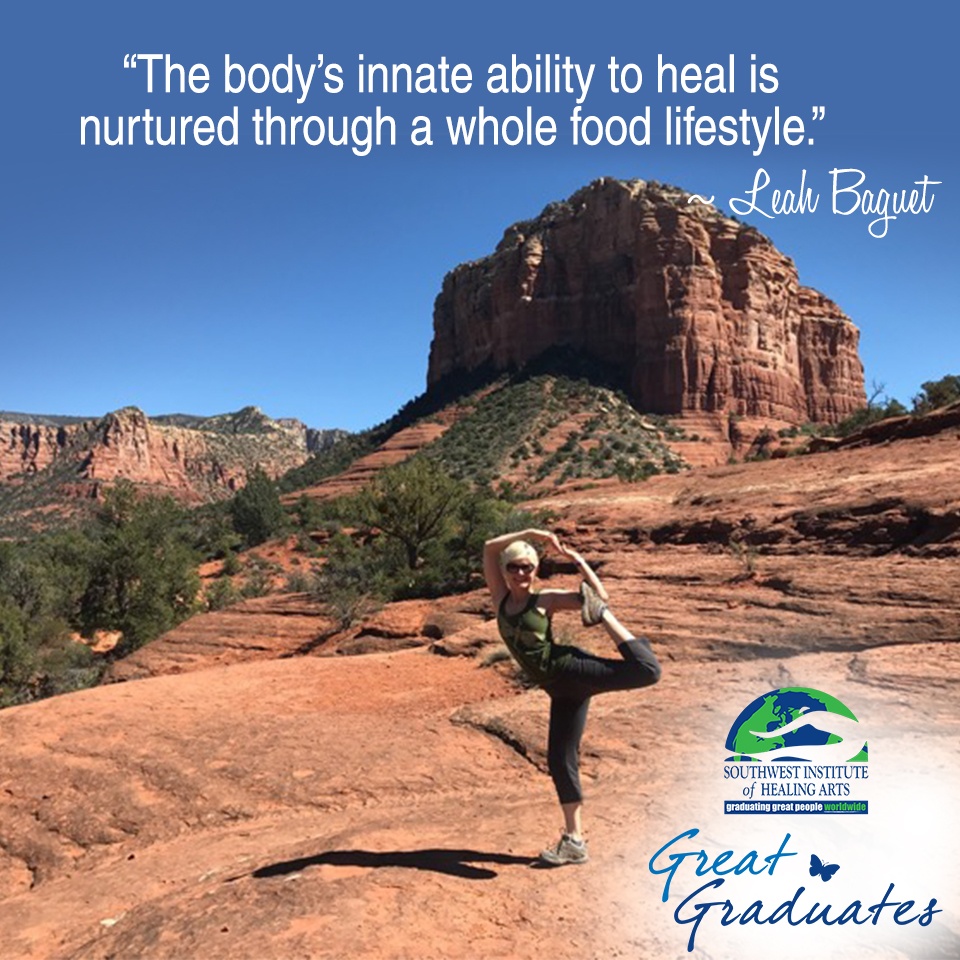 Perhaps one of the most interesting consulting services Leah offers is helping businesses to develop and implement lunchtime and after work yoga programs in their workplace that will fit the needs of their employees. In fact, the Work Yoga Program she initiated with the City of Scottsdale was the only physical fitness program to survive budget cuts and is now funded by the City's health benefits program! Her commitment to bringing yoga to her community doesn't end there; she also teaches gentle Yoga for Cancer Survivors every Wednesday at Friendship Village in Tempe, which is free to all participants and their caretakers.
When it comes down to it, Leah knows that the journey comes with challenges, yet that when you follow your passion and do what you love, you will never work a day in your life. "The greatest lesson I learned at SWIHA is trusting the process," she shares. "I thank SWIHA for providing me with the support and encouragement to step outside my self-imposed box, release fear, be free, and live a purposeful life."