Jenna Gully was doing the same thing many high school graduates end up doing: going to college for something she had an interest in without knowing where it would lead her or how she would use the skills she was learning in a practical way. As is often the case without that big "end picture" goal—without the drive of a vision to work towards—college had become more of a vehicle for social interaction than for personal growth. Jenna soon came to realize that she wanted more out of life… that she wanted to do something that supported a healthy and active lifestyle, something that would spark her growth as a person, that could give her direction and the motivation of working towards a career she could be excited about. In 2013, she dropped out of college and started moving in that direction.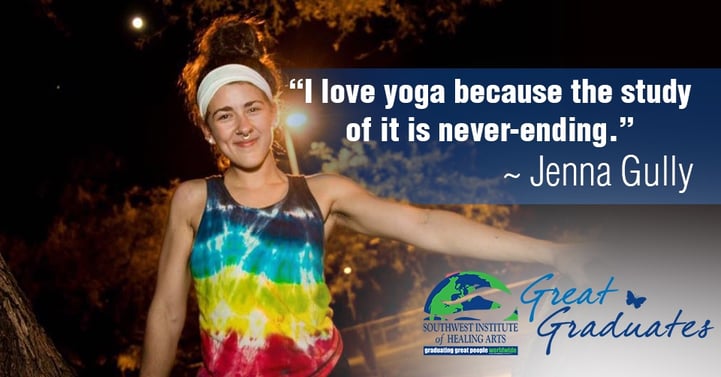 Yoga has always been a part of Jenna's life. Her mother had been sharing the experience of yoga with her since a young age, giving her the gift of a physical practice that was sustaining and ever evolving. After witnessing her mother's own experience as a student in the Yoga Teacher Training program at Spirit of Yoga, Jenna realized she was being drawn to the program herself, wanting to expand on the physical practice she had enjoyed throughout the years by adding the technical, philosophical, and energetic components and developing her gift of healing touch. In 2014, she enrolled herself in the 200-hour YTT program at SOY.
The difference in focus when she finally found herself on her true path was amazing. It's clear how her passion shines now as Jenna describes what being a Yoga teacher means to her: "I love yoga because the study of it is never-ending. There is always more to analyze! I love looking at people's body and troubleshooting how they can better support themselves. Yoga has led me to more mental and emotional clarity. I attempt to share what I've learned with my students and hope they take what they need from my teachings!"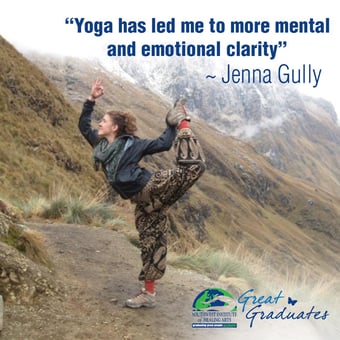 Jenna realized that finishing the YTT 200-hour program was just the beginning for her. Because she wanted to develop and hone her skills further, Jenna then enrolled in the 800-hour Advanced Yoga Teacher Training program, choosing to specialize in Reflexology and adding Yoga Nidra and Hatha Gong to her growing list of tools.
Jenna's first teacher in the Yoga Teacher Training program was the incomparable Monica Page Subia. Describing Monica's teaching style and presence, Jenna shares, "It was all about us and our journey. Monica was so focused on holding a clear space for us to come into our own power as teachers. She always had a reason for everything she did and taught that she clearly conveyed to us. I learned so much about anatomy and spirituality thanks to her. Monica embodies Bhakti yoga and is a pure vessel of unadulterated love." With Monica as a teacher and mentor, Jenna learned how to have and demonstrate true compassion for every student walking through the door.
During her time at SWIHA and SOY, Jenna found herself challenged and enriched. She discovered her boundaries and how to clarify her intentions. Because SWIHA offers students the unique ability to fully choose and define their path, empowering them to choose classes that resonate with and empower them, Jenna was also able to refine her gifts of healing touch. Describing her growth as a practitioner, she says, "I am confident in my ability to hold space for people. I am now equipped with the knowledge and skills I need to support others in their journey."
Jenna has taken the big step into entrepreneurship as well, freeing her from what she described as a "day job" and moving her forward into a career that she loves. "My business is called Jenna Gully Yoga," she shares. "My whole life, I've been a natural born leader and would prefer to work for myself, making my own decisions concerning vision and growth." Jenna teaches at two yoga studios, coordinates special events and workshops, and has built up a base of private clients for yoga, vibrational healing, reflexology, and polarity.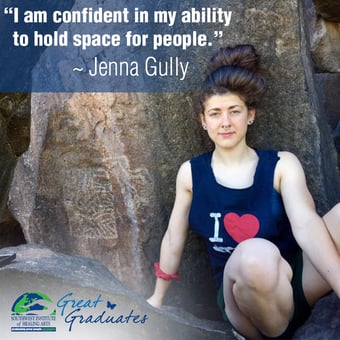 Speaking of her private sessions, Jenna says, "I have a smorgasbord of skills I employ during a session. Clients love that I have a variety of services. Some days they want a sweaty yoga experience; other days, they just need to lay down and enjoy some reflexology. Many of my sessions end with Yoga Nidra and/or vibrational healing. Ending with deep meditation and providing space and time for integration is a vital piece of my work."
With all of this positive change, Jenna is able to take more time to focus on herself and her health, and she is conscious to make time to travel, expand, and enjoy life. Through SWIHA and SOY, she has found her calling and her tribe. Speaking of both, she shares the following advice for people who have chosen to follow their own path: "Keep building YOUR community and following. Find what you want to focus on, what your gifts are, how to uniquely integrate your modalities together, and what demographic you want to focus on. It can be easy to get wrapped up in giving, giving, giving. However, it is vital that you understand the value of your modality and convey that to your paying customers! As I started valuing what I do more, my rates have gone up, and no one has complained because both my clients and I know I'm worth it!"
Your Business Name: Jenna Gully Yoga
 FB Link: https://m.facebook.com/jenna.gully?refid=7
 IG Link: @sodamngully