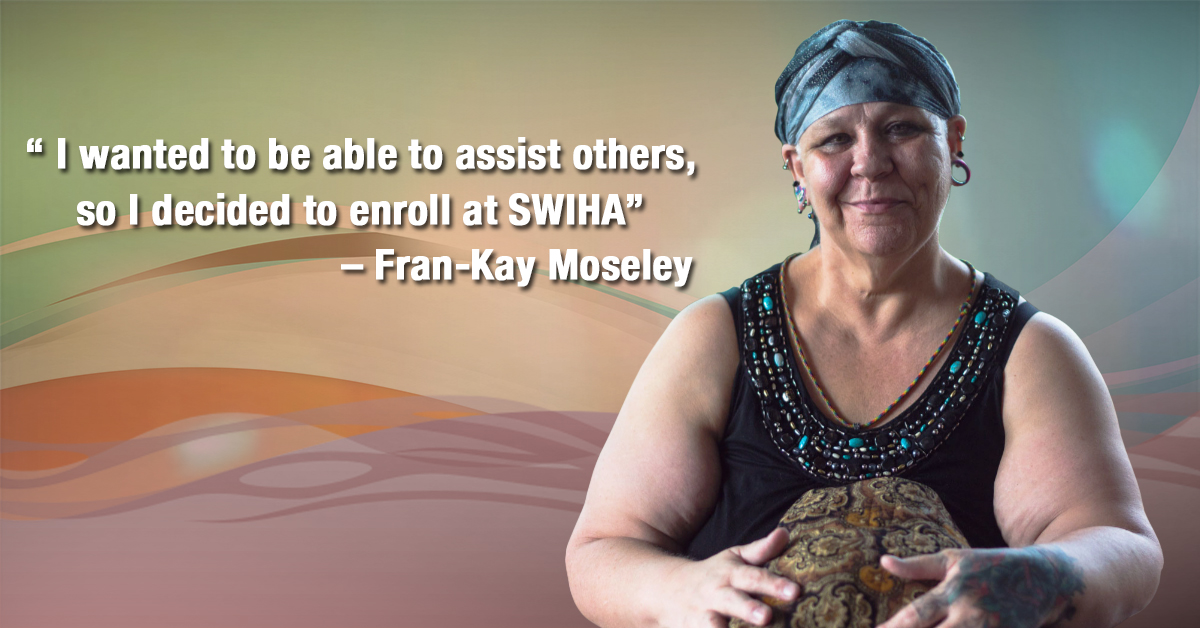 "Trust your heart and embrace the journey. You may make a wrong turn, however, your heart will get you back on the right path. Just keep making choices and don't second guess yourself." - E'yen A. Gardner
Fran-kay, like many others who came to SWIHA, wanted to find her purpose in life and help others along the way. Fran-Kay came from a humble background. She states, "Both of my parents were uneducated and I was told at a young age that education wasn't important. That as long as I learned a trade, I would be satisfied. Well, I felt robbed. I self-taught myself, and even though I may not have a college degree, I am very wise and love learning new things…" And that is exactly what Fran-Kay did here at Southwest Institute of Healing Arts. Fran-Kay learned to trust her intuition, stop second-guessing herself, and how to fulfill her life dream of helping others.
"Before taking this program, I would have to say that I second-guessed myself quite often. I was amazed by how much Hypnotherapy helped me. I wanted to be able to assist others so I decided to enroll in SWIHA's online Integrative Healing Arts Practitioner program. I believe that it is very important to treat the 'whole' being and learning how to find a balance on all levels."
SWIHA is all about the mind-body-spirit approach. Everything is connected, everything is affected. For example, if one area in your life is off-balance, it can throw you for a loop and start affecting other areas of your life as well. Having the mindset to approach and look at people as a whole, and not focusing on one aspect of their life, can truly help to start the healing process. Fran-Kay asserts, "My total mindset has changed…instead of looking for the answers from the outside of myself, I started looking within. Through connecting with my Higher Self, I am able to create and manifest." Oftentimes, students will go through a transformational period while attending our school. It is even encouraged that students heal themselves before they become a healer of others. Fran-Kay went through this very experience of learning things for herself and then being able to create and manifest the business she sought to create to help others.
Fran-Kay recently relocated back to North Carolina from Arizona and is working hard on getting settled in. Starting in June of 2022, Fran-Kay is planning on doing an Advanced Shaman Program. In addition to this, Fran-Kay is sculpting her virtual business which will allow her more freedom to assist others by using multiple holistic modalities that she has learned during her time at SWIHA online to be able to reach a wider audience. Fran-Kay offers a wide array of energy work including Life/Spiritual Coaching, Intuitive Guidance, and so much more. Fran-Kay wants to serve women who are looking for answers and encouragement.
Throughout Fran-Kay's time at SWIHA, the biggest lesson she learned that helped her keep pushing on was "That I can do anything if I have the right intention and it lines up with my Higher Source." Having alignment is so important to really believe in what you are doing and feeling confident about it. There were several instructors that shined bright in Fran-Kay's program; however, the instructor that had the most impact on her was Linda Bennet, SWIHA's Hypnotherapy program director. As mentioned earlier, Fran-Kay was taken aback by how much Hypnotherapy changed her life, and Linda had a big part in this. Hypnotherapy was definitely Fran-Kay's favorite class!
For any potential, future, or returning SWIHA students, Fran-Kay's advice would be "You got this! Especially when you are feeling like you want to give up…it's called a dip! Keep pushing forward and before you know it, you'll be at the finish line."