With our entry into March, we can officially mark the end of the cold and bitter winter. The time has come for spring! The air will gradually begin to warm, your wardrobe will start to change over to lighter and more vibrant clothing, and soon you will feel a little extra pep in your step when you take a wander outside.
So, what's the best way to help with this transition? It all starts from within. Regardless of your diet plan, you are sure to have sampled a few holiday delicacies here and there, maybe as a little treat or to warm yourself up. Springtime is the season to leave behind the heavy and warming meals you ate in the winter in favor of lighter fare!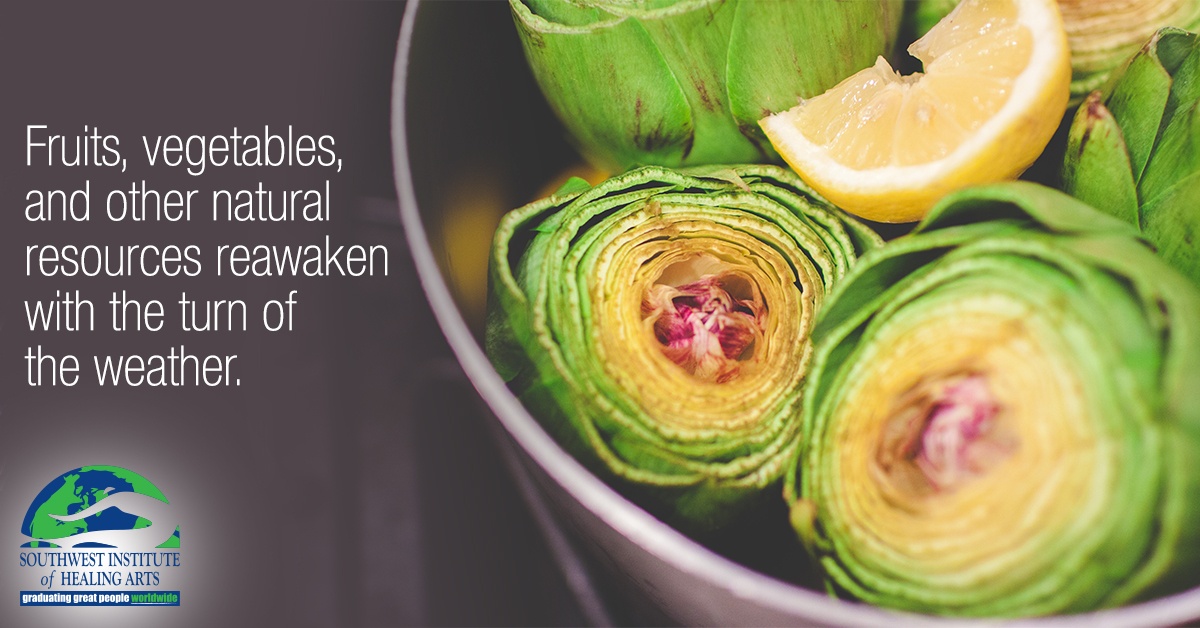 To be clear, eating cleaner in the springtime has only a little to do with losing any winter weight you may or may not have unintentionally picked up; rather, it's more about cutting out the hearty and rich foods of the winter season and maximizing what nature has to offer in the spring, as long-dormant fruits, vegetables, and other natural resources reawaken with the turn of the weather. The spring is a time to eat lighter and less complicated dishes.
In fact, eating raw or consuming "S.O.U.L foods" (seasonal, organic, unprocessed, and local) is never easier than in the spring! New local, natural, and organic options will become more widely available as their growing and harvesting conditions improve, so March is the perfect time to completely change up your diet in order to experience all of the nutrients Mother Nature has to offer.
While this may not be a complete list, the following fresh produce is the most common outcomes of a spring harvest. Keep your eye out for these fruits and vegetables—as well as more unique offerings—in your local grocery store or farmers' market: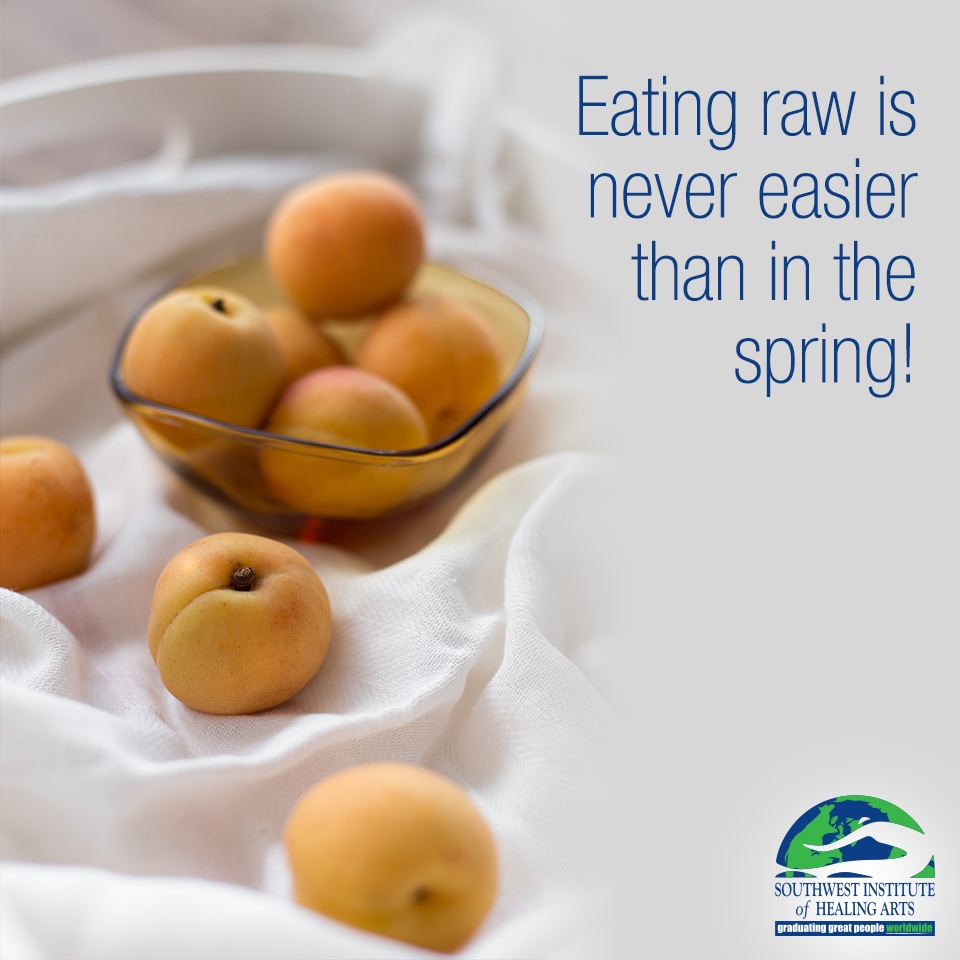 Apricots
Limes
Oranges
Pineapple
Mango
Rhubarb
Strawberry
Artichokes
Asparagus
Broccoli
Corn
Fennel
Green Beans
Lettuce
Peas
Spinach
Watercress
It's important to remember that not every fruit and vegetable will be able to grow locally where you live, especially if you are a native of the Southwest. Luckily, the weather is usually mild enough that the springtime is the best chance farmers have for a successful harvest for the year. Keep this in mind while you shop.
If not, never forget that while fresh ingredients are the first items to come to mind in terms of holistic nutrition, enjoying any fruit or vegetable frozen, dried, naturally canned, or reduced to 100% juice is also an excellent way to take advantage of seasonal products. If you have problems finding what you want in your local markets, consider an alternative method of obtaining the seasonal foods you want in different forms by shopping online for home delivery at organic retailers like thrivemarket.com or sunfood.com.
Something that a lot of us have probably struggled with during the winter months is our amount of vitamin D intake. As you begin to venture outdoors more frequently to soak up the sun, it also won't hurt to put some extra seasonal foods into your diet that are a little higher in vitamin D. This vitamin is crucial for bone and muscle health, so don't skimp!
If you indulge in a diet that includes dairy and eggs, you are in luck. The springtime yields the richest cream and milk from ethically treated cows and goats due to their calving season. If you have a trusted source for your dairy products, this trend continues into the summer and begins to lower in quality come the fall and winter. In contrast to this, the best time for red meat is actually in the fall, so the spring and summer are excellent times to cut back on the red meat consumption you most likely enjoyed this past winter.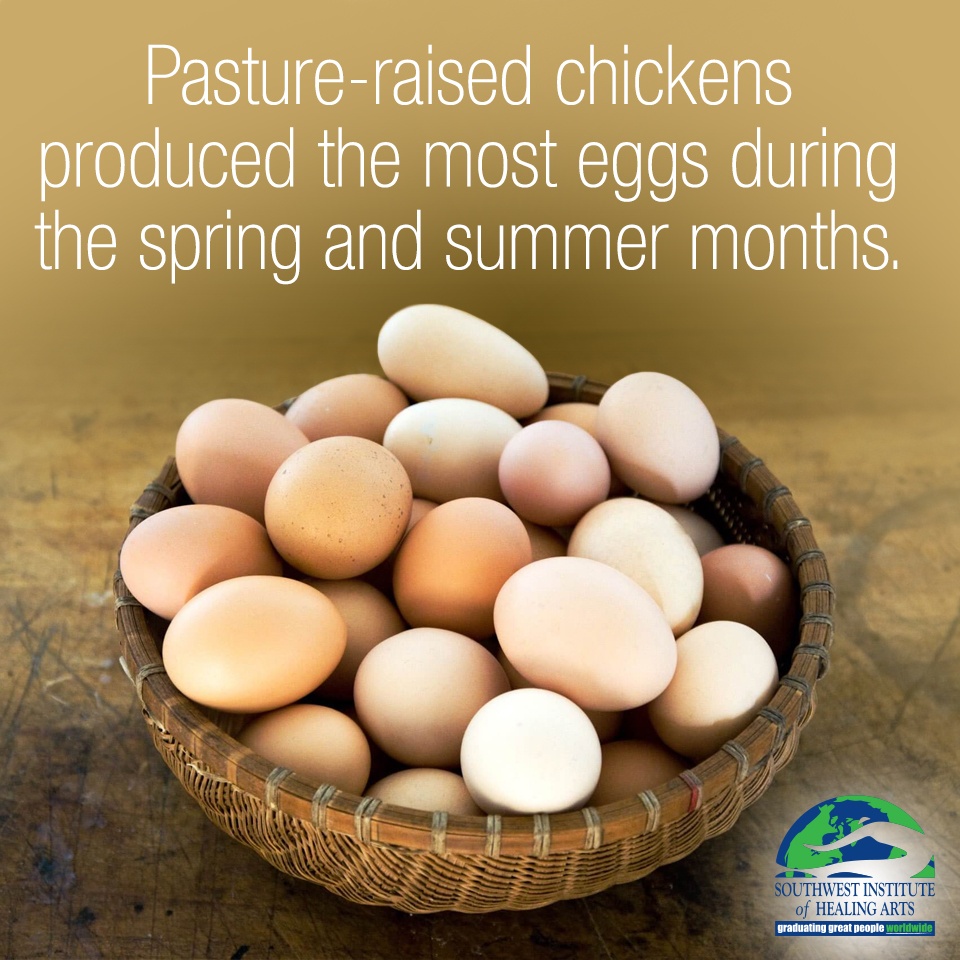 Similarly, the spring is also the season for all manner of fowl, including chickens, ducks, turkey, and geese. With plenty of access to longer days and fresh spring grass and bugs, they are likely to produce the most daily eggs in the spring and summer months. Another one of the best sources of vitamin D is fresh fish. However, the spring is not a consistently great time for fishing, so keep your eye out for anyone who managed to net a good haul this spring, perhaps at your local farmers' market.
If you are not typically a meat eater, fear not. Soybeans and soy products are also excellent sources of vitamin D, as well as alternatives to less healthy oils and fats found in many of our winter diets. The United States has a growth cycle for soybeans that typically harvests in the fall. However, if you are willing to look further afield, South American soybean crops are harvested throughout their Northern counterpart's winter due to differences in climate. Take advantage of their long world-wide growth through the fall, and then consider properly and safely storing a cache of soybeans by the end of fall to keep you going through the winter months.
As with everything, keep your spring foods in moderation! If you find yourself really enjoying all of the fresh fruits that the spring has to offer, be careful of your sugar intake and cut your diet intermittently with healthy grains, fats, and proteins to help balance your new style of eating. Try to enjoy all of the colors that the spring harvest brings with it. Every unique pigmentation to any given fruit or vegetable is caused by its individual chemical makeup. If you are consuming a wide swatch of colors regularly with your diet, you are also consuming a variety of different and very important vitamins and nutrients for your body, including your hair and skin. The spring is the best season to experiment with holistic nutrition and new foods because there is such a variety, so drop into your local market and start your diet's spring cleaning this month!