Karen Baker is no stranger to the ins and outs of holistic wellness. Before enrolling in the Associate Degree in Holistic Healthcare at SWIHA, Karen had managed to complete several continuing education classes, a certification in Complex Decongestive Physiotherapy and Lymphatic Drainage Therapy, and a 1000-hour massage therapy degree. Yet, with all this experience and academic prowess under her belt, was she done learning? No way!
"I felt drawn to check out the programs at SWIHA," she explains. "I took the leap, and I am glad I did, as SWIHA helped to give me the power to embrace my strengths and to pursue more challenging modalities."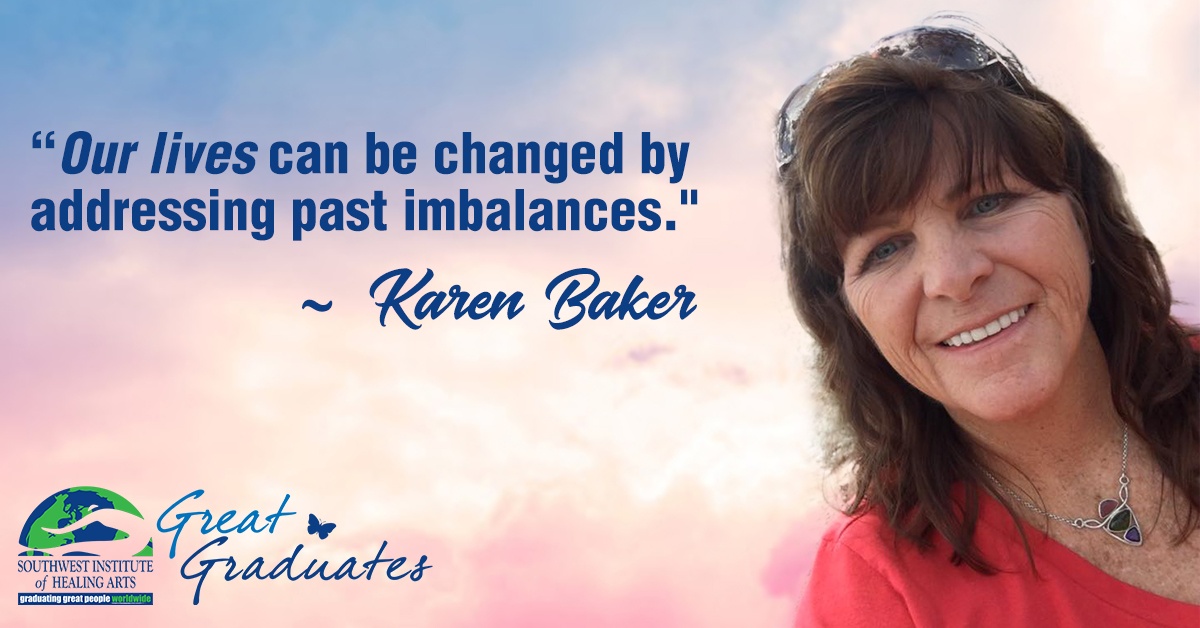 From Coast to Coast
Buoyed by the confidence a comprehensive holistic education could provide her, Karen made the decision to expand her self-owned business, Inspirational Health and Wellness, around the state of Arizona—and beyond! Karen now has two places of operation: a professional office space in Mesa, where she works several days a week, and her personal residence in Payson, a beautiful creek-side home in the forest where she meets with clients.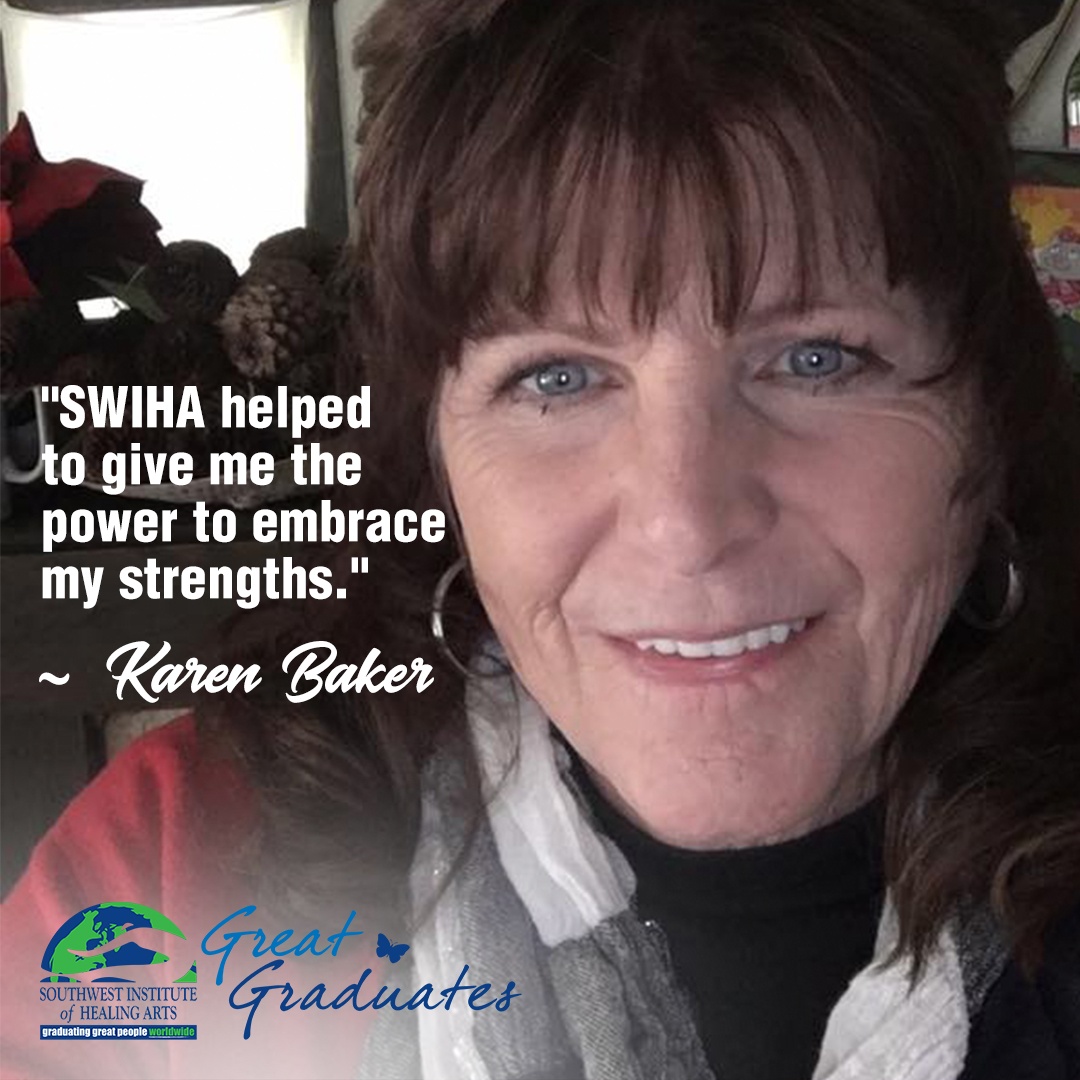 In addition to these brick and mortar locations, she has started offering long distance services and traveling for her work. In fact, she is now blessed to have clients in California, Florida, Texas, New Mexico, Oregon, Connecticut, North Carolina, and New York. Her ultimate goal is to take her business globally and to let her office be wherever she happens to be.
Release the Negative!
In the meantime, Karen offers five primary services, all fashioned around the myriad of modalities she studied as a SWIHA student: energy repatterning, life/soul coaching, reiki, hypnotherapy, and remote/distance healing.
Energy repatterning, as Karen describes it on her website, involves reprogramming energy cells to "encourage the release of these epigenetic blocks, past life, and present life trauma" as well as to "clear your cells of toxic energy to accelerate healing at a deeper level and bring balance to your physical, mental and spiritual life."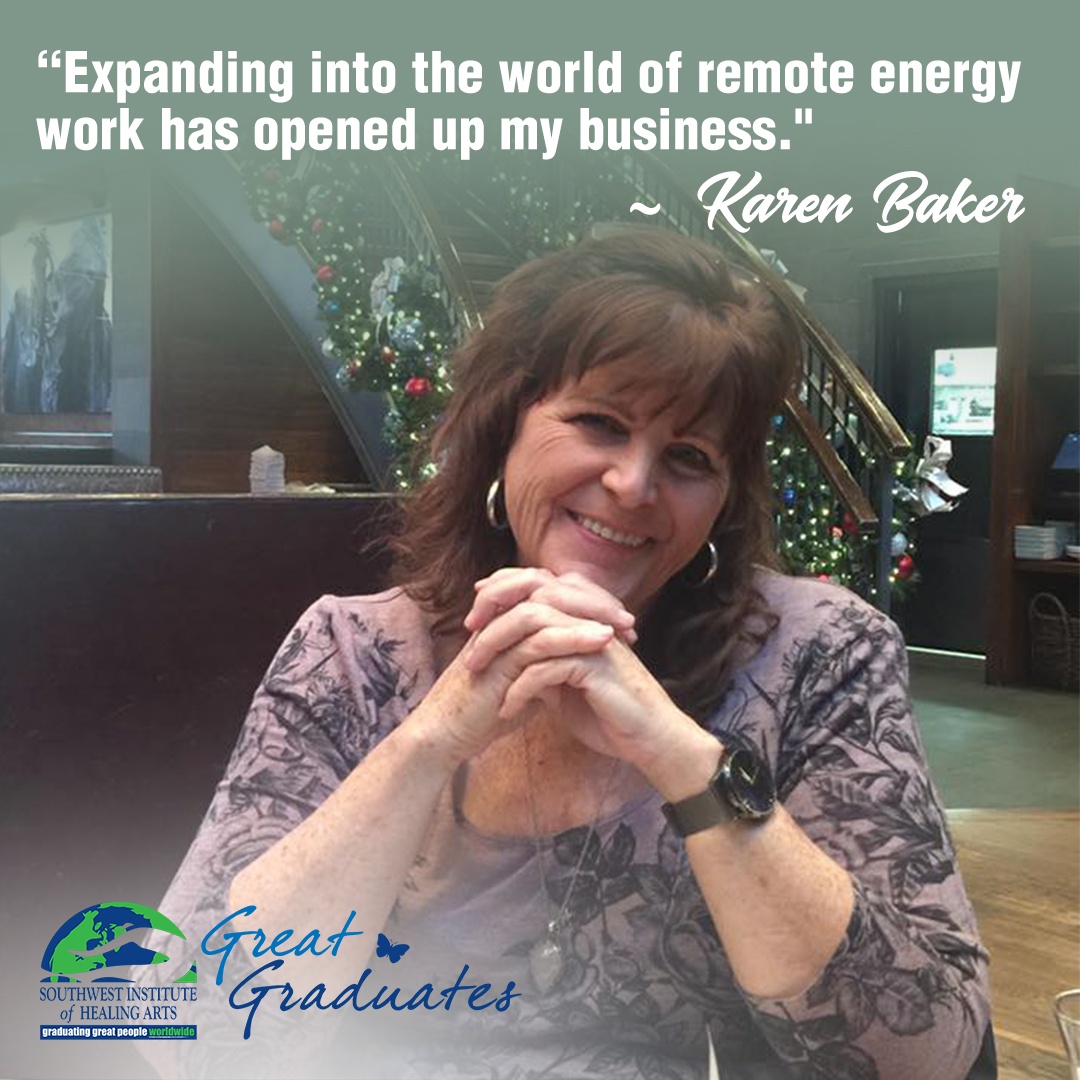 Karen also helps clients handles negative behavioral patterns through hypnotherapy, through which she uses the power of suggestion to address addiction, pain, anxiety, fears, stress, self-esteem, and much more. While at SWIHA, she studied hypnotherapy under Linda Bennet, who she describes as the most impactful teacher. "I feel Linda was very influential in helping me understand how important it was to address issues that were buried either from childhood or past life influence," she states. "Our lives can be changed by addressing past imbalances and programs."
Reflecting back on her 20-year (and counting!) career in the holistic wellness field, Karen recognizes that her journey has involved changing paths many times. "Every day brings new challenges and new learning," she shares. "Expanding into the world of remote energy work has opened up my business and allowed me to help others in other distant places that I had not yet been able to reach or help. I love what I do and how I can assist others to have a better life!"
Her advice to future SWIHA students is to follow their passion regardless of the judgment of others. "Embrace your journey and overcome the challenges it brings," she proclaims. "Continue to learn and grow so you can help your clients and yourself!"
Facebook