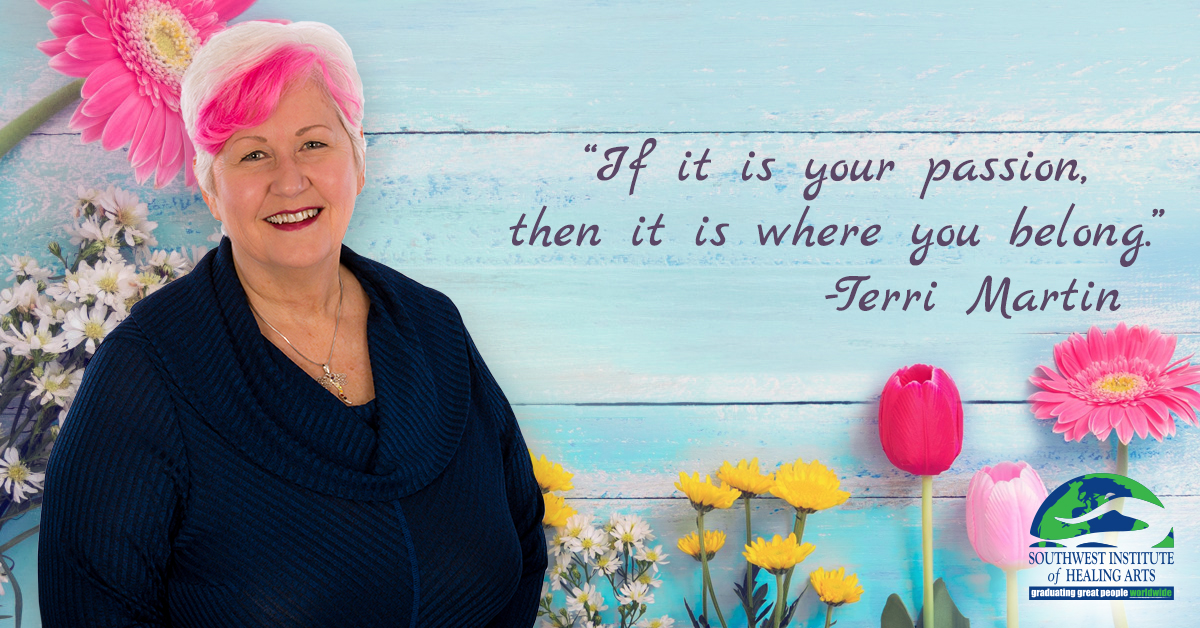 "I'm almost 65 years old and I feel more at peace with my life than ever," says Terri Martin, a graduate of the Wesern Herbalism program at Southwest Institute of Healing Arts.
Many years ago, Terri attended an Aromatherapy class on campus and later reconnected with SWIHA via social media. She tells us, "I attended an open house for the herbalism class and was instantly struck by how perfect it was. I signed up and have never regretted it!"
Terri's mission is to remind others that there are alternatives to conventional medicine available which are gentle and natural. "I also want to keep the tradition of using plants alive," Terri explains, "I fully believe that someday it will be very beneficial knowledge."
She says her favorite parts of the Western Herbalism program were working with all of the herbs and making medicines. She also says the Business Development portions were absolutely necessary, and the nutrition aspect opened her eyes to the importance of what we put in our bodies.
Terri maintains her corporate job, but is looking forward to expanding her Herbalism business, Visionary Gardens Apothecary. "I sell my salves and formulas online and at farmers markets," Terri tells us, "I am working towards retirement in a manner that will keep me viable and allow me to continue helping others."
Additionally, Terri offers consultations and custom formulas. "My studies at SWIHA gave me a good foundation of knowledge, not only of plants and their power, but in business dealings and working with clients," she says.
Her wisdom to those feeling called to begin their own holistic business is this: "If it is your passion, then it is where you belong...This school gave me that peace and the ability to create a business that allows me to help others. This is achievable at any age. You are never 'too old'."