If you find yourself on the home page of Life Coach and Certified Clinical Hypnotherapist Sandy O'Neal's website, you'll notice a single quote printed across a beautiful lavender and pink sky:
"If you want to change your reality, then it's time for you to change your mind…"
Changing minds and realities is indeed what Sandy is all about as she serves the world through her coaching and hypnotherapy business, appropriately called A Transformed Life. Her objective is to help her clients deepen and expand their lives through her specializations in fertility support, anxiety/stress reduction, weight reduction and movement, fears and phobias treatment, and pain management. She offers private sessions in-person at her Mesa, Arizona, studio and remotely via phone and Skype, as well as weekly and biweekly meetup groups which focus on managing anxiety, stress, and depression, promoting well-being and mindfulness, increasing self-confidence, and practicing healthy habits.
The first step Sandy had to take to develop such a comprehensive holistic business was to conquer her own struggles with the extreme fears and anxieties she had developed out of childhood beliefs. In realizing that these beliefs were no longer serving her as an adult, Sandy was able to release them in favor of a more proactive and empowering perspective. "Because I personally went through these struggles and used the powerful combination of life coaching and hypnotherapy to create positive changes in my life and heal, I am able to make positive changes in my clients' lives, too," Sandy explains. "I use my training, experience, and continued education to continually bring the latest research and tools into each of my clients' sessions."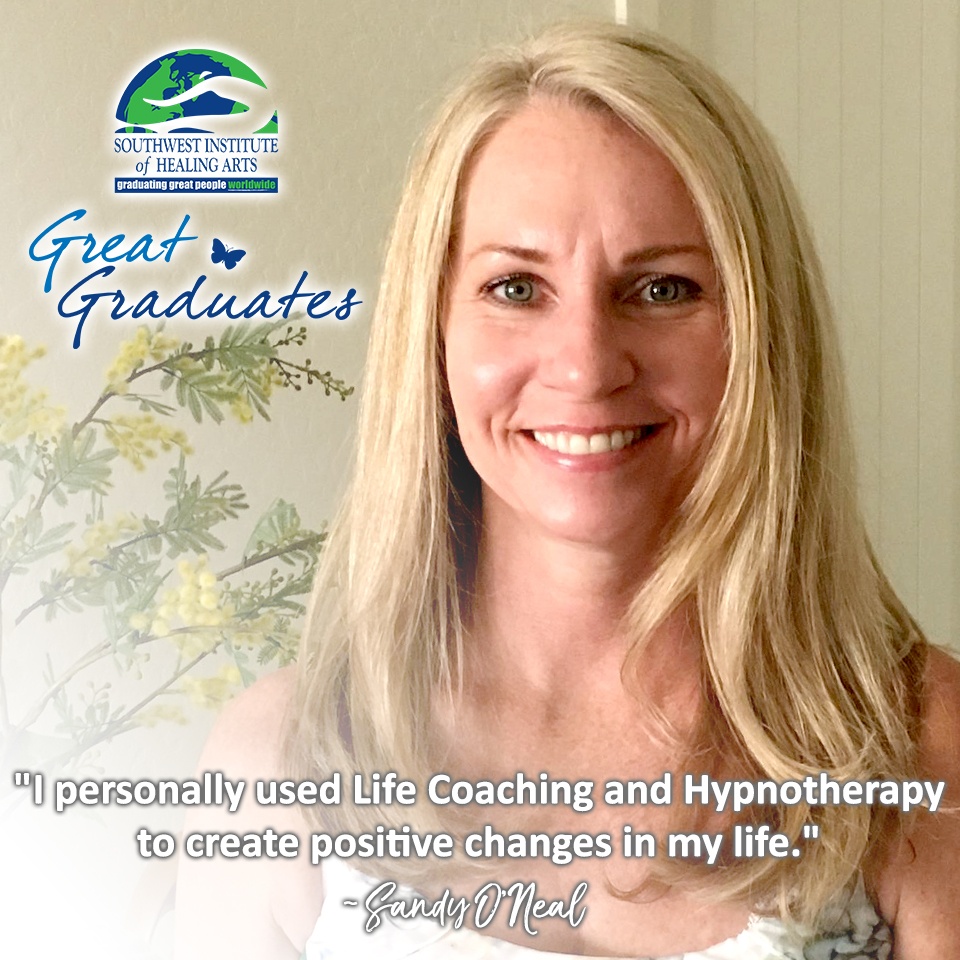 One specialty which Sandy seems to particularly excel in is aiding clients in overcoming their performance anxiety. She recalls a client who—much like Sandy once was—struggled with distinguishing real fears from actual threats from fears generated by personal stories. Through the use of powerful questions, Sandy was able to hone in on what was standing in the way of this client's path.
"I witnessed her realize that her childhood memory was truly from a place of a child's perception," Sandy shares. "After revisiting it from an adult mindset, she came away from that memory with a totally new perspective that shifted her entire view of the situation. She was amazed at how easy and effortless it was to shift her perception and how quickly and dramatically it shifted her out of her fear into living her life with confidence." In fact, this transformation was so profound that the client was able to once again enjoy the outdoors, a change that empowered her to travel to Australia for a sports competition where she spent many hours happily out on the beach.
Her years of experience have left Sandy confident that transformational life coaching works to create awe-inspiring results. "I love the work I do because I have the opportunity to support my clients in helping them discover what is keeping them from their goals," Sandy concludes. "I get to witness the powerful, positive changes in my clients as they create their successful, serene, and confident lives, realizing that, truly, all the answers are already inside of each of us."