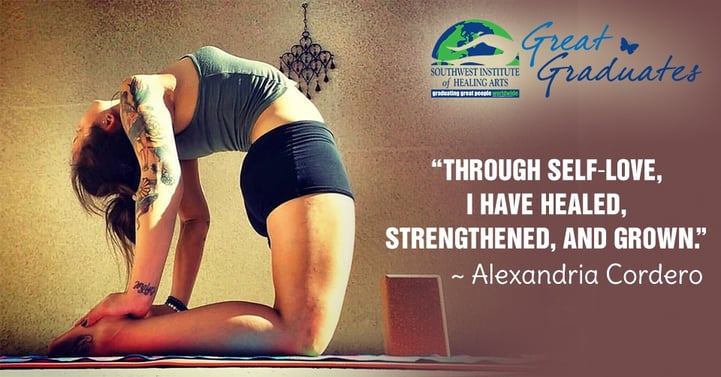 It has been said that, "All that wander are not lost," and that certainly applies to Alexandria Cordero, a graduate of SWIHA's 200-hour Yoga Teacher Training program.
Alexandria had begun to feel stifled in Chicago and was seeking a fresh start, so she packed up her life and moved to Arizona with the intention of attending veterinarian school. Yet, after arriving and truly thinking over the prospects of paying over $200,000 for that schooling, she decided to take a year off and explore the new state which she had chosen to call home. Thinking of that time, she jokes, "My yoga practice was taking off with all of the free hot yoga on my patio every morning!"
After being encouraged to do so by a friend, Alexandria found herself attending an open house at SWIHA. "I knew that this was where I was supposed to be," she says. "I decided to start with the 200-hour Yoga Teacher Training fast-track to see how I liked teaching yoga... I LOVED IT!" In the program, she went through deep personal transformation and found connections to yoga and the community of SWIHA unlike any she had ever experienced before.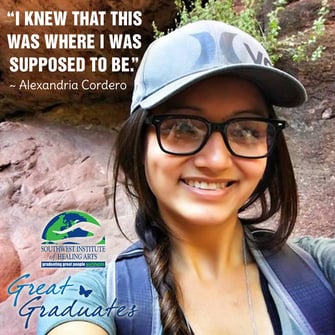 Once she graduated from the 200-hour YTT program, she took some time off to travel. "It took me a long time to get to this empowering place of self-love. Once I started to clear the fog and started initiating changes in my life to better myself, I knew that I wanted to keep practicing what I was learning while sharing it with others." When Alexandria returned from her adventures, she went on to continue studying yoga and two other long time passions of hers: life coaching, and nutrition.
This common theme of finding self-love continued throughout all of the classes she took at SWIHA. Speaking of her personal experience, Alexandria shares, "They say you can't properly love others before loving yourself. Through self-love, I have healed, strengthened, and grown. What better way to teach others than from personal experience!"
Along the way, Alexandria met teachers that inspired and challenged her. In Yoga Teacher Training, she met Laura McKinzie: "Laura was the nurturing soul who introduced me to the true depths of yoga. By taking a brief moment to pause and breath between poses, she taught us to FEEL... really being in the moment and in our practice."
In her Nutrition classes, Dee McCaffrey, Janet Lee, and Melanie Albert were all big influences—nutritionally, spiritually, and mentally. "They really know and practice the concept of consciousness and bring it into food," expresses Alexandria. "Who knew that one could reach nirvana through food!?! For the longest time, food was my enemy; now I fully see it as the medicine it is. I have changed my lifestyle the most through these nutrition classes. My kitchen has completely evolved, and I couldn't feel better!"
Life coaching with Richard Seaman challenged her, even as she sometimes felt uncomfortable digging so deeply into herself. Speaking of Richard, Alexandria says, "His delivery of life coaching was also transformational. He encourages a loving environment in class with acceptance and non-judgement. The way he talks keeps you on the edge of your seat, always wanting to learn more. I feel empowered and strengthened from what I learned through Richard, Loree, and Natalie in life coaching."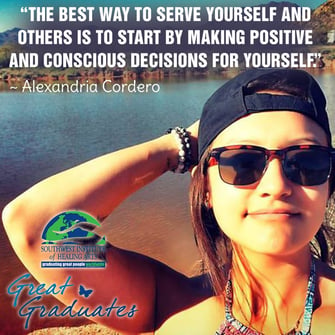 By the time Alexandria was done, she had finished the entire 800-hour YTT program, becoming certified as a RYT 500, holistic nutrition specialist, and life coach.
Alexandria feels much more in tune with herself on many levels after graduating from her programs at SWIHA. Yoga brought her in touch with her physical body and spirit. Life coaching further expanded that connection, while also teaching her to reframe and manage different areas in her life to lead to her to her highest self. "I learned to trust my intuition," she beams. Her new training in nutrition helped her nourish her body on a cellular level, giving it the best of what it needs to work energetically and efficiently. "I am building my best self," she says, "If your body is your temple, your vessel to experience life, why not treat it as sacred? The best way to serve yourself and others is to start by making positive and conscious decisions for yourself!"
Now that Alexandria has the business tools, supportive and like-minded environment, community, and greatly expanded knowledge, she is molding everything she has learned into her business, Om Away From Om. It is the product of a year of hard work so far. In that year, she has been busy growing a following and content for her personal blog, dealing with the legalities of starting a business, collaborating and working with other practitioners, and gaining experience through practice. She has also started teaching several yoga classes that really excite her, including stand up paddle yoga and yoga with kittens. She says, "I strive to cater and customize action plans for my private clients. In classes, I try to make it personal still while also encouraging connection."
Still maintaining her connection and love of animals, Alexandria plans to also include charity work and work with shelters. She wants to introduce people to pet-involved practices from her own life, including meditation, massage, aromatherapy, and yoga.
Alexandria's intention for Om Away From Home is for it to be a healing, growing, adventurous, connecting retreat for those who are open minded and desire the aspects in life that she practices every day for herself. She wants to teach people that life doesn't have to be so mundane, that you have the power and the choice to make things happen for yourself. "I have found a handful of modalities that help people get there. I'm forever looking to collaborate and expand," she says. The retreats are starting as day long events here in Arizona, with plans to include longer retreats in Hawaii, Costa Rica, and Fiji in the future.
Alexandria shares a quote by Jim Rohn along with some final advice, "'You don't have to be great to start but you do have to start to be great.' Follow your bliss… Whatever it is that you're so passionate about that you'd do it for free… Something that excites you so much you can't stop learning about it, talking about it, and sharing it with others. Whatever 'it' is, apply yourself to IT and prepare and arm yourself with tools. Make life and your career into something that you thought you could only dream of! Manifest it one step at a time. Make your own rules, your own reality. Have the patience to watch it blossom. Nurture it. It will become something beautiful. Trust the universe."
Website: www.AlexandriaBrittany.com
FB Link: https://www.facebook.com/OmAwayFromHomeYogi/
IG Link: https://www.instagram.com/omawayfromhome/
WORDPRESS (blog) : https://omawayfromhomeblog.wordpress.com