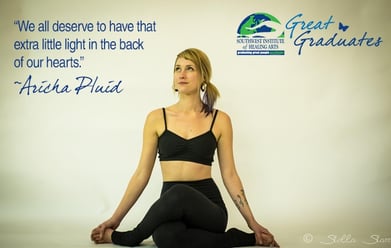 Aricha Pluid became aware of Southwest Institute of Healing Arts (SWIHA) when she was still living in Oregon, her home state, while searching for advanced training opportunities online. "I moved to Arizona with my husband in search of a new and different experience, but nearly half of my decision to sell just about everything and move to the desert was fueled by the promise of SWIHA, an oasis."
Aricha enrolled in and graduated from the 600-Hour Advanced Yoga Training Program with a certification in the Amrit Method of Yoga Nidra. Looking back she feels that her favorite classes were the core Advanced Yoga offerings. "They were by far the hardest for me because they drastically increased my anatomical knowledge and allowed me to become much more adept at planning a class, and more importantly, creating one that I would actually stick to. I received my 200-Hour certification in 2009 and although I was a gifted teacher, I abhorred the idea of structure--which ended up being what I needed to excel."
Kamini Desai, PhD influenced Aricha the most. "Being immersed in her extensive work with yoga nidra ignited an undeniable fire within me that speaks to my spirit as an individual and as an instructor." Attending SWIHA taught her how to become more persistent and present due to the length and varied curriculum of her program. "Studying yoga on a regular basis forced me to rise through rocky terrain in my practice and become intimately familiar with the ebb and flow that I have actually grown to love...I'm always learning."
After years of anorexia, Aricha stumbled upon yoga at age 18. It helped her find peace and strength like nothing else. For nearly 13 years, she has been blessed to learn many invaluable lessons by delving into her yoga practice. Most importantly, the presence of yoga in her life has given her a sense of monumental assurance, that she can overcome anything, no matter what the odds. "I am passionate about spreading this art and lifestyle for that very reason: we all deserve to have that extra little light in the back of our hearts." The education that she received at SWIHA empowered her to polish her natural abilities and learn how to create structure so that she can deliver that knowledge in a more composed fashion. "I was inspired to take my passion to the next level because I increasingly learned that it was the only way for me to live in accordance with my truth."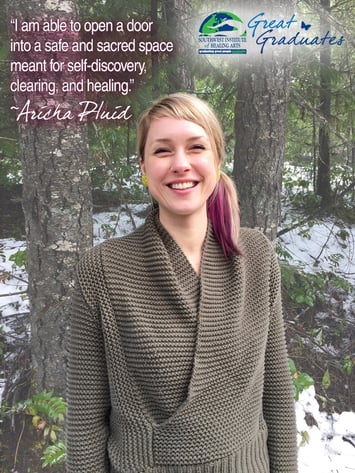 Dropping The Narrative Yoga is the business name that Aricha loosely used prior to attending SWIHA for yoga training. She feels that she especially identifies with it now, because it refers to her past (both personal and academic) and what she actively brings to the table as a yoga instructor and yoga nidra guide. "I design classes that fuse a variety of styles, modalities, and philosophies, creating a dynamic, yet soft experience which allows participants to become more intimate with and burn through stagnancy in a tangible and ceremonial way. Ultimately, I strive to lay the groundwork for an effective journey into the Self, initiating a dropping of the narrative."
Aricha currently lives and works in Eugene, Oregon where she offers weekly studio classes, yoga nidra recordings, private and corporate sessions, classes for high school students and athletes, and most notably, during 2016, she has been blessed with the opportunity to merge a B.A. in English with her Yoga and Meditation education. She has had the pleasure of helping create Wellbeyond Meditation for Kids, a meditation app for children set to release in the near future. Found within the App Store, she has infused the app with her very own written and spoken word. "It feels incredible to merge so many parts of myself and then to be gifted the opportunity to share that union with the global community...there's nothing like it."
When it comes to growing her business, Aricha admits that the easiest part about starting Dropping The Narrative Yoga has been her deep inner knowing that this is the correct path for her and that all of her efforts are worthwhile. The challenging aspect for her has been securing corporate accounts, which can be intimidating.
All of Aricha's clients become her friends, and then her family. "They attend my classes and listen to my meditations because I am able to open a door into a safe and sacred space meant for self-discovery, clearing, and healing." Aricha relies heavily on social media to spread the word about her business happenings, yet she absolutely loves hanging flyers and sharing by word of mouth. Both avenues have served her well. She sees her clients out and about in the community, mostly in a studio setting, although it is also true that she speaks to them through headphones wherever they happen to be listening. "I cannot speak for what each individual will experience during or after a session with me, yet most often I am told by my family of clients that they are able to fully let go and explore aspects of themselves and their practice that they often do not attempt to unearth. Thus, I suppose that they experience a chance to go deeper in whatever direction they choose." She gleefully admits that she simultaneously gets a glimmer of joy and deep feeling of peace when she combines the knowledge she learned at SWIHA with her innate knowledge while, most importantly, letting the moment at hand guide her.
Aricha wanted to share two words with currents students and recent graduates looking to follow in her footsteps: "JUMP IN!"
Stay in touch with Aricha and learn more about her work here:
---
About the Author, Kerry Burki
~ SWIHA Success Center Blogger
Kerry Burki is Editor of the newly launched KERRY Magazine ~ a magazine that uses real women as models, supports small businesses, encourages you to feel beautiful as you are right now and even has a printable worksheet to help you go after your dreams! She been teaching yoga since 2004, currently teaches yoga + meditation at a local assisted-living facility near her home in Scottsdale, Arizona. Kerry has written two ebooks about self-care (one for everyday and one for creatives) and she has just joined the SWIHA Success Center Team part-time as a blogger, consultant and creator!