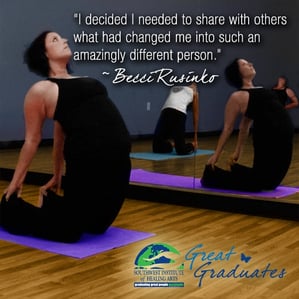 Becci Rusinko was searching for a flexible Yoga Teacher Training program that she could do in the evenings and found the Southwest Institute of Healing Arts' (SWIHA) YTT program.
She initially graduated in April of 2011 with her 200 hour YTT certificate. Then she came back in October of 2011 and completed her 800 hour yoga therapist program, which included holistic nutrition certificate.
Throughout the program at SWIHA, Becci felt that almost every class was her favorite and filled with so much valuable information. "I learned so much that I use daily in all of my classes."
She felt that she had such fantastic teachers that taught her so much. "My most memorable teachers would be Dr. Henele and Dr. Mahdi and Chef Rachel from the nutrition program and Mary Bruce from the yoga program."
The knowledge that Becci felt to be the most valuable was to be authentic to her true self and not to try and be someone who she isn't. Becci said, "I hold that so close to my heart every day."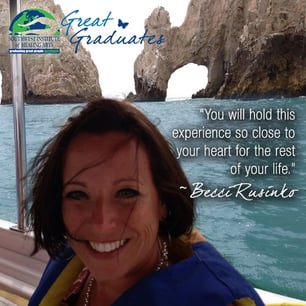 There was a part of Becci's life when she was in search of the right thing and she re-found yoga. "Not only did yoga help cure my physically, it also improved my mentality and made me a different/better person." After a few years of practice, she looked back at her old self and saw how incredibly different she was. "I decided I needed to share with others what had changed me into such an amazingly different person." Her passion for sharing yoga comes from having total faith and love for the whole practice. She loves knowing how yoga can help anyone who is open to allow it to transform their life.
Becci co-created a running and walking group in Goodyear, AZ after she saw that the ladies at the yoga studio where she teaches wanted to do more than yoga, yet seemed afraid and didn't know where to start. Becci said, "I have been a runner for years and decided I wanted to form a running/walking group with these ladies to help promote health, wellness, teamwork, accountability and support."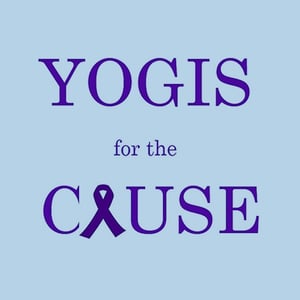 This running group has grown over the years into a movement called Yogis for the Cause. They are now a walking, running, and yoga group who participate in local runs, walks, and yoga events around the valley and state. For a one-time $30 fee, members of this group receive:
One Yogis for the Cause T-Shirt
EWC Canister Water Bottle
10% off of massage at the EWC for one week following each race
Sample of Doterra Deep Blue Muscle Rub
10% off future purchases of Doterra Deep Blue Muscle Rub
They have a website www.yogisforthecause.com and Yogis for the Cause Facebook group. They share upcoming races and events on the site and include photos from all of them.
Yoga For The Cause is run through the Eleutheria Wellness Center where Becci also teaches yoga. She teaches Hatha yoga, vinyasa flow, heated flow, restorative with aromatherapy, and a yoga class specifically for runners and walkers. Right now, her clients range in age, size, and gender. On the 2nd Saturday of every month from 12:30 - 2:00 pm, Becci teaches the Yoga for Runners & Walkers Class for Only $10. This series of yoga classes is uniquely designed for runners and walkers who are in training. These classes will focus on building stamina, strength in the body and mainly core, breathing and stretching into appropriate muscles.
Becci is currently working on her masters in nutrition and she is also working on speech therapy for kids with special needs. "The center I teach yoga at also has speech and occupational therapy for kids with special needs. After teaching yoga here for a few years, I became inspired by the therapist. I decided to continue my education so I could also work with the children in speech therapy." She considers the Eleutheria Wellness Center her home away from home. This unique center offers: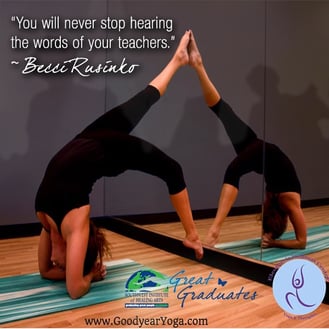 School Psychology services
Speech Language Pathology services
Occupational Therapy Services
Physical Therapy Services
Tutoring Services
Interactive Metronome
Massage Therapy
Reiki
Medical Nutrition Therapy
Hypnotherapy
Aromatherapy
Personal Training
Yoga Therapy
This center recently broke new ground on a new, larger space that will be able to accommodate even more of these wonderful offerings!
Being involved as a teacher in a such a unique place has helped Becci realize just how much SWIHA has altered her course for the future for the better. She truly believes that during her training her eyes were opened to the fact that the corporate world is not always the only way for success. She feels that is so important to share because a lot of people are stuck in that mindset. When asked if she had any advice for those students and graduates that might want to follow in her footsteps, she wanted to share this:
"You will hold this experience so close to your heart for the rest of your life. You will cherish every teacher and friend you will meet. You will leave and do your own thing, your own way, your own style. Yet you will never stop hearing the words of your teachers."
We invite you to learn more about how you can positively impact other people's lives with SWIHA's Yoga Teacher Training program.
---
About the Author, Kerry Burki
~ SWIHA Success Center Blogger


Kerry Burki is Editor of the newly launched KERRY Magazine ~ a magazine that uses real women as models, supports small businesses, encourages you to feel beautiful as you are right now and even has a printable worksheet to help you go after your dreams! She been teaching yoga since 2004, currently teaches yoga + meditation at a local assisted-living facility near her home in Scottsdale, Arizona. Kerry has written two ebooks about self-care (one for everyday and one for creatives) and she has just joined the SWIHA Success Center Team part-time as a blogger, consultant and creator!