Many of us have the goal of making wellness a priority in 2019...but why not start today?
The Holiday season is busy with travel, shopping and plenty of get-togethers. We're often giving so much of our energy, that we may not even notice when our reserves are low until we're exhausted, foggy-brained and sometimes even sick. By remembering self-care, you can be more present (no pun intended!) for your loved ones and let the Universe know that we're ready and open to receive the good that's in store for the new year.
We created a 12-day challenge based on some of the programs here at Southwest Institute of Healing Arts. If you decide to embark on this journey with us, let us know how it's going by using #SWIHAWellnessChallenge on social media! (Follow us on Facebook and Instagram to see posts from our commUNITY!)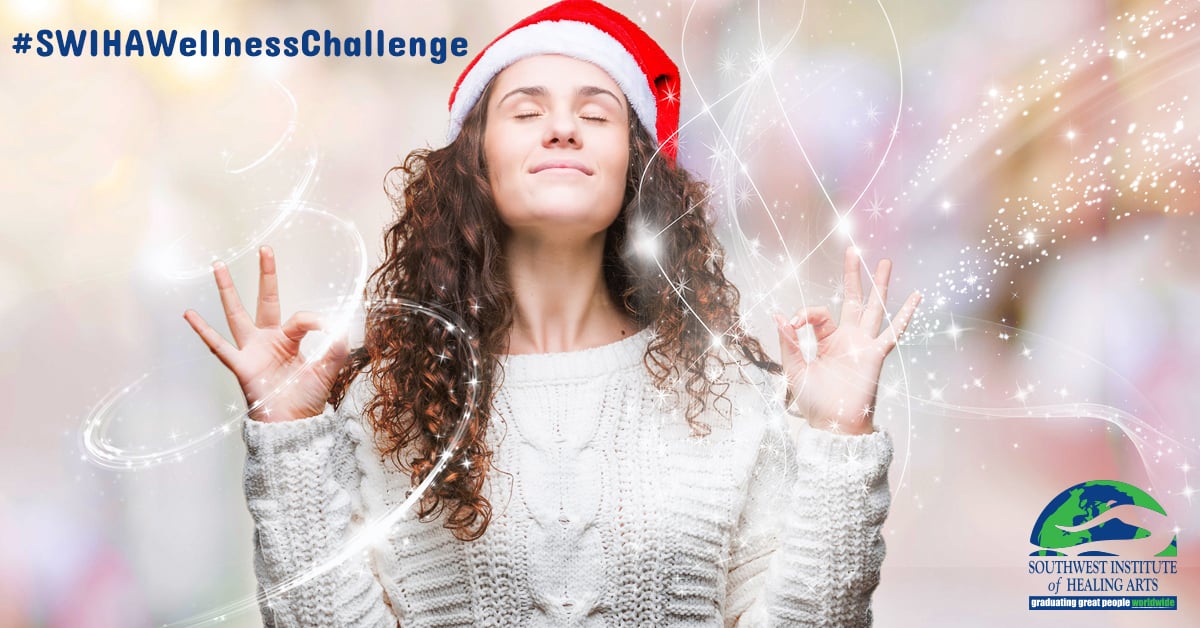 Journal about your hopes for 2019. Get specific! What are you calling in for the New Year? What will you accomplish, both professionally and personally? What lessons presented themselves in 2018?
---
Day Two: Yoga
Do three Sun Salutations with intention. An example of an intention for each set could be: One to leave behind what no longer serves you, one to ground yourself in the now, and one to open yourself to new opportunities.
---
Make the time to sip your favorite tea. Clear yourself from distractions throughout the process; it's 'tea time' not 'tea-and-checking-email time'. Mindfully prepare your drink and then find a cozy, quiet spot and simply enjoy!
---
Enjoy a whole-foods, plant-based meal. Check out this roasted roots recipe for inspiration, or have fun with your intuition and get creative with the fruits and veggies already in your kitchen. If you're already eating a vegan diet, challenge yourself to use all-local ingredients!
---
Do a body scan and self-healing visualization. Find a relaxing place to sit or lay comfortably and check in with your body. Begin at your toes and work your way up, observing any areas of tension or unease. Visualize your internal energy flowing smoothly and a white light of health and protection surrounding you. You may even be called to incorporate your favorite music, scents or crystals in to this process.
---
Decompress by listening to a Hypnotherapy session. We posted this goal setting group session led by Linda Bennett on our YouTube channel. There's also many different recorded sessions available via streaming services, so find one that resonates with you!
---
Do something that satisfies your spirituality. Whatever that means to you personally! Make time this day for prayer, reflection, ceremony or any other activity that puts you in touch with your higher self and nourishes your soul.
---
Soak away stress in an essential oil bath. Add a handful of epsom salt, a tablespoon of coconut oil and 5-6 drops of your favorite essential oils in to your bath water. Play some relaxing music and let the tension of the hustle and bustle melt away!
---
Honor your hard work and give yourself a massage. Is there a part of your body in need of some attention? Rolling a tennis ball across the soles of your feet is a great way to soothe aches from a busy day. If it's your back giving you some trouble, stand with the tennis ball between you and the wall and experiment with different points and pressures.
---
Nourish your skin with ingredients from your kitchen. Use your intuition to create a homemade face mask! Edible items such as coconut oil, avocado, yogurt, honey, coffee grounds, cucumber, banana and even herbal teabags are skin-safe (just avoid your eyes!) and chemical-free.
---
Ask to be Divinely guided through New Year. Through pulling cards, a prayerful moment or meditation, check in with your spirit guides today. Let the universe know you're eager to receive the abundant blessings coming your way in the new year! Your mantra this day is: I am ready!
---
Be present. Release the pressure to have a picture-perfect holiday and instead prioritize the real moments with loved ones. Stash away your electronics for the day, engage in meaningful conversations, play games or cook a meal together. Your presence is a present everyday!
---
Follow us on Instagram for daily reminders during this 12 Days of Wellness Challenge!