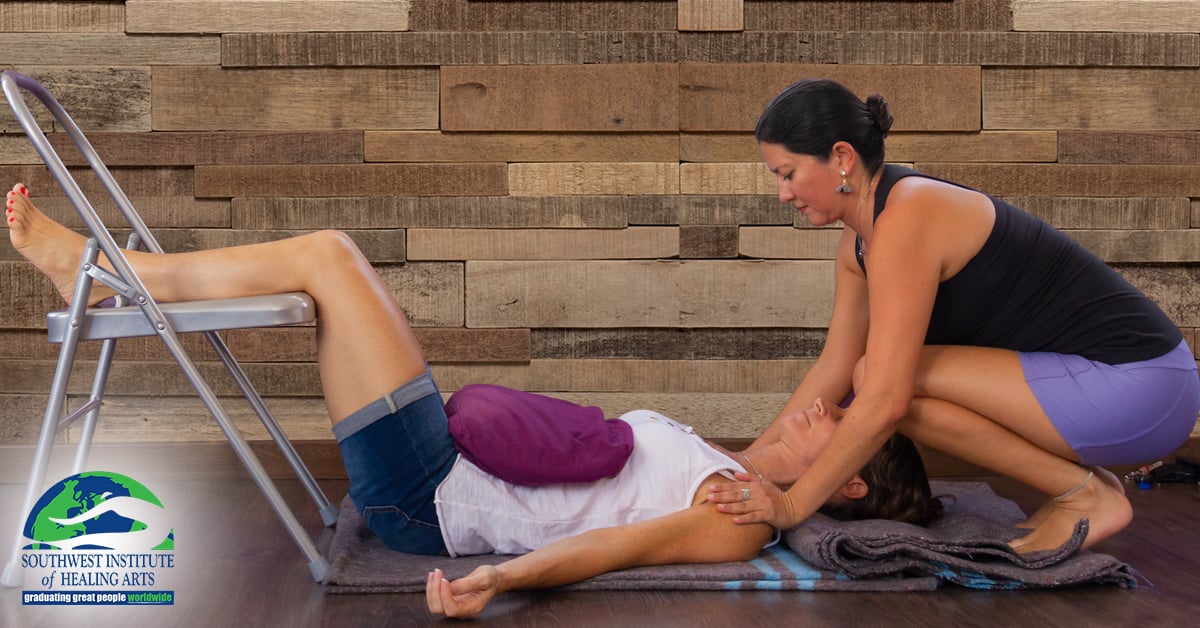 Southwest Institute of Healing Arts (SWIHA) offers several different options for those seeking to become yoga teachers and those who want to further their knowledge of yoga. I recently had the privilege and opportunity to speak with Kamini Desai, long-time supporter, partner, and Yoga Nidra facilitator of SWIHA. The Yoga Body Psychology course offered at SWIHA is from the Integrative Amrit Method (IAM) created by the Desai's and the teachings of her father, Master Yogi Amrit Desai.
Advanced Yoga Teachers are trained to work with groups and classes more globally while Yoga Body Psychology Practitioners are individual-based and designed to work with specific issues. An Advanced Yoga Practitioner would be able to help guide more poses assisting yoga students who want to focus predominantly on the asana (movement), whereas Yoga Body Psychology Practitioners help to usher in the psychology with the asana. This could mean guiding clients with physical ailments (lower back, neck, shoulders, hips, etc), releasing trapped energy, and/or unblocking emotions that are stuck. This could even be a combination of all three, customized for the clients' individual strengths, weaknesses, and needs.
Yoga Body Psychology Practitioners help clients process what's coming up for them, and working with the clients as the uncomfortable sensations come to arise. They specifically coach the person to be with sensations, rather than push through them which is what many of us do. Holding space and walking with someone through the mental, emotional, and physical struggles helps aid the clients' in the healing process. There are also different areas and spaces that Yoga Body Psychology Practitioners are going to be able to work in as opposed to advanced Yoga Teachers.
An example of this is my partnership with a mental health office out of Tempe, AZ. I was brought on to work with clients who needed something else to be able to add to their methods for processing their emotions, and for those that wanted to add a physical practice to their emotional maintenance. The office refers clients to me that want to add a yogic aspect to their healing path.
Healing is a journey; it's a practice that takes time, dedication, effort, and commitment. Working with the mental health office is what led me to study Yoga Body Psychology. I taught Yoga and Yoga Nidra, and after seeing a need for clients to further their healing process, I decided to study Yoga Body Psychology so that I could learn how to hold space for them as their emotions came up during sessions. It allowed me to be able to walk with them to identify what the energetic blocks are, rather than avoiding them.
SWIHA offers students the education, knowledge, skills and training needed to be confident in leading and teaching yoga. And whether you are facilitating group classes or working with clients one on one, you will walk away with the tools, resources and support needed to feel confident in your abilities to help others on their yogic path.
Yoga is not just about the asana, it's also therapeutic in nature. Yoga transforms the whole person, mind, and body. The two go hand and hand. The truth of the matter is that there is no right or wrong when it comes to deciding on which path to take for your yoga teacher education. Each instructor, each course, each lesson is something beautiful to add to your learning profile. Nothing is wasted, yet everything is gained.