Veronica Wright, a graduate of SWIHA's online Holistic Nutrition Wellness Practitioner program, has long held a passion for teaching.
"My life before SWIHA consisted of teaching my boys at home, managing a field trip based homeschool group, and working part time as a retail manager. Before homeschooling my boys, I taught early childhood education for 10 years," she shares, "I loved my life before SWIHA, though I always knew I was destined to do more."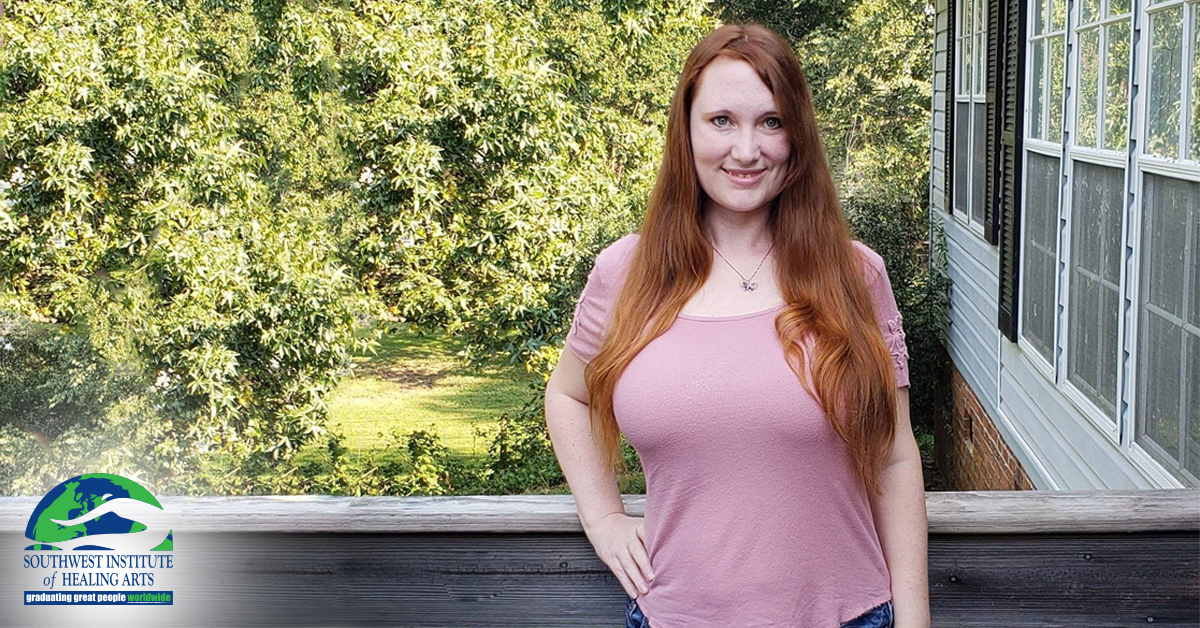 Veronica lost her mother at a young age to emphysema, and says that watching her mother struggle is what drives her passion to help others live happier, healthier lives: "When I learned of the mind-body-soul connection that is taught at SWIHA, I knew this was the missing link I had been searching for."
"Since early childhood, my journey has been full of ups and downs and many trials," she tells us, "SWIHA taught me that you are exactly where you need to be at this moment and that everything comes full circle. I never realized the full meaning of that until now. Everything that has happened in my life has molded me into the person I am. I had to go through all of that in order to be here in this moment right now. Only now am I ready to fulfill my calling. Only now am I able to serve others the way I was intended to."
As an educator herself, Veronica knew the value of knowledge and feedback and fully integrated each bit of wisdom she was imparted: "Dr. Clough's and Dr. Leone's classes were tough, however they both gave invaluable information and presented it in a way that I was able to understand and remember. Each of them inspired me to further pursue my studies into alternative health and medicine...I have been applying to colleges to further my education and I hope to begin college again in the fall."
Veronica says her defining moment came while coaching a friend for an assignment: "I was guiding her through the SMART goals and saw glimmers of hope in her eyes and an 'I can do this!' attitude. I knew was on the right path. There's nothing more gratifying than giving people hope, knowledge, and the tools necessary to make the lifestyle changes they desire."
Her education at SWIHA has also had a profoundly personal impact: "I am not only more healthier physically than I was when I first started the program," she tells us, "I am healthier spiritually and emotionally. I'm in complete balance now because I know what my purpose is here on Earth and I'm doing what I have been called to do - finally!"
Veronica is well underway creating her purposeful path for the future. She has registered a 501c3 non-profit business, Your Time To Shine Wellness & Retreat Center where people from all walks of life can come learn, relax, connect, and explore. Her center will be housed on ten acres with wooded trails, inhabited by animals such as dwarf goats, alpacas, chickens. She also plans to incorporate health and wellness coaching along with classes in cooking, nutrition, yoga, tai chi, art, and gardening!
"It will be a place for you to bring about balance to your entire being - mind, body, and soul," she says.
"I founded Your Time To Shine Wellness & Retreat Center as a non-profit because I wanted to be able to serve underprivileged youth and young adults in the community," Veronica shares, "So many times cost is a factor when it comes to our health goals and I want to make it affordable for everyone that desires a health or lifestyle change, and this is now possible through sponsors!"
She is also currently offer cooking, nutrition, and health & lifestyle coaching: "I impact clients by giving them the confidence, knowledge, tools, and resources they need to make the changes they desire happen. Every skill I learned at SWIHA is incorporated into supporting my work. Without being taught how to coach, support my clients, and how to develop my business none of this would have been possible - I owe it all to the knowledge and inspiration that each instructor gave me."
Veronica tells future SWIHA grads to "hang in there because everything you are doing is worth it."
"There were many times I wanted to give up because the course load is so tough, but I am so glad that I didn't," she says, "You are at SWIHA for a purpose and you will succeed in fulfilling your calling. Just breathe, relax, and keep envisioning that finish line. It's closer than you realize!"