"My life truly is my very own happy place," Janell Erickson tells us, "I have found healing and health through holistic and inspirational living."
Janell is a transformational coach, using an array of modalities to facilitate major shifts in the lives of her clients. Her path to SWIHA, however, was full of twists and turns!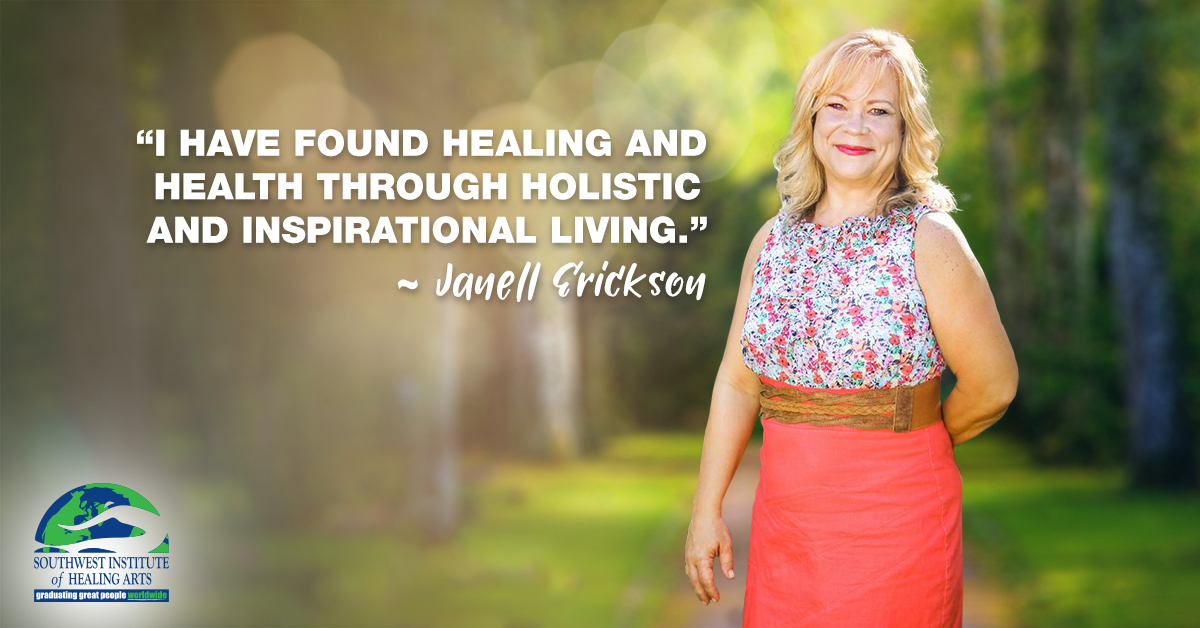 "I had a totally different lifestyle," Janell explains, "I was married, raised two step-sons, lived by the Colorado River, worked as a human resource manager, as well as owned a thriving ice cream truck business and eventually a steakhouse. And then the low tide of life swept in and set me up for the next part of my journey. I survived an alcoholic husband, bankruptcy and finally divorce. When my dad had his first heart attack, I knew I was being called into service as a caretaker for my parents. I relocated and spent six years living with them and assisting them through the final years of their lives."
During that time, Janell became a medical assistant, limited radiologist, and a diagnostic ultrasound tech. She was also an instructor in Pharmacology for Medical Assistants at a university. Although she loved being a part of others' healing journeys, she felt as though modern, Western medicine was not the way through which she wanted to serve.
When a mentor suggested she look into alternative healing as a career path, Janell says: "That was like a light bulb sparking my internal knowing. I was about to embark on something life-changing."
Janell found SWIHA through an internet search, read the course titles and was instantly hooked: "I came to visit and was invited to a Toe Reading event. I was enthralled as the Toe Reader asked so many questions that were exactly related to how I was interpreting my life. I wondered if she was really just psychic! I knew then I had to move to Arizona to enroll."

Six weeks later, Janell's life changed yet again as she started Toe Reading and Reflexology classes: "I was thrilled to learn these new ways of thinking about the body-mind-spirit connection. Every class I took and every teacher I had became my new favorite, and yet Toe Reading is still the thing I'm most passionate about. I find the toes are an essential tool for a breakthrough in healing with my clients."
"My passion for Toe Reading has led me to many exciting places," she says, "I've attended Celebrate Your Life in Chicago and Phoenix, been to the beaches of Mexico, the yurts of Iceland, yoga festivals in Sedona, and local intuitive fairs as a Master Toe Reader."
Janell has combined her years of education and toolbox of modalities in to her business, My Happy Place. She uses a personalized holistic healing experience for others to manifest their very own 'happy place' in life!
"By using active listening skills and powerful soul searching questions based on what I see in the toes, I am able to activate awareness and create empowering metaphorical connections that relate directly to the path and emotional life people have lived through up to the present time," explains Janell, "I witness the journey they've walked thus far as depicted in the holographic imprints on the soles of their feet. With a gentle and loving approach, I encourage clients to release trapped emotions and old patterns that hinder balance and life energy."
Her advice to future students is this: "Don't wait to graduate to do your work! The minute you learn a new skill go practice, practice, practice. By the time you graduate, you will have a full toolbox and the start of a client base that will launch you into living your dreams."