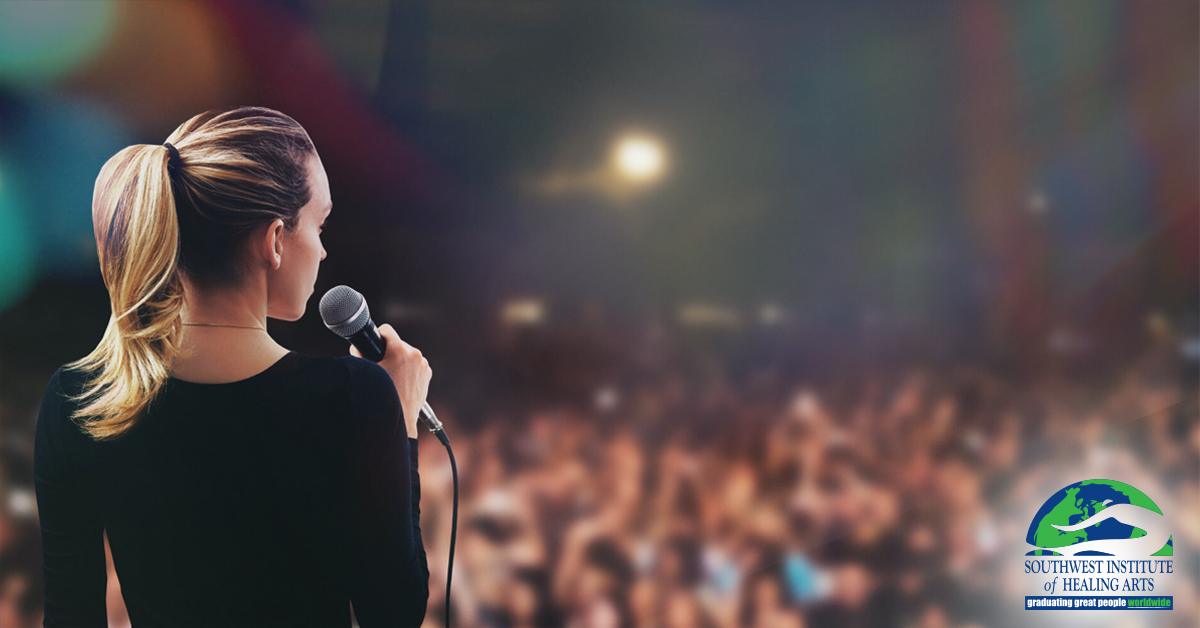 Maybe you dream of giving your own Ted Talk, motivating others to follow their dreams, or speaking at a professional convention about your area of expertise. There's one inevitable piece of the puzzle for those with a message to share: public speaking.
The thought strikes fear in to many, and it's understandable! However, once you become comfortable talking in front of larger groups, you will more easily connect to smaller groups and within your personal relationships. Public speaking will help uncover a deeper part of yourself, making you more authentic and interesting on and off stage.
If you make a point to center yourself before stepping on stage, you may just have the time of your life!
Change the thought from "I'm so nervous." to "I'm so excited!"
Transform your anxious energy in to enthusiasm using an "Opportunity Mindset". Both nerves and excitement suggest that uncertainty lies ahead. However, being excited suggests that the future is something to look forward to!
We know that words matter--especially our own--and that they possess the power to build us up or tear us down. Consciously choose to stop using negative words and replace them with empowering language that expresses passion for your message.
Use Conscious Breathing Techniques
Your breath is a powerful tool that is always at your disposal. By simply being mindful of your breathing, you can regulate blood pressure and heart rate, as well as send calming signals to your brain.
Observe your natural breath pattern and then connect with your body through slow, steady breathing. Find a safe space to stand, sit or lay and close your eyes. Breathe in deeply through your nose, focusing on filling the belly. Exhale slowly through your mouth, vocalizing with a "woosh" if that is helpful for you.
Say "Yes!" Whenever Possible
Before you step on stage, tell yourself: "Yes! I can do this!"

As with any skill, the more you say "Yes!" to public speaking opportunities, the more you will grow into a confident and competent orator. You will become less afraid of pauses, more forgiving of mistakes, and realize that the audience will really only remember the powerful points you make on stage!
If you are a student or graduate, SWIHA invites you to say "Yes!" to the opportunity to present at July's Gifts and Graces Event: Truth and Transformation Poetry & Story Slam on July 12th! Share poetry readings, original stories, humorous tales or even a bit of music!. It will be hosted by the valley's well-known Poetry Slammer Aaron Johnson and SWIHA's own Sharon Rose. This will be an event full of friendly competition an Audience Panel will serve as loving scorekeepers to determine the Favored Performer of the Night.
Email Sharon Rose at sharonr@swiha.edu by Monday, July 8th with a preview of your submission.