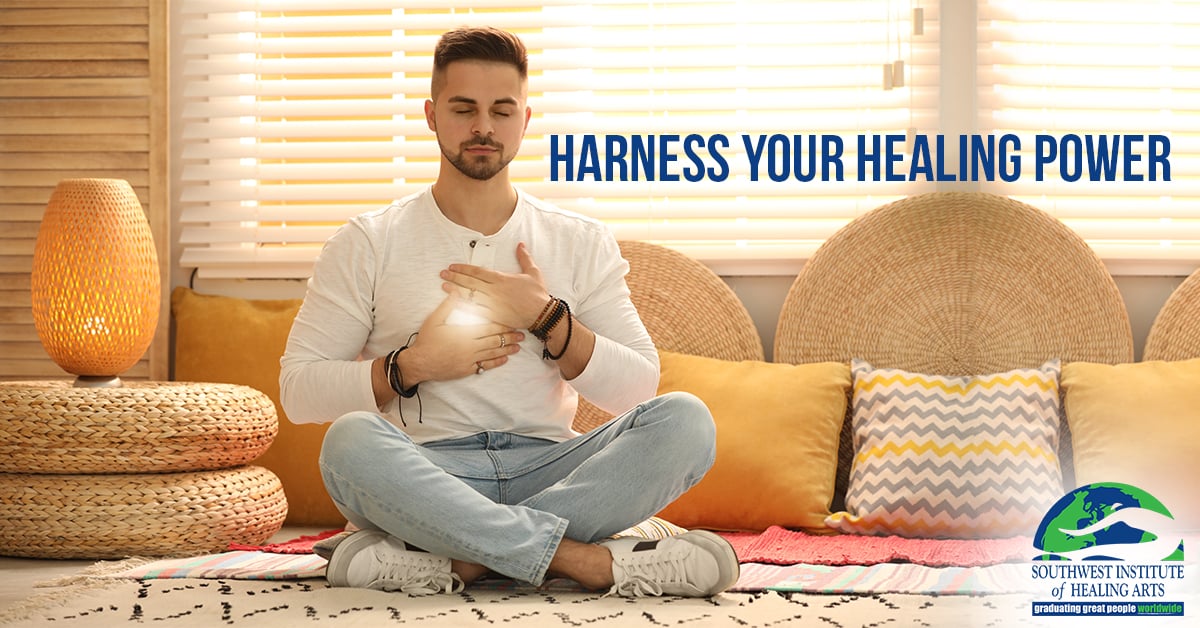 It's long been known that the winter can be especially difficult for people. With shorter hours of sunlight, colder weather and the Holiday season, many of us may be experiencing a feeling of "off-ness" -- compounded with the events of 2020 already collectively difficult to process. However, we often have more power over our emotions than we may consciously realize. Here are three self-healing techniques that you can use when you need to take back the reins of your well-being:
1) Connect With Your Body Through Touch and Breath
In a state of dysregulation, feeling disassociated is common. One way to bring yourself back in to your body is through conscious breathing. When you add touch to breath, you bring attention to both the external and internal world.
This exercise can be as simple as finding a comfortable place to sit, holding yourself in a hug or placing a hand on your chest, and taking deep, full inhales and exhales. It's a grounding activity that helps to alleviate overwhelm, and can also be done with a partner if you are in need of external emotional support.
2) Take Child's Pose As Needed
You will often hear yoga instructors encouraging the use of Child's Pose at any point that it's needed. What if you brought that practice out of yoga class and in to your everyday life? Child's Pose is a therapeutic posture that gently stretches the hips, thighs and back while relaxing the muscles in the front of the body. Its name alludes to the fact that this posture is often seen intuitively taken by children, and it may provide comfort for your inner-child. To take Child's Pose:
Come to your mat (or other comfortable surface) with your hands and knees as support.

With your knees hips-width apart, or wider if it feels comfortable, keep the tops of your feet to the ground as you lower your belly to floor.

Allow your forehead to touch the floor, or use a pillow if it is more comfortable. There is an energy point at the center of your forehead which activates a rest response; making your forehead comfortable is key to this pose.

You may extend your arms forward or let them lie alongside your thighs.

Keep this posture for as long as you like, reconnecting with your breath.
3) Channel Your Emotions in to Creative Energy
With the prevalence of social media increasing, it can seem like every creative endeavor must be profitable. Creating something just for joy is essential and valid, and it can be as simple as doodling in a notebook, baking muffins or dancing to a song you love.
Identify a creative activity that brings you joy and work mindfully. Incorporate sounds, colors, scents or other stimulation that allows you to move through your negative feelings to make room for positive emotion. It may be helpful to imagine your chest as a room slowly filling with light, illuminating all of the things that you hold in your heart.
Are You Inspired to Make a Difference?
Modern science confirms the long-held belief that we are all energetic beings expressing ourselves physically, emotionally, mentally, and spiritually. If you desire to make a positive impact and open other's up to their own healing power, it may be your call to become a healer.
Southwest Institute of Healing Arts has a powerful Massage + Polarity program, where you will learn to identify how mind-body-spirit energy impacts the whole being, and open up your clients to a fuller, happier life.
Conscious touch and energetic healing has never been more important. SWIHA is following all CDC recommended guidelines to keep our students safe. You could begin building a fulfilling career in 2021! Class begins January 19th, 2021. Click below to read more or call (480) 994-9244 to schedule a call with one of our Admissions Coaches.