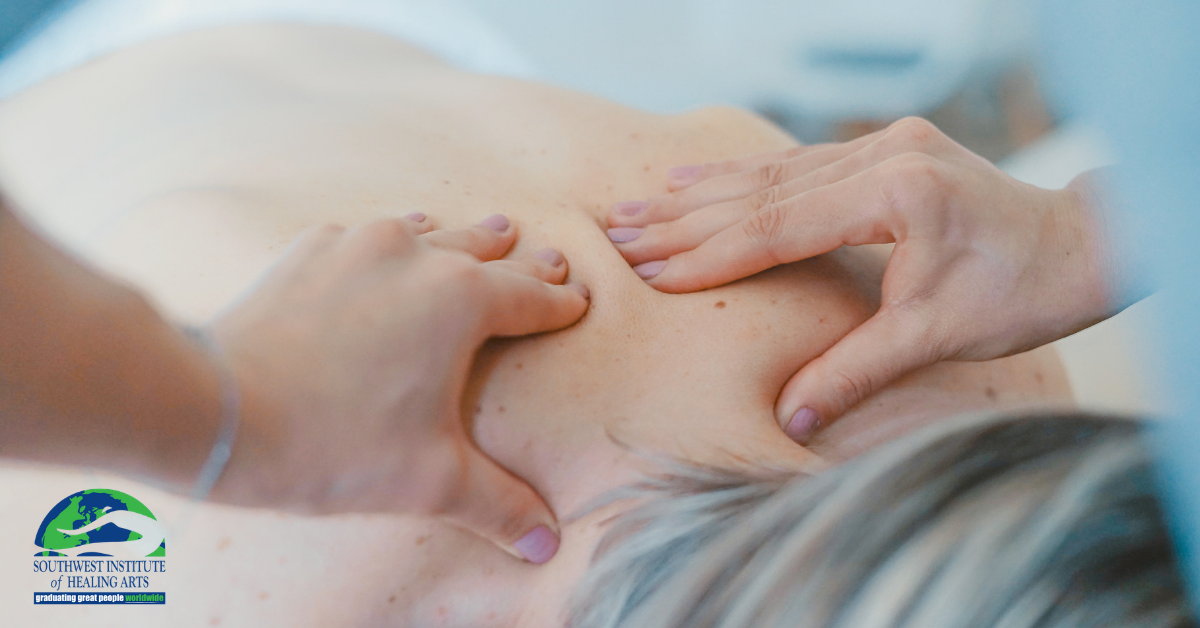 Healing arts are more popular than ever, and one of the most accessible (and versatile) modalities is Massage Therapy. In addition to being a relaxing spa experience, it is now widely used in medical settings for pain management, stress reduction, and in conjunction with traditional treatments. Sessions can be both preventative and restorative, which means that no one doesn't need a massage!
Southwest Institute of Healing Arts began as a humble massage school in Arizona. In honor of those roots, we'll look at three reasons you'll absolutely love a career in Massage Therapy:

There's a Huge Demand for Licensed Massage Therapists
Really! We hear from employers regularly, asking us when we're graduating more Massage Therapy students.
The nationwide unemployment rate for Licensed Massage Therapists is 1.1%, which shows that if you want to work in this field, there are jobs out there for you!
Massage Therapists work in an array of settings, including:
Spas

Long-term care facilities

Fitness centers

Cruise ships

Resorts

A private office

Integrated health clinics
As we're faced with an aging baby-boomer population, the demand for therapeutic services will grow. The popularity of franchised massage parlors has made this modality increasingly accessible as well.
---
Most Massage Therapists Work Part-Time, Giving You Freedom & Flexibility
75% of Massage Therapists work part-time, averaging between 20-30 hours per week.
Many enter this field for supplementary income, choosing to keep just a few regular clients or work at a spa a couple days per week. Others find their path profitable enough to commit to it as their primary career. Massage Therapy gives you the freedom to decide and enough income to provide you with flexibility.
You can also use Massage Therapy as a complementary modality to other healing arts, such as:
This means there are an infinite number of ways to incorporate Massage Therapy as a means to increase your income and serve your clients more fully!
---
Massage Therapists Create Their Own Unique Path to Follow
SWIHA offers several Massage Therapy programs, allowing you to craft a personal vision for your career:
Professional Massage Practitioner
Diploma – 750 hours – 11 months full-time
As a graduate of this massage training program, you will be prepared for a position as a professional massage therapist and will also learn the entrepreneurial skills necessary to start your own practice if desired! This 750-hour diploma program exceeds the 700-hour license requirement in Arizona while still offering you the space and flexibility to specialize in additional areas of your choosing.


Master Massage Practitioner
Diploma – 1000 hours – 14 months full-time
Want to tailor your massage education even more? Our Master Massage Diploma exceeds the requirements for massage therapy training in nearly all states across the country! By enrolling in this program, you will gain access to study in a myriad of specialties not offered elsewhere.


Master Massage with a Specialty in Natural Aesthetics
Diploma – 1000 hours – 14 months full-time
Diversify your skill set by combining the best of both worlds: a dual license in massage therapy and natural aesthetics from Southwest Institute of Natural Aesthetics. This program merges the massage training offered through our Master Massage Practitioner Diploma at SWIHA with the 600-hour Natural Aesthetics Program offered by SWINA.


AOS Degree in Holistic Health Care – Concentration in Professional Massage
Degree – 60 Credit hours – 24 months full-time
For those interested in taking their career in massage a step further, SWIHA'S AOS Degree in Holistic Healthcare with a Concentration in Professional Massage is a perfect fit. Start building the foundations necessary for a vocation centered on the well-being of others. What sets us apart from other Arizona massage schools is our emphasis on supporting the well-being of the mind, body, and spirit, as well as natural healing and energy modalities that create healing in your clients.
---

"One of the greatest lessons I learned while at SWIHA was that approaching life and business without judgement, for self or others, can clear the path for other important lessons and paths to success. Meeting myself where I am, as well as meeting others where they are also came from no judgement. I also find that having attachments to job titles can be extremely dangerous, and SWIHA helped me understand and implement that in my life. There are so many lessons available for all students, if they are willing and ready to do the work." - Victor Terrazas, SWIHA Graduate