A Japanese master during the Meiji era (1868-1912) named Nan-in welcomed a university professor who came to learn about Zen. The Japanese master began to serve tea. Nan-in poured the professor's cup full, and then some. As the professor watched the teacup flow, he eventually could no longer restrain himself and blurted out "It is overfull. No more will go in!" Nan-in then replied, "like this cup, you are full of your own opinions and speculations. How can I show you Zen unless you first empty your cup?"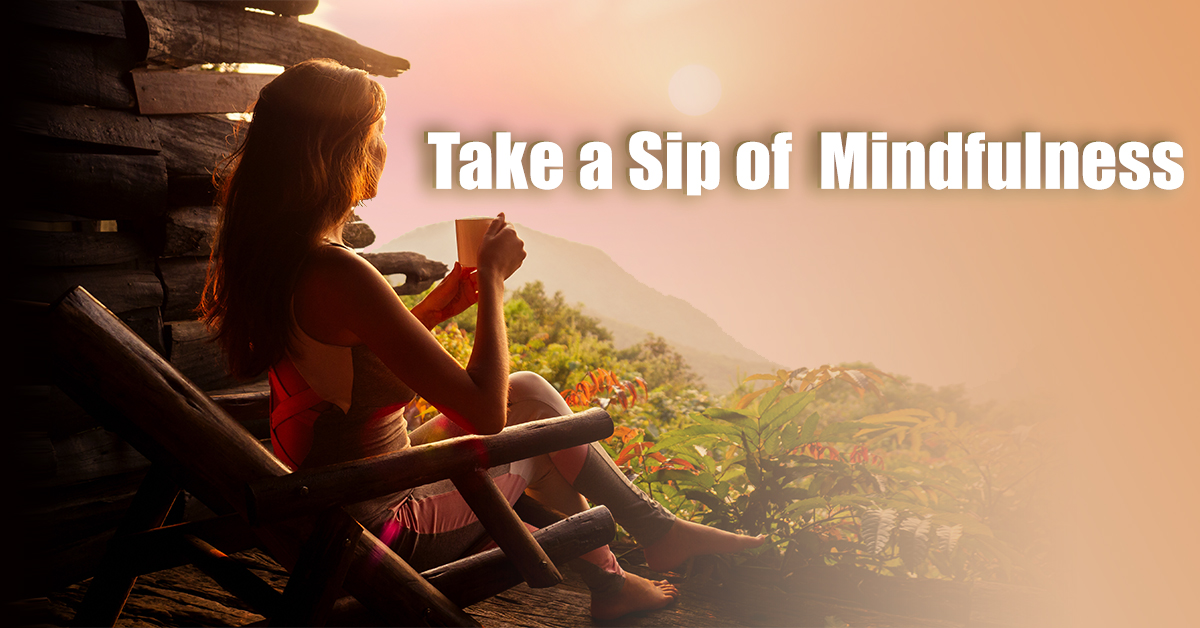 From Japanese tea ceremonies to British afternoon tea, rituals surrounding tea have been a part of world cultures for many, many centuries. Drinking tea can be more than an act; you can actually integrate it into a mindfulness practice. Studies have shown that rituals and traditions have a positive impact on our emotional lives, so incorporating a ceremonial aspect to this beneficial beverage is truly treating mind, body, and spirit.
Set aside the time. Maybe it's fifteen minutes or maybe it's forty-five; whatever you can spare, take it for yourself unapologetically.

One of the most sacred aspects of tea is the time it takes to brew—there is no way to speed up the process. As your tea brews, say a prayer, recite a poem or visualize your intentions for this moment.

As you drink your tea, do something that makes you happy. Curl up with a book, color a picture, write in a journal or listen to your favorite music. Whatever feels good for you, do that!

Thank yourself for allowing the space to enjoy your tea and nourish your body and soul.
The art of mindfulness is something we can all practice this holiday season. As the temperatures are cooling down, the sun is setting sooner, and our minds turn to the fact that holidays such as Thanksgiving, Christmas, Kwanzaa, Hanukkah, and so much more are right around the corner! This can bring much unneeded stress into our lives. According to the American Psychological Association, mindfulness has many benefits such as:
Reduces habit of rumination and overthinking

Lessens emotional reactivity and improves relationship satisfaction

Diminishes the risk of stress and anxiety attacks

Improves working memory and mind clarity

Develops better focus, concentration, and productivity
What exactly is Mindfulness?
Mayo Clinic defines mindfulness as a type of meditation in which you focus on being intensely aware of what you're sensing and feeling in the moment, without interpretation or judgment. Practicing mindfulness involves various breathing methods, guided imagery, and other ways to relax the mind and body to reduce stress.
Mindfulness. Pause. Take a breath. Be present in this exact moment. Be able to really assess your situation and make a plan for the holidays. They are inevitably creeping towards us every calendar day. As the world keeps turning, ease the holiday stress by being proactive and practicing the art of mindfulness to help you get through the remainder of the year!
Below, are two recipes, provided by Chef Janet Lee, Online Academic Advisor here at SWIHA. Janet Lee proudly embraces the practice of mindfulness and states, "Holidays and health can be synonymous. With a little preparation and creativity, the holidays can be a memorable and delicious holiday season". Knock two items off your list and make these delectable drinks for your family and guests this holiday season! Maybe even practice some of the mindful exercises mentioned above while your sipping your tea or Nog!
Warm Chai Spiced Tea
4 quarts boiling water
2 tablespoons star anise
8 cinnamon sticks
2 tablespoons cardamom seeds
1 vanilla bean
¼ cup dried ginger root
1 teaspoon whole cloves
1 box Bengal Spice Chai tea bags
1 box Decaf Earl Gray tea bags
1. Pour water over the star anise, cinnamon sticks, cardamom seeds, vanilla bean, ginger root, and cloves in a nut milk bag. Steep for 2 hours.
2. Add in both boxes of tea bags, let set for 1 hour
3. Remove tea bags; add in any sweet dairy or non-dairy creamer.
Non-Dairy Creamer
1 can coconut milk, full fat
1 tablespoon vanilla extract
1 tablespoon maple syrup
Place all ingredients in a glass jar, put on the lid, and shake it up.
Options: add in pumpkin spice, nutmeg, or cinnamon
Non-Dairy Holiday Nog
3 cups dairy-free milk
1 can full-fat coconut milk
4 tablespoons maple syrup or coconut sugar
½ teaspoon ground cinnamon
¼ teaspoon ground nutmeg
1 teaspoon vanilla extract
1/8 tsp. ground cardamom, optional
1. If making your own milk, blend 1 cup of cashews with 3 cups of filtered water. Blend for 40 seconds. Pour through a strainer or milk bag or leave as is. If using other nuts, straining will be important.
2. Add in additional ingredients and blend until creamy.
3. Serve cold, over ice, or warm by heating.
4. Store in a glass jar, keeps well for 4-5 days.
5. Serve with coconut whip cream and sprinkle cinnamon or nutmeg on top.
If you're interested in learning more about the medicinal qualities of tea and other plant-based remedies, consider SWIHA's Western Herbalism program. SWIHA Western Herbalism graduates are working as herbal remedy producers, guides for plant exploration hikes, teachers of herbal agriculture, herbal foods chefs, working for naturopathic doctors, writing research papers and journal articles, and are creating educational organizations centered around herbal wisdom.