Ask Loren Evans what the greatest lesson he has learned in his 22 years at SWIHA, and he'll tell you this: "The Universe will never present an opportunity that we are not prepared for." While he may not have envisioned becoming an instructor at SWIHA or a well-traveled massage therapist, it was a journey and an opportunity that he was certainly ready to seize.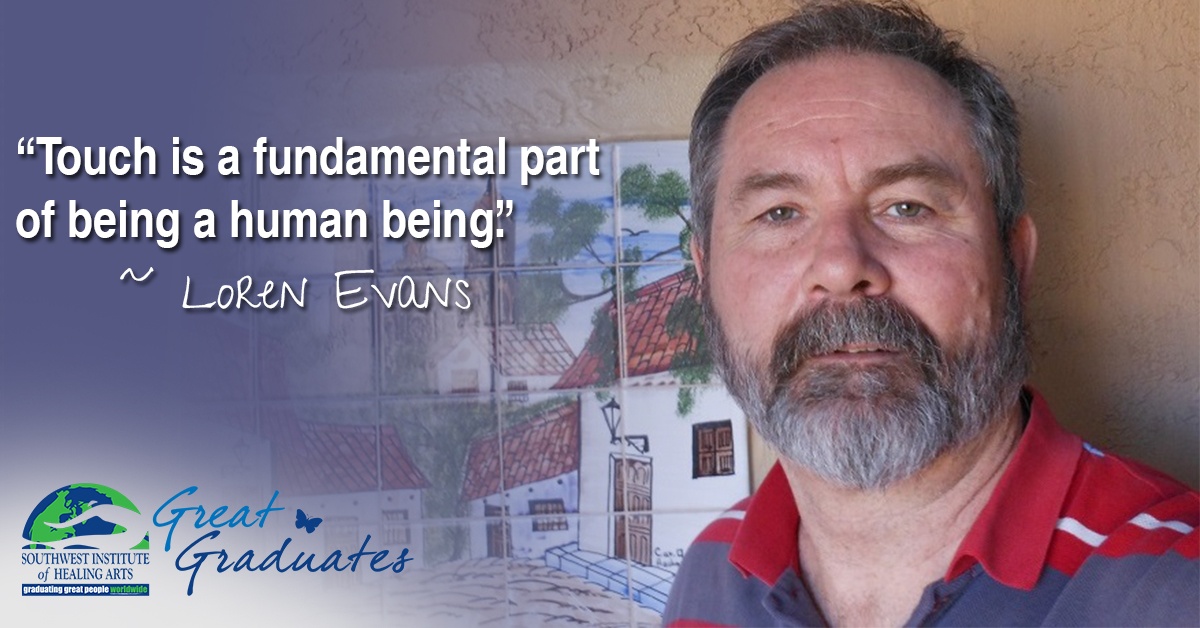 Loren was introduced to massage therapy through his former wife, who had suggested that the pair sign up for a community education massage class close to home in Salt Lake City, Utah. At the time, Loren was employed as a software designer for healthcare companies. This demanding career took him far and wide across the United States— and even internationally to places like India, where he helped complete a project involving open system design. Loren eventually relocated to Mesa, Arizona, to serve in a directorial capacity at Banner Health. There, his profound intelligence and leadership were put to good use, and he was made responsible for a large business system support staff servicing 20 hospitals across seven states.
Although he was nearly 700 miles away from the city that had served as his home for nearly a decade and although a whole year had passed, Loren couldn't quite forget how valuable his experience had been in that community massage class back in Utah. "I was so enthralled with touch and its healing nature," Loren recalls. "I just wanted to do more massage again." And so, in 1996, Loren embarked on an exhaustive search for another school through which he could learn massage. "I did not like any of them until I found this crazy, wonderful school on Miller Road," he shares. That school was SWIHA.
Becoming Unstuck: An Intro to Myotherapy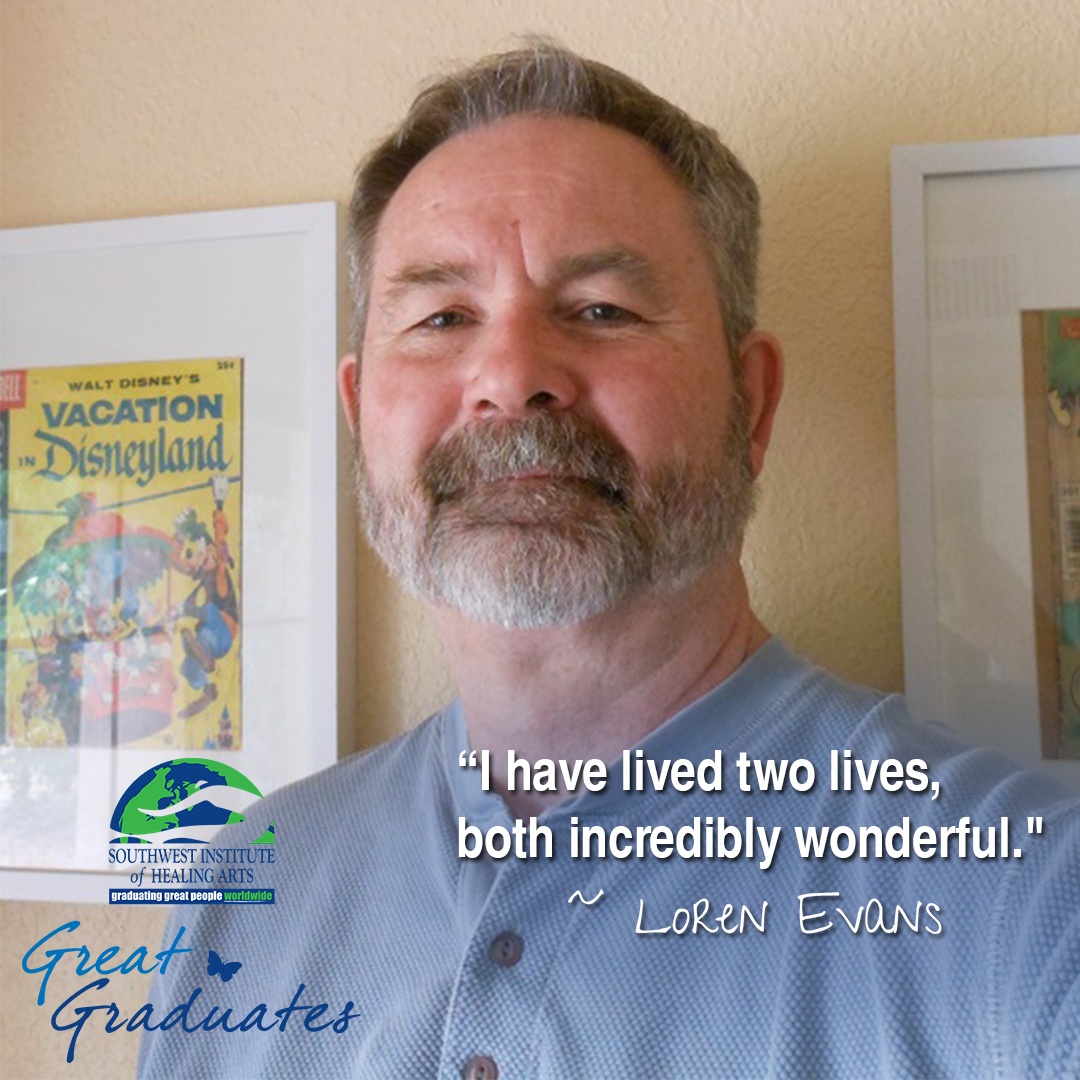 At the time, SWIHA's programs were all themed around shaping your personal dream. Loren's dream of becoming a massage therapist began with enrolling in the Myotherapy 7 Step Release System course. Myotherapy is a type of manual therapeutic treatment which addresses the pain associated with and directly caused by issues in the neuromusculoskeletal system. Using hands on techniques—like massage, reflexology, and acupressure—myotherapy practitioners move and manipulate the skeleton to unlock "stuck" muscles.
Myotherapy was pioneered by Bonnie Prudden, a rock climber and mountaineer who dedicated her life to evolving American conceptions of fitness and health. Inspired by the techniques of her climbing partner Hans Kraus, who introduced her to Corrective Exercise, and the research of her friend Janet Travell, who identified pain patterns and trigger points within the human body, Prudden created the Bonnie Prudden Myotherapy. In the development process, she used aspects of this technique to address neck stiffness and back pain she was coping with after a ski accident and, later, to get back into the gym a mere six weeks after a hip replacement. Dedicated to the cause of helping others achieve pain-free bodies, she set up the Bonnie Prudden School for Physical Fitness and Myotherapy in Tucson, Arizona, in 1992, and spent the next 18 years training others to heal themselves.
The version of myotherapy piloted by KC Miller at SWIHA and taught through the 7 Step Program introduces the concept of the emotional body into the mix. Operating on the belief that physical trauma can cause the literal build-up of negative feelings within the self, this approach involves addressing the "holding pattern" of the body to release both chronic pain and emotional stiffness. SWIHA additionally offers extensive training in releasing specific areas of the body, like the lower back, neck, and rotator cuff—all in service of mind-body-spirit awareness.
From the get-go of studying this involved methodology at SWIHA, Loren was hooked. "I felt like I went from a grade school level understanding of massage to a high school level. In fact, I ended up loving myotherapy and building a business around it," he reflects fondly. "I am an extreme left brain, logical person, which served me well in designing computer systems. SWIHA has been instrumental in the development of the right side of my brain. Now, when in conversation about energy, yoga, or emotions, my brain does not try to explode!"
Traveling to Thailand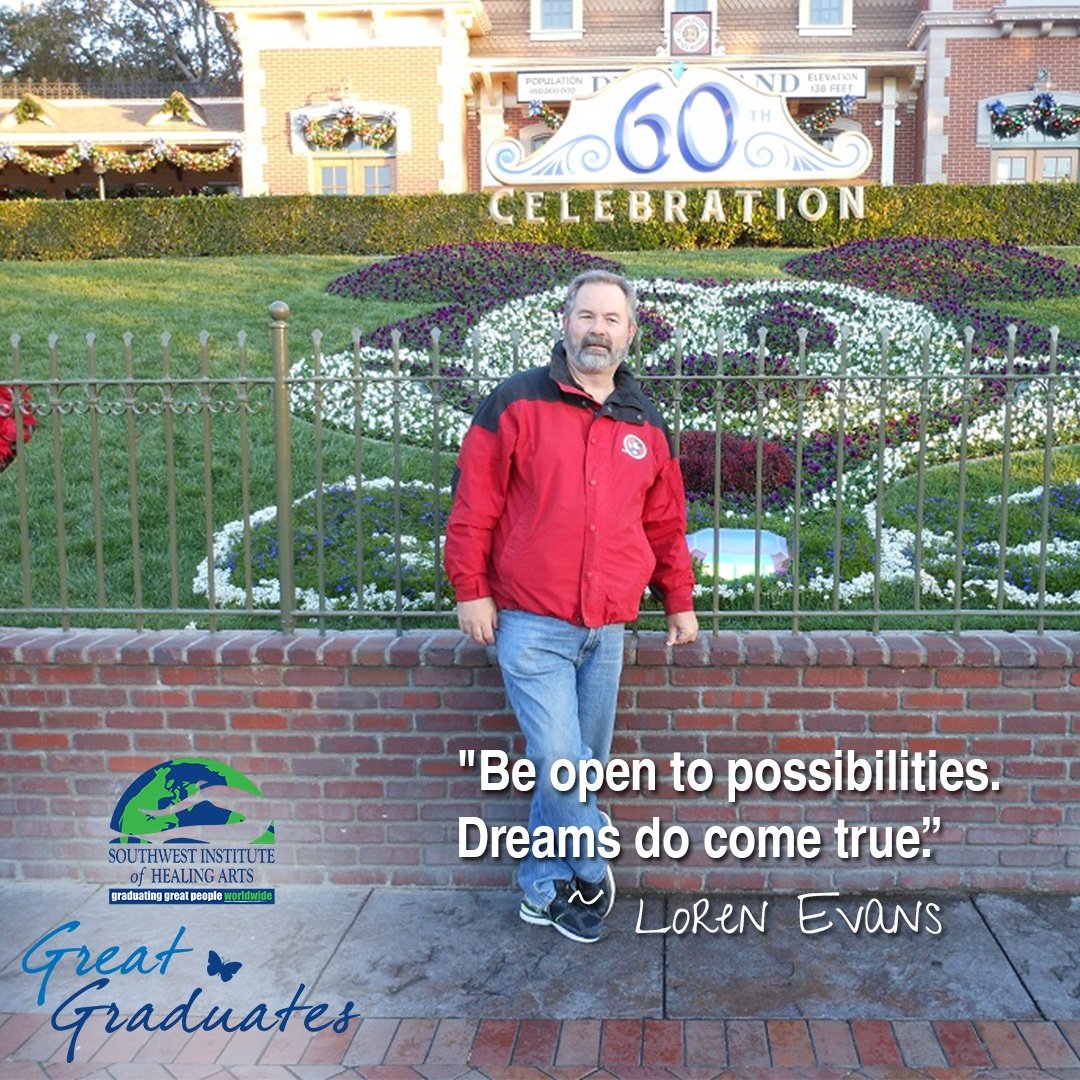 Yet, the learning did not stop there. "Within a few years of practice, I was thinking there had to be more," says Loren. "So, I took my first trip to Bangkok, Thailand, in 1999 to study Thai Massage at the Wat Po Traditional Medical School." As the first center for higher learning in Thailand, this iconic institution was created by the abbot of the Wat Pho temple at the request of King Rama 9. The school's curriculum was constructed to focus on four specialties—medicine, pharmacy, midwifery, and massage—and was originally situated within the temple!
While the Wat Po school has since moved locations to accommodate its expansion, it is still operating stronger than ever and currently offers 15 massage courses in levels ranging from basic to professional. The focus of most of these classes is naturally the introductory techniques of Thai massage. Unlike Western massage practices, Thai massage uses rocking, pulling, and stretching rather than kneading to release tension within the body and increase flexibility. Rather than just employing the hands, massage therapists using the Thai technique will engage their own legs, knees, feet, and other parts of the body to manipulate their clients into postures.
Traveling to study Thai massage in its homeland unequivocally changed Loren's life, and he continues to do so, having earned 1200 credit hours abroad. "I have since returned six more times to take many more classes. This level of study made me feel like I was going from high school to college," he discloses. "While on the table I always use myotherapy, my passion is the Thai healing arts." In fact, Loren has brought home the techniques he has learned to pass along to SWIHA students in the 13 different classes he teaches on campus, such as Thai Foot Massage, Ethics for Massage Therapists, and Business Practices for Massage Therapists. He is determined to impart the wisdom he has obtained and the importance of massage in health and healing. "Touch," he shares, "is a fundamental part of being a human being."
In more wonderful news, Loren will be returning to Thailand in December to further his massage education by taking more classes at Wat Pho. It just goes to show that his life-long commitment to mastering his specialty is going strong. "It is possible to retool one's life to move in a totally different direction," he states. "I have lived two lives, both incredibly wonderful. Be open to possibilities. Dreams do come true."