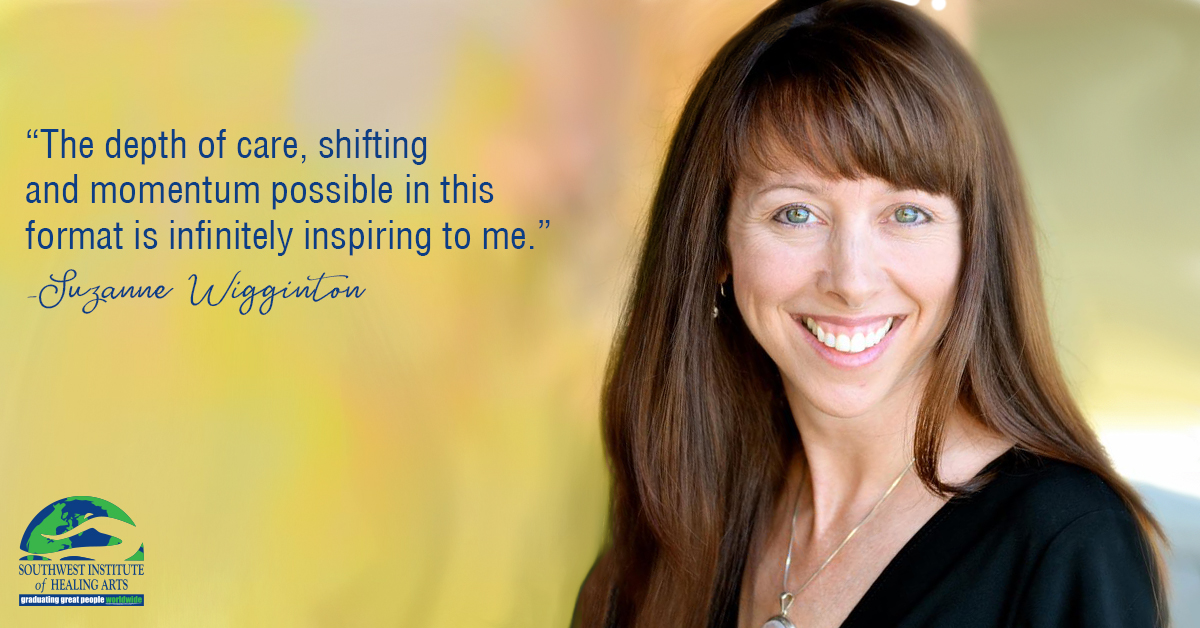 "Effective life coaching provides relief, restores hope and offers ease so that life feels manageable and meaningful," says Suzanne Wigginton, "The work helps to clear the way, connect the dots and align clients with healing pathways and perspectives."
Suzanne served as a Massage Therapist for many years after getting her education at Southwest Institute of Healings Arts. Before her venture into the healing arts, she worked as a paralegal and knew that she was destined for more.
"Leaving the legal profession to pursue a career in Massage Therapy had been a stepping stone, not a destination," she explains, "I began feeling a pull toward something greater, although I had no idea what that 'something' might be."
Suzanne went on to complete SWIHA's on campus Life Coaching program followed by the online Hypnotherapy program. She describes these programs as "beneficial and life-path altering".
"As an intensely sensitive being myself, in my sacred wellness practice I work mostly with other highly sensitives," Suzanne tells us, "Even when clients don't self-identify as 'sensitive', the folks drawn to my work tend to be wired to perceive our world at a more intense level than most. Feeling lost and misunderstood is a common state, and being seen and honored for experiences of life at these deeper layers is a gift and one I feel privileged to offer in my work."
Her sessions are a two hour combination of deep-listening and intuitive guidance paired with Sonic Energy Medicine work on her treatment table. She incorporates gongs, drums, singing bowls, tuning forks and other sound and vibrational tools and modalities.
"In the guidance portion of my session work, I invite my clients to let go of a need to 'start at the beginning' of the story, which is often experienced as a lot of pressure for them to organize. Whatever conversational doorway we use delivers us to a layer of beneficial work with some part of their story as our vehicle," she says, "Often we find a malleable piece in the story where the "charge" can be neutralized. From there I assist them to sift and sort, then shift and transform. We exit the session in a new place of fresh awareness and perspective. In subsequent sessions when my client can trust that we get to what they need regardless of where we begin, they relax into the process which serves their work even more."
"The combination of coaching with energy medicine modalities proves to be the most productive way I have ever worked with clients. The depth of care, shifting and momentum possible in this format is infinitely inspiring to me," she concludes.
In honor of Life Coaching Month, SWIHA invites you to visit www.guidanceoncall.com to receive your first Coaching Session for the month of January complementary.
We invite you to visit www.guidanceoncall.com to receive your Initial Complimentary, Virtual, Coaching Session for the month of January, "Life Coaching Month."