For Jason Taylor, life before SWIHA felts like a numbers game. On the surface, he appeared to be a successful executive chef and restaurant manager. He had a "never say die" attitude—one which guided his spirit as he overcame addiction, abuse, and homelessness. Yet, despite the difficult hurdles he had surpassed and the assistance of many kind people along the way, Jason had still not dealt with the root of his pain.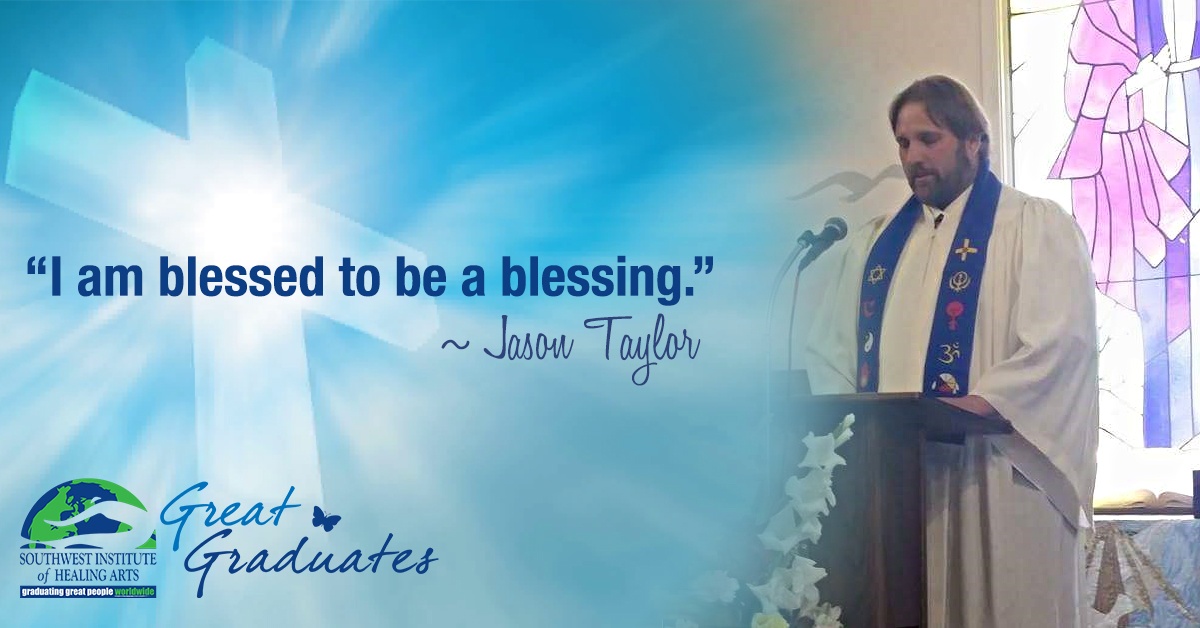 "I was in constant 'run' mode," he shares. "I ran from myself, I ran from responsibility, and I ran from anyone who truly loved me. When I signed up for SWIHA, I was forty years old. I had had over 100 jobs, lived in 35 states, and all my relationships had ended poorly. I very rarely let people into my heart. The only thing I felt that I had done right was being a single father to my amazing daughter. Other than my kid, I did not trust anyone—least of all myself. I avoided truly being vulnerable or sitting in a place of healing."
It was in enrolling in SWIHA's Transformational Reiki training courses that Jason realized that he didn't have to run any longer. "I chose reiki training because it resonated with me… actually, I would say it chose me," he clarifies. "I always believed there was more to life than just the physical world. I was scared, yet I trusted what I was feeling. I was made aware of the true power I have within myself and that the ability to transform myself is limitless."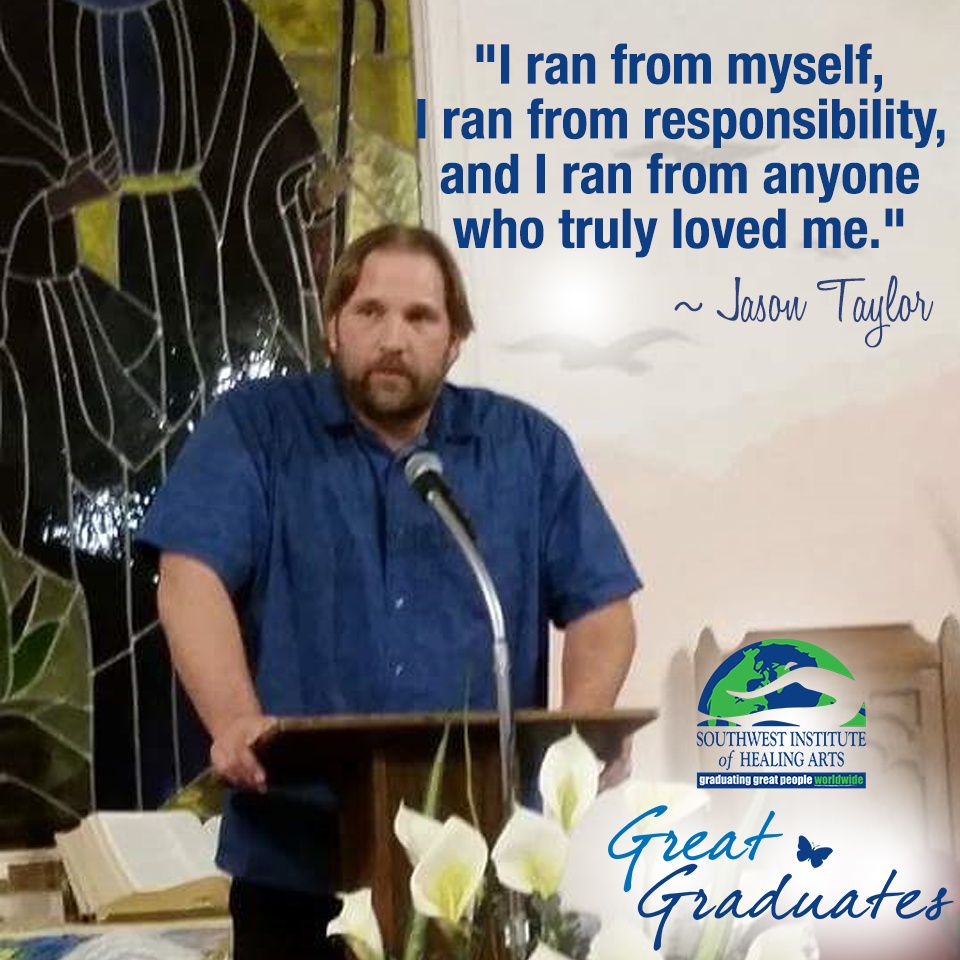 After graduating from SWIHA in 2013, Jason used his newfound empowerment to continue his studies and eventually became a Certified Dietary Manager through the Idaho State Healthcare Program. He additionally became ordained as a New Thought Minister within the Interfaith Community Church and began serving as a Prayer Chaplin. The merging of these educational avenues—and the guidance and coaching he received through the SWIHA community—culminated in an epiphany for Jason. He was being called to serve the very population that he was once a part of: the homeless.
As a result, Jason founded a local non-profit called Other Side Ministries, through which he serves as the President, Reverend, and Executive Chef. Other Side Ministries works tirelessly to serve the homeless on the streets in front of Central Arizona Shelters Services, providing food, clothing, shoes, toiletries, and pet supplies. "Most of all," Jason comments, "We work to stay in community with our family on the streets."
Other Side describes itself as a "love-based ministry providing HOPE for our community through meals, resources, connection, and education" with the focus of connecting to others on a human level. In as little as six months, Jason has helped Other Side grow from preparing meals for 200 to 250 people a year to 400 people in January and February alone. Jason's ultimate aim for the organization is to create a class that will provide real-world job skills to the homeless. As such, the non-profit is currently busy refurbishing a storage container and building a sustainable green kitchen.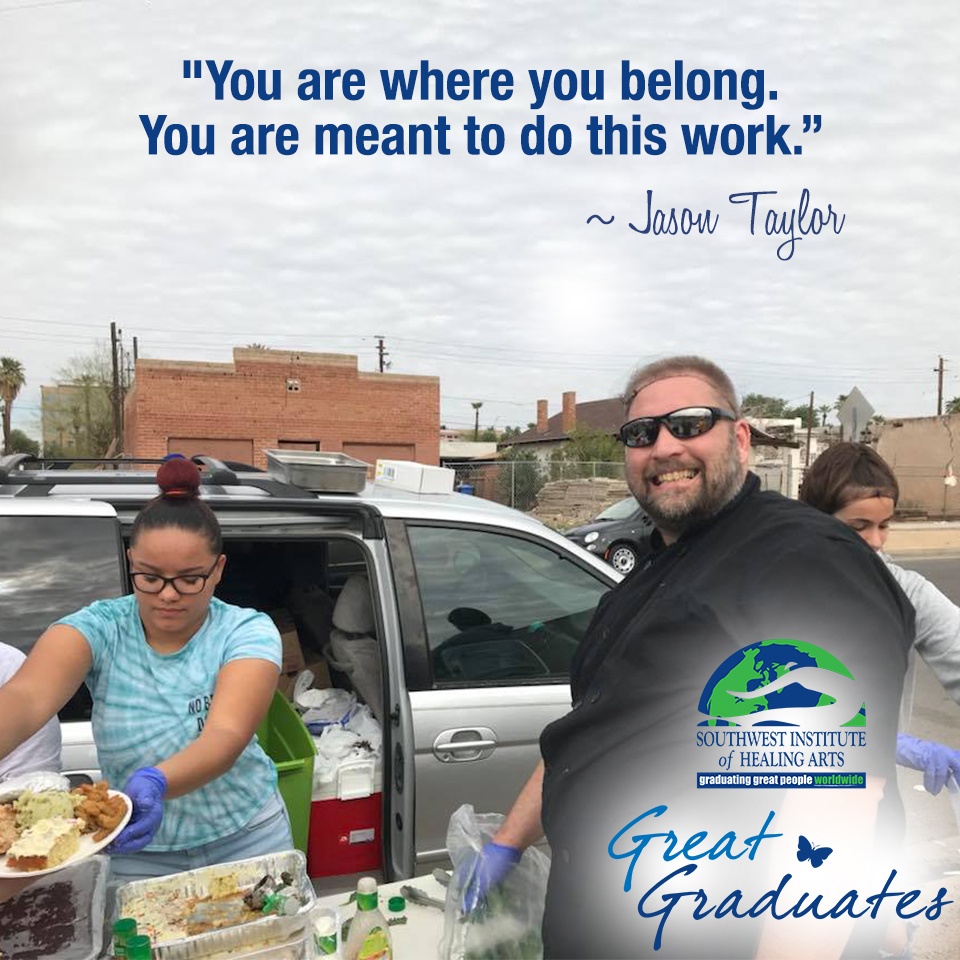 "Our vision is to have this class provide hope and lead to jobs in the culinary field," he shares. "We are partnered with Midwest Food Bank, who provides food and non-perishable supplies. East Valley Institute of Technology also provides student support by cooking a majority of our food for the events. We serve on the third Sunday of the month. Arizona Gives Day, which is April 3rd, will be our next outreach event, so let us know if you want to assist!"
In addition to his service to the homeless, Jason is actively bringing his reiki training out into the world with a concentration on healing and education others. He co-hosts a Reiki Gong event at Interfaith Community Church on the first Saturday of every month with Nimisha Tejani, combining sound healing with the power of reiki. "As our clients receive a gong bath, I move around the room and utilize reiki to assist each person in moving out old energies," he says. "This allows each person to reconnect with their true self." He also teaches a weekly class at Unity of Mesa called "The Gnosis of Yeshua," which opens with meditation, includes a lesson and discussion on a mystical principle relating to Jesus, and closes with reiki.
Jason credits the incredibly impactful teachers he encountered while at SWIHA for the knowledge and guidance which they brought into his life: "I learned Reiki from Aurianna Pierson and Ann Cabano. I was attuned by Ann and Aurianna to the Transformational Reiki Levels I, II, and III, as well as to the Master symbols. Nacho Verdugo attuned me to Sophia Reiki and mentored me as I created my own practice."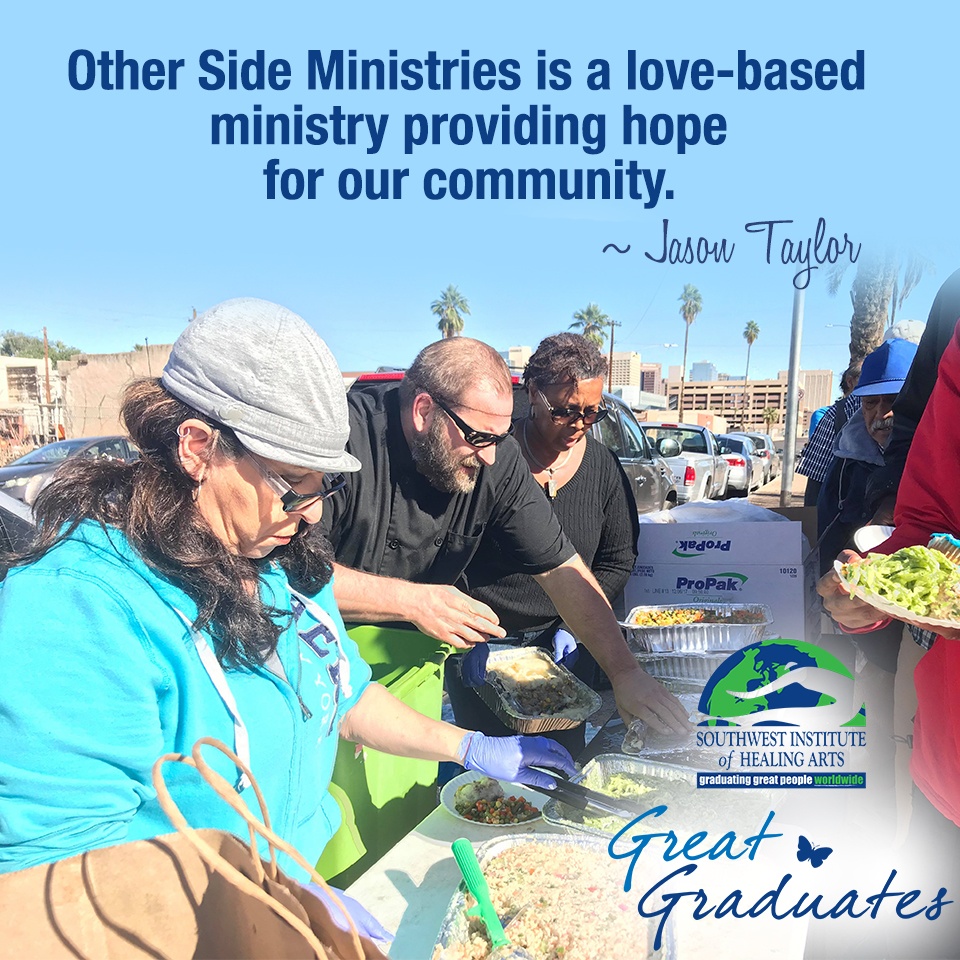 Yet, these teachers offered more than just instruction in the tenets of reiki; they shared valuable insight into the energetic world and the value of mentorship through their personal radiance. "Aurianna is one of the most compassionate people I have ever met. Ann exudes love for life and for all of her students. Nacho is a generous person and assisted me as I processed much of my early life," Jason recounts. "They all taught me to become aware of energy, as well as how to understand it and work with it. They instilled in me the importance of self-care. They not only taught me to trust myself…. They also became my great friends. They believed in me before I did."
In reflecting upon his time at SWIHA, Jason is grateful for the changes that occurred within him, emotionally and spiritually. "I began to unpack and deal with my brokenness," he remembers. "I forgave myself, and then I was able to look at my past and forgive others. Our work is never done. Even today, today, I still wrestle with the mental struggle to trust myself and others, yet I have the tools and knowledge to overcome all obstacles. I am blessed to be a blessing."
His advice to future SWIHA students is to face down the fear and simply have faith: "You are where you belong. You are meant to do this work. Trust in the process. Take the time to heal. You don't have to be perfect."