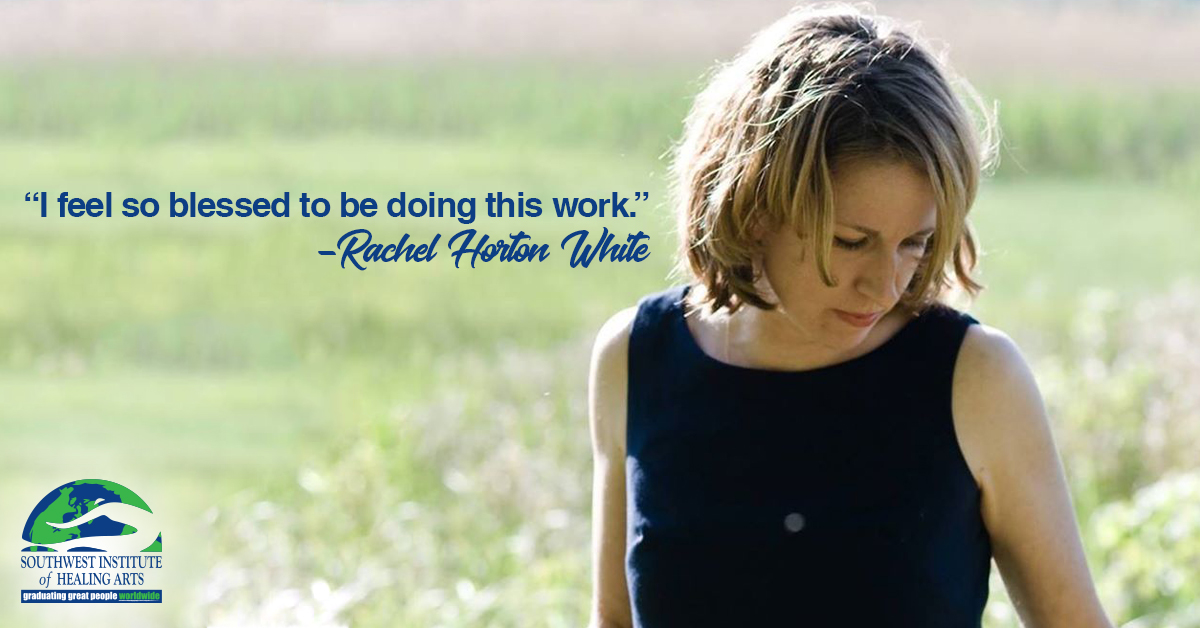 "Life coaching, to me, is helping people move toward the life they long for in their potential futures," explains Rachel Horton White, founder of Soulful Work Intuitive Consulting, "It is listening with an open heart to the client's needs and desires, and gently nudging them along to take risks and move out of their comfort zone to becoming the highest and best version of who they really are. It is also about giving the powerful tools to help them get 'unstuck' in their lives."
Rachel had been involved in Life Coaching prior to her education at Southwest Institute of Healing Arts, however, she had the desire to learn more about how to intuitively connect with angels and was also intrigued by hypnotherapy and its power to help people break deep-seated patterns. She graduated from the Integrative Healing Arts Practitioner program, and her business has been growing ever since!
"My business is a spiritual coaching business, and I work mostly with introverted women who are feeling stuck in some way," she tells us, "I use my intuition in every session to connect with the client and ask my own Divine guidance to help me best support them."
In addition to Hypnotherapy, Rachel utilizes Akashic Records readings with clients, uses writing tools with clients and is bold in her approach of pointing out any subconscious patterns that are holding them back. She has developed a "formula", which she calls the Soulful Work framework, in which she works with a client over the course of approximately six sessions. At the beginning of each session, she will often do a short centering exercise or guided meditation with clients to help them learn to quiet their minds and connect with light in their hearts and bodies.
"I feel so blessed to be doing this work," Rachel says, "I get to tap into my intuitive gifts with every client, and connecting with Spirit in this way brings about a deep sense of love and peace in my life. Also, each client is different, and I enjoy brainstorming, or being guided, to various approaches that can best help them. When I see a client make a life-changing shift in their life, and when they tell me how transformational the work we did together was, I truly feel like I am fulfilling my life's mission to help share and spread light in a world that badly needs it, as part of our massive awakening and consciousness shift!"
In honor of Life Coaching Month, SWIHA invites you to visit www.guidanceoncall.com to receive your first Coaching Session for the month of January complementary.
We invite you to visit www.guidanceoncall.com to receive your Initial Complimentary, Virtual, Coaching Session for the month of January, "Life Coaching Month."