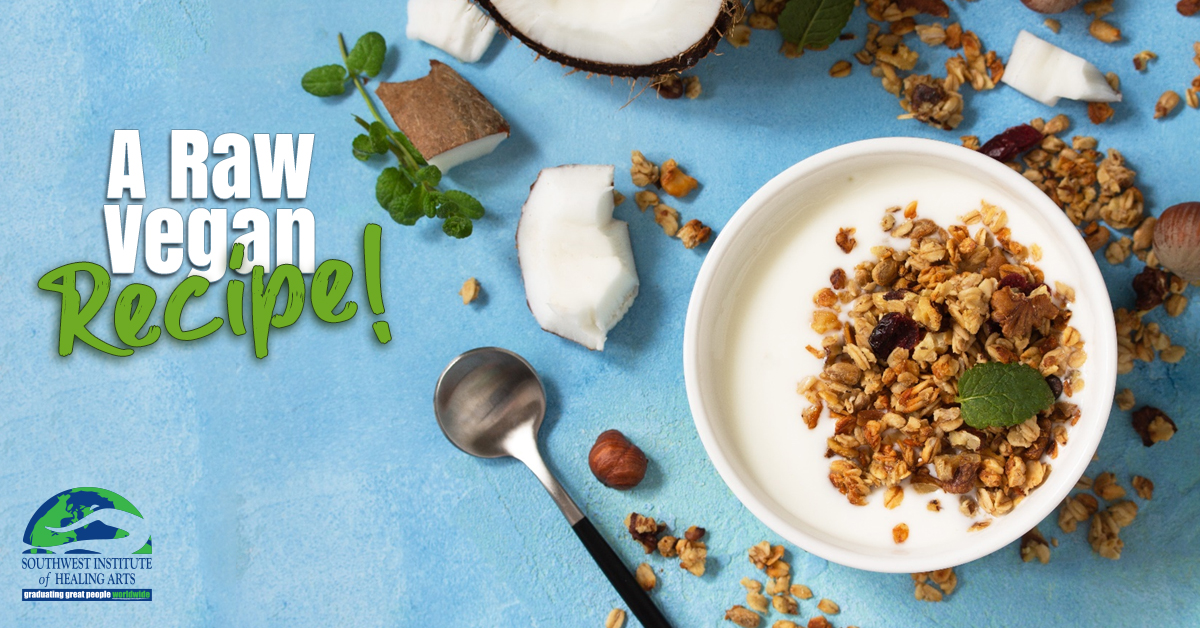 Many people are opting to remove dairy from their diet, opening their eyes to the many alternatives and getting creative with ways to recreate traditionally dairy-based items! Janet Lee, a raw food chef and SWIHA Holistic Nutrition instructor, recently shared on a Facebook Live video for #WellnessWednesday two ways to make delicious and nutritious coconut yogurt.
Coconuts have numerous health benefits – they contain fiber, manganese, copper, iron and medium-chain triglycerides (MCTs), supporting your heart and bones, healthy weight loss, as well as having many essential electrolytes to prevent fatigue. When you add probiotics to the mix for gut health, you have a treat that is yummy and supportive of your total wellness.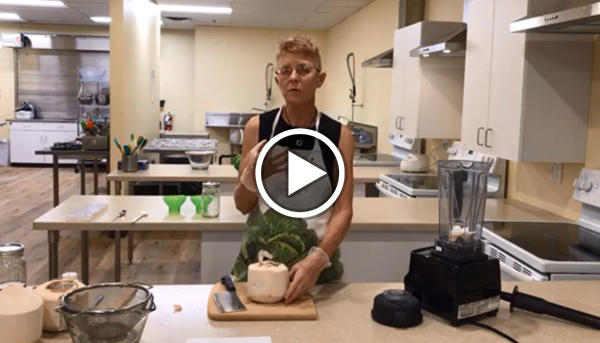 Coconut Yogurt with Young Thai Coconuts
3 cups raw coconut meat (~3 coconuts)

1 cup filtered water

1 teaspoon vanilla extract

Probiotic powder




Open the Young Thai coconuts with a hatchet, scrape out meat.
Blend the coconut meat, water and vanilla.
Slowly add in the probiotic powder and mix well at a low speed
With a rubber spatula (no metal) pour mixture into a 1 quart glass jar with a loose lid.
Leave at room temperature for 12 hours.
It should have a sour, tangy smell and taste.
Refrigerate for long term use.
Can't find fresh coconuts or don't want to spend time scraping out the meat? We've got you covered!
Coconut Yogurt – Easy Option
Open two cans of full fat organic coconut milk.
Blend well.
Add in 5-6 capsules of probiotic powder (open and pour in the powder).
Mix slowly in blender or by hand.
Pour into a 1-quart glass jar.
Keep lid loose, store on counter in a warm area for 24 hours.
Refrigerate – will keep for 1 month.
Bonus tip! Freeze for delicious coco-froyo – a healthful and delicious warm weather treat. Some serving suggestions:
Add granola for crunch.
Top with fruit.
Mix with pineapple juice for a tropical smoothie.
Blend frozen banana and scoops of froyo.
Drizzle honey and top with nuts.
Add peanut butter and dark chocolate for a nostalgic treat.