Sometimes, the journey leads us to a destination we never could have expected. For Nickole Swensen, it was that unanticipated curve in the path that led her to her true purpose: a life of healing, though certainly not as she had planned it...
"I originally went to SWIHA to study holistic nutrition," Nickole confides. "I was fascinated with the way food impacts our bodies and wanted to share my love of food with future clients. I was really interested in learning more about ways to heal and help others that would use all the elements—mind, body, and spirit."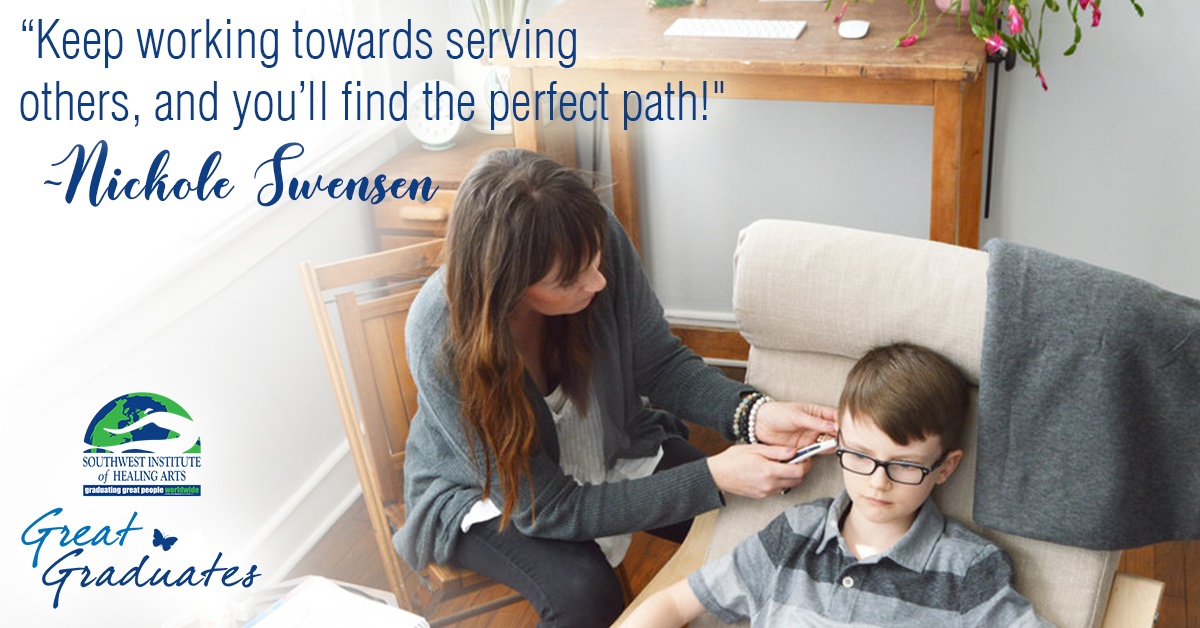 Yet, it was in the midst of her nutritional studies in SWIHA's Mind-Body Wellness program that Nickole learned about auriculotherapy for the first time. Immediately, she was hooked. "I found it amazingly powerful, so I started using it on myself and my family," she says. "The energy and knowledge that instructor Cheryl Speen brought to my auriculotherapy class was unbelievable. I actually loved her class so much that I took it twice—just for fun!"
A Brief History of Auriculotherapy
For the uninitiated, auriculotherapy—which is sometimes referred to simply as "ear acupuncture" or "ear reflexology"—uses the micro system of the ear to address physical, emotional, and mental wellness issues within the whole body. It originated from traditional Chinese medicine and was brought to Western attention by French neurologist Paul Nogier in his 1957 publication of the Treatise of Auriculotherapy, which expanded Chinese charts into a comprehensive map of the external ear and the parts of the body to which it corresponds.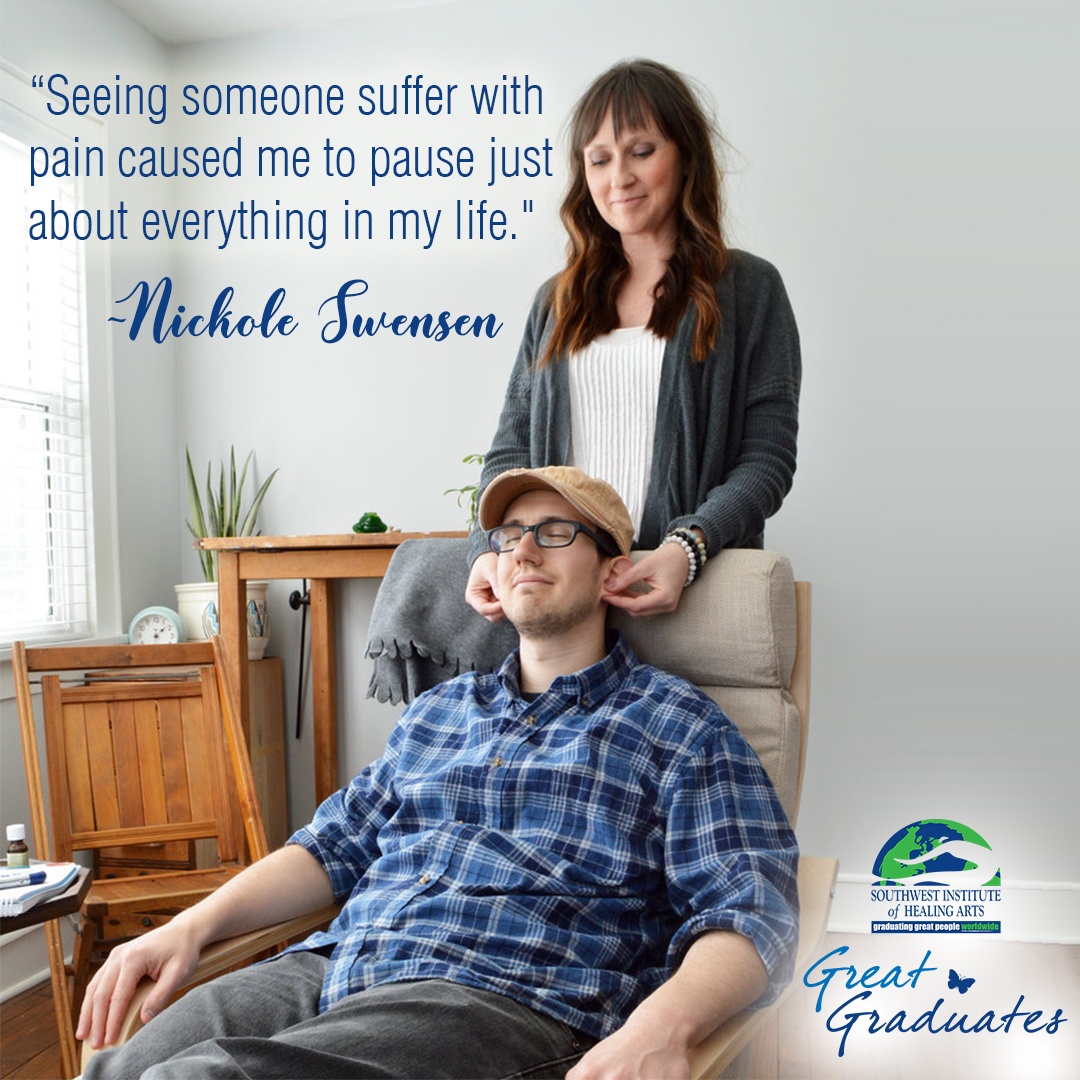 Auriculotherapy involves stimulation of particular points of the ear—and, thus, stimulation of the central nervous system—in order to address and regulate troubled areas of the body and initiate the healing process. As opposed to many other treatment methods, it's an effectively painless technique which only involves slight sensation in the area of the ear being touched; in fact, it is widely lauded for being able to cause quick, easy relief from pain! It's now used by acupuncturists, naturopaths, chiropractors, and holistic wellness practitioners as a means of treating addiction, emotional troubles, physical problems, and much more.
Up to Her Ears… In Healing!
After graduating from SWIHA, Nickole immediately began to funnel her holistic nutrition knowledge into working directly with clients. Yet, another twist in her journey—this time, a far more difficult one—lay just ahead: Nickole lost her father to cancer.
"Seeing someone suffer with pain while having no helpful alternative caused me to pause just about everything in my life," she reflects. "I started to want to help people with more than just their eating habits. I really didn't know what I could do to assist in a more hands-on way, so I meditated on it. I quickly realized that I needed to share my knowledge and gift of auriculotherapy healing with others."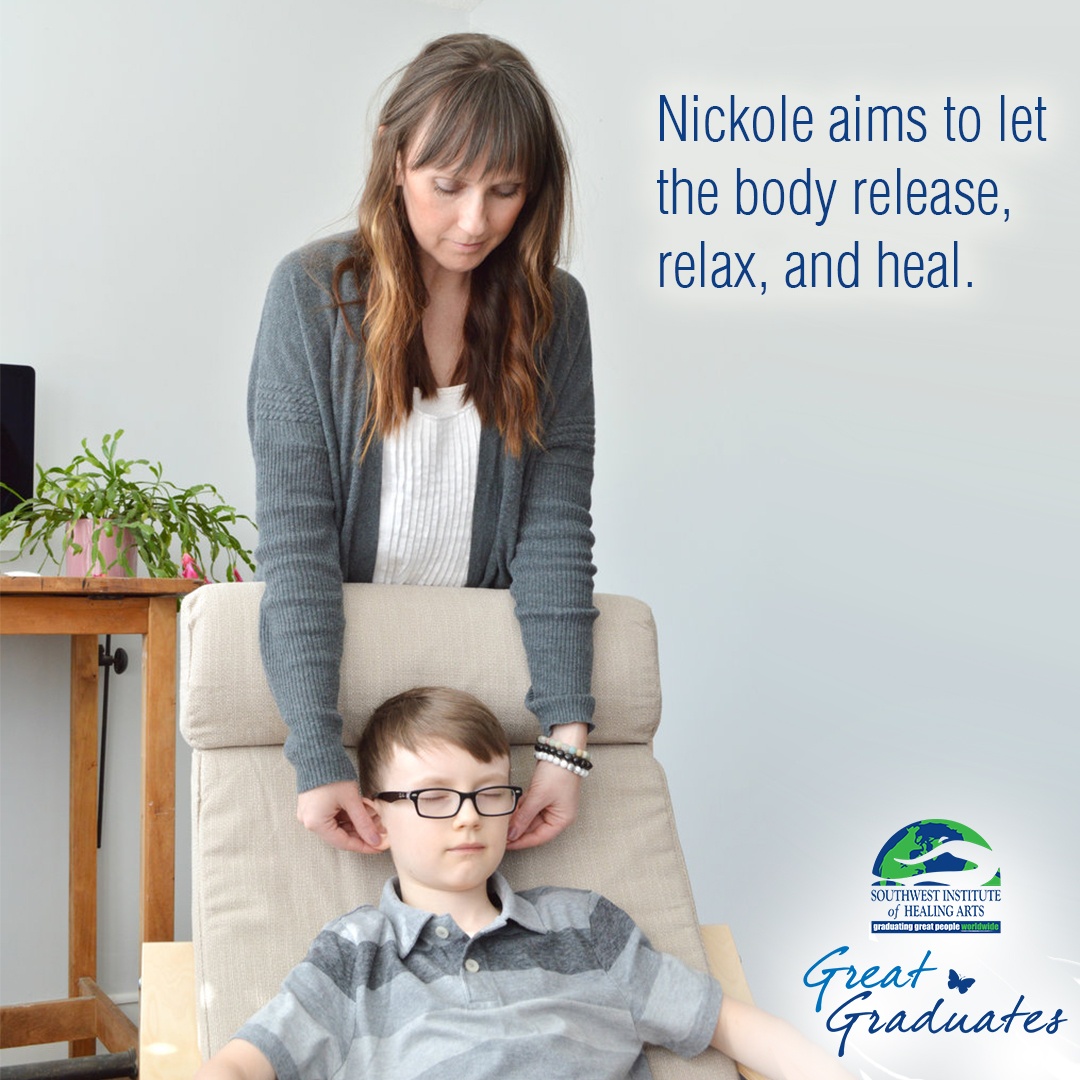 Thus, Nickole's holistic business—Be Well. Be Happy.—was born, through which she offers auriculotherapy treatments to help unblock dysfunction and let the body release, relax, and heal. Her clients come to her with health conditions like back pain, anxiety, migraines, and stress, and Nickole responds with a combination of techniques that help heal both their bodies and minds.
And help them, she has! "To be able to aid clients when other modalities haven't worked is a blessing," she shares. "I feel so honored to be chosen to heal and serve others. I'm forever grateful to SWIHA for giving me the tools to make this possible. To learn about holistic healing modalities in an environment like that is so important because you not only better yourself when going through the program… you also are ready to help others when you complete your studies. It's really the most life-changing experience."
Despite all the turns in the road—or, perhaps, because of them—Nickole has found her greatest capacity to service, and she recommends that others do the same. "Keep working towards serving others, and you'll find the perfect path to take your passions," she assures future SWIHA students. "And once you do… follow it!"