Have you ever stopped to take a picture of your food before eating it? And it just looked so good that you couldn't eat it?! That is how this yummy dessert will make you feel. Eating vegan has never been more delectable! This Vegan Chocolate Cream Pie will make your mouth water and your tummy rumble.
This recipe is really simple to make, doesn't take a lot of time, and is for everyone to enjoy! Read the recipe and fun facts below to impress yourself and your future guests!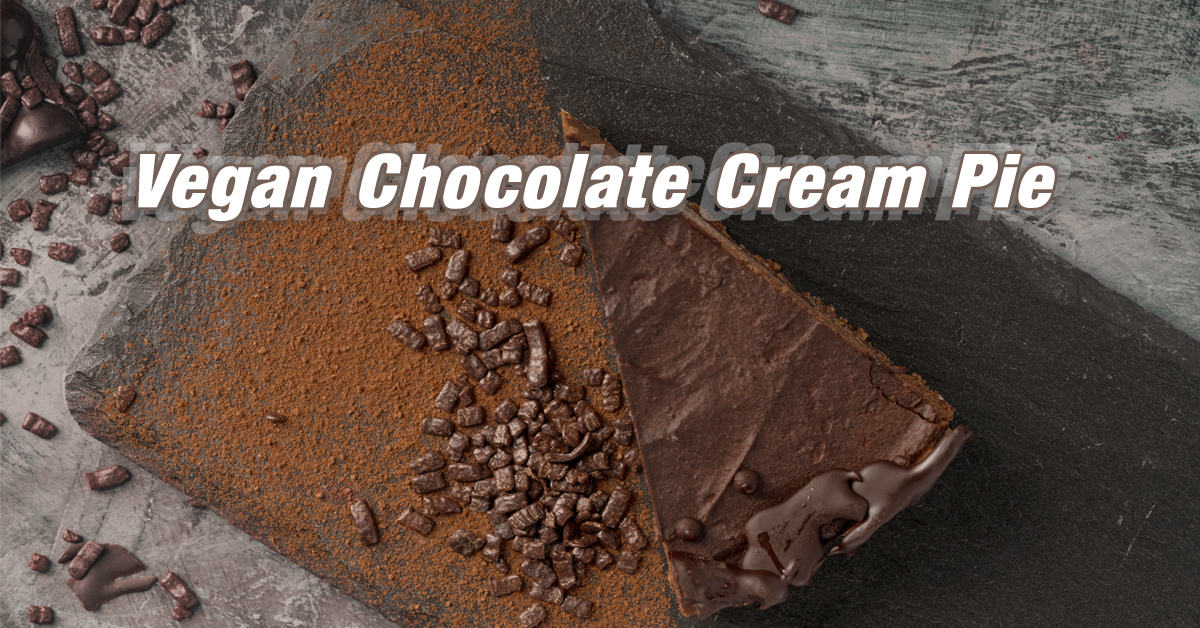 Vegan Chocolate Cream Pie
Serves 6-8
CONTAINS SOY
Crust
2 cups raw pecans

1/4 cup date sugar or maple sugar

1 1/2 tbsp coconut oil

1/2 tsp sea salt
Filling
2 1/2 cups vegan dark chocolate chips (or more if you want the pie sweeter)

2 packages organic soft silken tofu (260g packages)

1 tsp vanilla extract or 1 vanilla bean, scraped

Pinch of sea salt
Crust
To prepare the crust, in a food processor, pulse the pecans and sugar until a fine meal.

Add coconut oil and sea salt, and pulse to combine well

Press and shape the mixture into the bottom of a 9-11 inch pie shell.
Melt Chocolate Chips
Preheat oven to 350°F (175°C).

In baking tray or shallow pan, pour in the chocolate chips and place in the oven to melt for no more than 3 to 4 minutes, or until melted. Be careful you don't burn them.
Filling
Blend in food processor until smooth: Tofu, vanilla, sea salt and melted chocolate chips.

Pour the mixture into the pie shell and chill for at least 20 minutes before slicing.

Interesting Facts about Eating Vegan:
Vegans spare the lives of about 30 animals each year.

A plant-based diet increases metabolism.

Vegans live longer. The Mayo clinic reported that switching to a plant-based diet could add up to four years to your life.

Vegans are less likely to die from heart disease.

As of January 2021, 14% of the world is vegan.

Being vegan cuts your carbon footprint in half.

Vegans have lower risk of type 2 diabetes and cancer.

A Vegan diet can reduce pain from Arthritis.
A vegan diet may provide a wide array of health benefits, so why not have fun with it! Recipes like this and other food experiments are fun ways to treat yourself. Big shout out and thanks to raw food chef and SWIHA Holistic Nutrition Instructor, Janet Lee, for providing this delicious recipe! Watch the video below to learn more about what our Holistic Nutrition programs are all about from Janet herself.
You are also invited to our complimentary webinar with Shelley Tom on June 15th at 10 am (Arizona time) to learn more about our Holistic Health & Wellness Coach program (HHWC). This is an online diploma program consisting of 755 hours that can be taken from anywhere in the world, designed for individuals who are motivated to lead healthier lives, be centered in their wellness, and inspire others to do the same through a career in Health and Wellness.
This program aligns with the standards of the National Board for Health and Wellness Coaching (NBHWC) and prepares graduates to work with clients to support self-directed and person-centered changes that promote a sense of ownership and lasting change.
As you progress through this program, you will master foundational holistic nutrition topics, psychology fundamentals, mindfulness techniques, entrepreneurial business development, professional communications, and marketing. Choose from one of two paths: Mindfulness Facilitator or Natural Foods Culinary Specialist.
Our Other Available Nutrition Programs Are:
Holistic Nutrition Specialist - 200 Hours Online or On Campus
Whole Foods Culinary Specialist - 100 hours On Campus
What's your next step? Schedule an Appointment with an Admissions Coach by calling 480-994-9244.