Pamela Borowoski once had a long struggle with both her self-worth and spirituality. She tells us: "In my younger days when I followed a different religious path, I attended Bible College and went on to become a local and overseas missionary and I thought that, since I was no longer in that faith, that I'd never find a spiritual calling like I had before."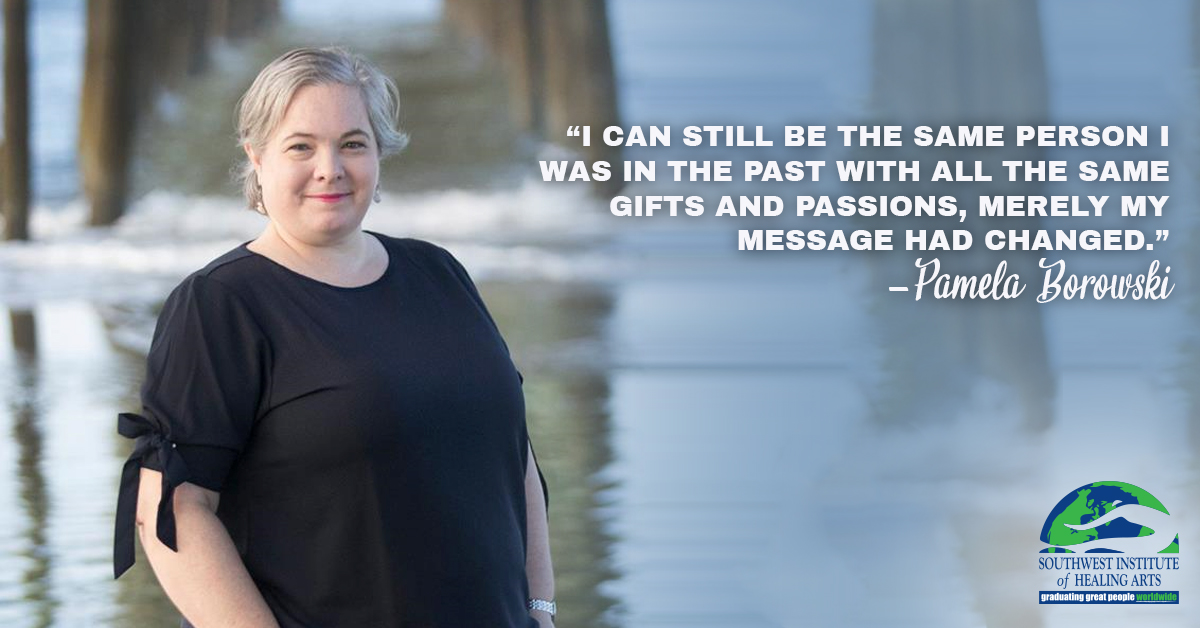 As she began the slow process of healing from her traumas and heartaches, she focused her energy on her family. Yet, she still found herself barely getting by.
"I was disabled," Pamela shares, "I was so anxious and depressed I could not drive. I barely left the house. I was in pain physically, emotionally and spiritually."
Emerging from the Darkness
Pamela eventually began to love herself, learned to set boundaries and once again cared about her own health. "The more I healed, the more I wanted to help others who might be in similar situations," she says, "and that's what brought me to SWIHA. I decided I had gotten to a point in my life where my story would impact others because they could see someone who crawled from the darkest pit and had found happiness and purpose."
Inspired by her mother's own personal transformation through hypnosis, Pamela enrolled in the Integrative Healing Arts Practitioner program and chose Hypnotherapy, Life Coaching and Spiritual Studies as her specialties.
"I was in my mid-40's when I decided to go back to school. I struggled with self-worth, my spiritual path, and feeling empty in my life for several decades," Pamela discloses, "When I gave my homily during Ministerial Duties and Homiletics, I felt like I'd found my calling."
She continues: "Giving my homily showed me that I can still be the same person I was in the past with all the same gifts and passions, merely my message had changed. It was incredible."
The greatest lesson Pamela learned at SWIHA was during her Prayer and Meditation class: "I learned that prayer is something that can be done for any spiritual path. I came into that class with a bad taste in my mouth for prayer, as I had only ever seen it abused in the churches I'd been to. I was not that faith anymore and I wanted nothing to do with prayer."
Because of that class, Pamela now connects so deeply with prayer that she plans to write a book about pagan prayer so that others can see how important and life-changing it can be.
To future SWIHA graduates, Pamela urges: "Pay attention to all the business classes!"
"It is hard work," she says, "and it will pay off when you start your own business. Don't skimp on that work. Put in all the work now so you have it done for the future. Also, download every file, including the files of the weekly lessons so that you have them in the future as a wonderful resource."
Shining Her Light
Pamela has now fully stepped in her calling as a pagan minister. She founded 3 Rays of Light LLC in 2018 and recently planted her roots by renting an office. In addition, she started a pagan fellowship called Awen Grove Fellowship that meets once a month, runs the Midlands Red Tent and maintains an active Facebook group for women focusing on wellness of mind, body and spirit.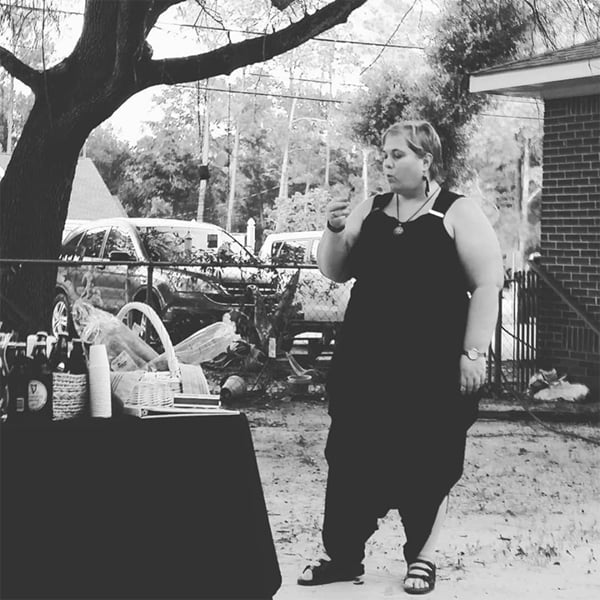 "My inspiration of starting 3 Rays of Light was first to bring healing to women, to teach women to step into their own power and become more resilient," she says, "I learned very quickly that I needed to expand to include men as well. My heart is still with women's empowerment, and I do many things such as women's retreats and my private Facebook group for women, as well as Red Tent, but I also facilitate a monthly Full Moon Ceremony open to the whole family and see many male clients for hypnosis."
Pamela's services include Past Life Regression hypnosis, spiritual coaching, psychic intuitive readings, toe readings, celebrant services and mentorship. She also teaches many workshops and classes on topics such as Tapping, Spiritual Gifts, Embracing Death, Shadow Work, Pagan Basics, and Resilience Training.
"My Full Moon Ceremonies are open to the public and every month I've seen growth because people crave ritual and ceremony," Pamela shares, "I regularly have over forty people come each month."

She adds: "All the skills I learned at SWIHA help me on a daily basis and I now have many ways to help my clients. It also gives me so many ideas for workshops and instruction. I see lives change through my spiritual coaching and hypnosis work. I feel like I am making a difference in people's lives, and I always said that if I could change one life for the better, I'd feel like all the hard work was worth it."
Pamela is also thriving in her personal life!

"I have moved out to the country on to three acres of land," she tells us, "My sisters and parents are either living beside me now or in the process of moving out here, so we'll have a family commune of ten acres. On my acreage I have goats, a Medicine Wheel garden, a newly planted orchard and vineyard, and a field of lavender. I am in the process of building a labyrinth. It is my personal sanctuary!"
"I am incredibly thankful for everything I learned at SWIHA," Pamela says, "It changed my life personally and made me a stronger, more resilient person and prepared me to step into my field as a professional with knowledge of numerous modalities. SWIHA enabled me to truly change the lives of those I meet."