Spiritual awakenings don't come easily. Just ask Stephanie Gangi, who in 2010 found herself facing exactly the kind of trauma that is so often the hallmark of emergence from a metaphysical slumber…
After a three-way car accident left her with a severe heart arrhythmia, anxiety, panic attacks, and depression. Stephanie was determined to eliminate the source of the emotional and physical chaos within her life. Although she had long been fascinated with the inner workings of the mind and the way that it dictates human behavior—even graduating in 2012 with bachelor's degree in Psychology from Arizona State University—she felt that an intellectual approach was simply not comprehensive enough to resolve her distress.
The Inner Workings of the Soul
Instead, she sought out Alex Hermosillo, an energy healer and medicine man local to Phoenix, Arizona. In Alex, Stephanie found a kindred spirit. Much like Stephanie, Alex's own path was fully awakened through a traumatic medical event which landed him in the hospital. While bleeding internally in the emergency room, Alex had a near-death experience in which he journeyed to Heaven and learned, as he describes, that "there is no such thing as death—only a new beginning." He awoke with the sudden, seemingly miraculous ability to heal people and has since performed over 7,000 healing sessions, treating clients with afflictions like cancer, depression, asthma, migraines, heart disease, and stress.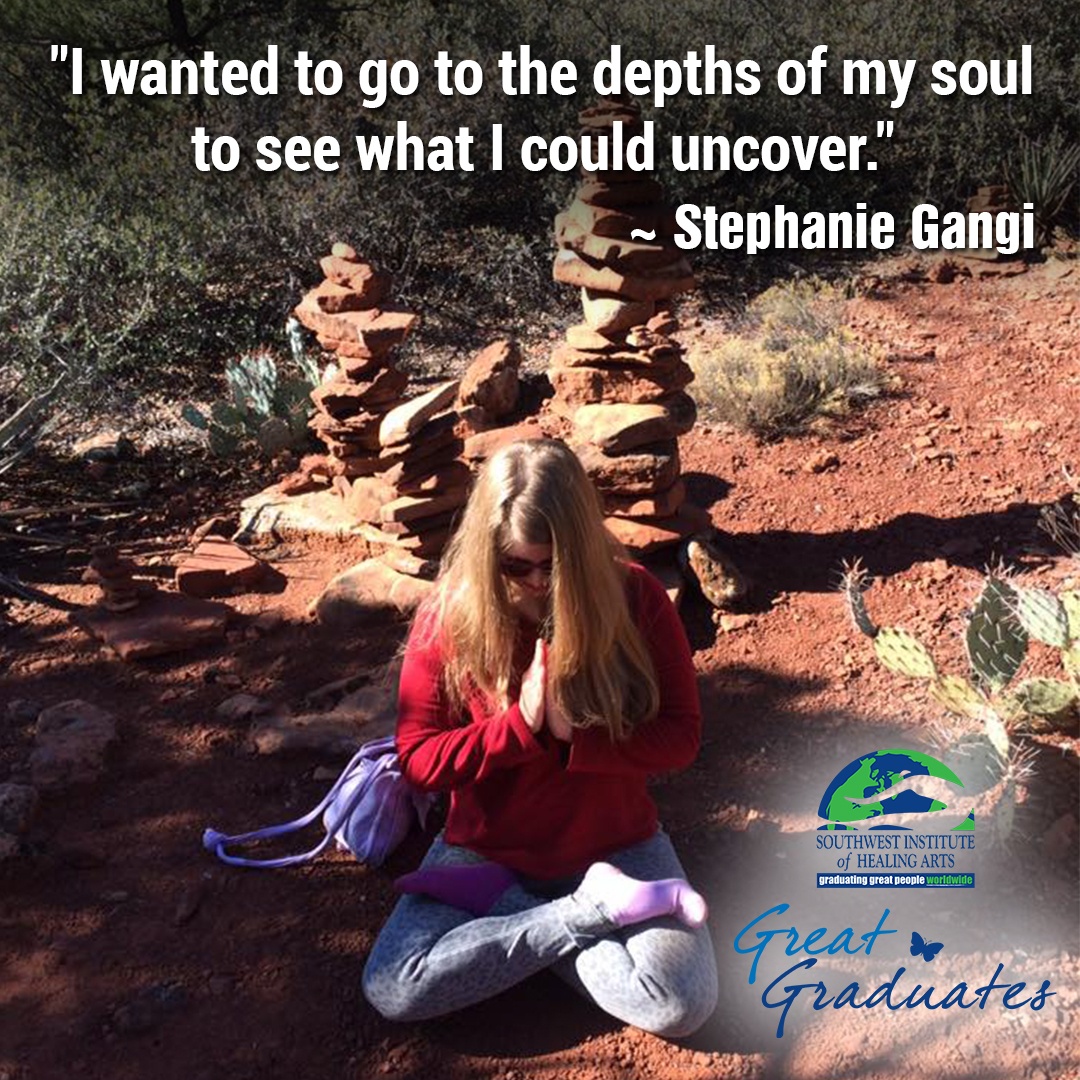 To Stephanie's shock, it took a single healing session with Alex to realize what was truly happening within her soul. She immediately decided to take his Master of Energy Healing (M.E.H.) classes with the hopes of better acquainting herself with energy healing. "I was activated," she proclaims. "This was the start of it all for me—mind, body, and spirit."
At the same time, Stephanie also decided to step up her understanding of holistic wellness. She began juicing, learning about raw food nutrition, developed an interest in crystals, and learned to read tarot cards. "Everything just exploded upwards," she remembers. "Kundalini began to rise. I wanted to go to the depths of my soul to see what I could uncover. My curiosity was—and still is—a never-ending quest for knowledge and experience to facilitate my own self-growth, spiritual development, and soul integration."
The Golden Ticket: A Career in Massage
Six years after the accident that rocked her world, Stephanie took the natural next step in her holistic education: she enrolled herself in the Massage Therapy program at SWIHA.
"I chose this amazing program because I wanted to experience the healing touch of massage for myself and others," she shares. "Helping people unlock layers within themselves by means of deep relaxation and being present with them is so satisfying to my soul. I really feel it is my life purpose to serve others in this way. Massage therapy is the golden ticket to the door of new possibilities!"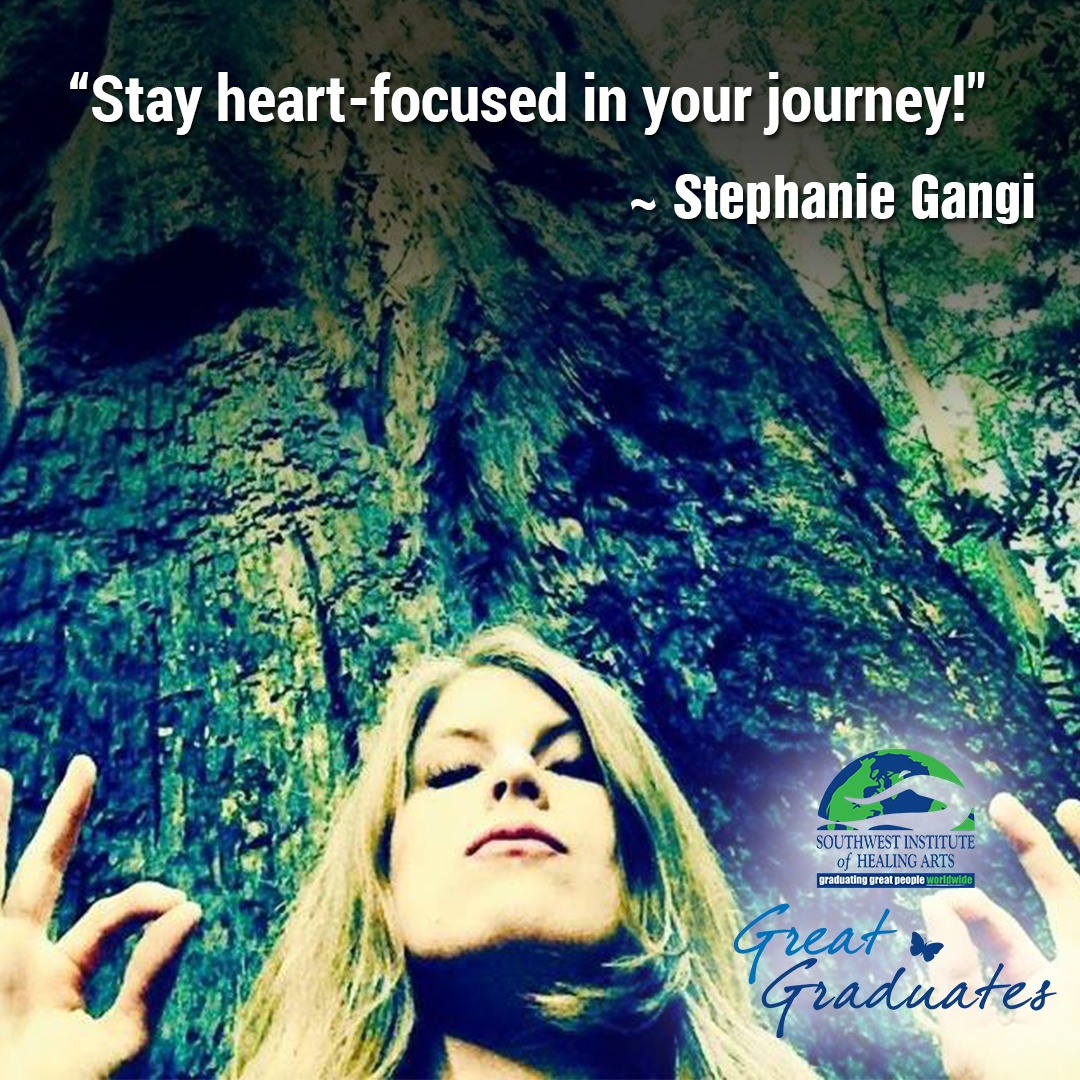 During her coursework, Stephanie studied under Michele Spann, Suzie Mclaughlin, Jimmy Gialelis, Pam Field, and Gary Strauss—instructors who she remembers as incredible, heart-centered people. She took courses in Polarity, Cranial Sacral, Auriculotherapy, Emotional Acupressure, Aromatherapy, and Tarot. Her favorite class, however, was her introduction to Swedish Massage. "This is partly because it was my first class," she confesses, "and partly because it was the setting in which I met so many amazing souls—including the love of my life, Bryan Friedman. I wasn't expecting to fall in love at school, yet I did! The universe works in unexpected ways!"
A Smiling, Stunning Soul
Now, as a graduate, a licensed massage therapist performing chair massage around the valley, and the owner of her own business, Soul Smiling, she couldn't be more enthusiastic about the direction her life has taken. "I am actively networking with others, building connections, and laying strong, solid foundations for what I envision long term for my business," she says. "I am also taking up Kundalini yoga more intensely, exercising, eating well, and reflecting often on the woman I have become. I am very proud of myself for the huge steps of success I have made so far."
While Stephanie currently offers a variety of massage therapy services (including Swedish, deep tissue, hot stone, myotherapy, myofascial energetic, and aromatherapy-infused) as well as cranial sacral therapy and intuitive readings through Soul Smiling, she has exciting plans for expansion in the works. With a little more training, Stephanie has her sights set on integrating shamanic work into her practice, and her self-described "grander vision" is to one day create her own healing retreat center. "Going to SWIHA brought met to new soul vibrational levels, took me outside my comfort zone, and taught me to face my fears and go after my dreams," she states. "It has been the most powerful stepping stone of my life so far."
Regardless of where life takes her—and where she takes it!—Stephanie will certainly find success. The key to her happiness now lies in her commitment to the destiny awaiting her. "Stay heart-focused in your journey, even when you feel frustrated with life," she affirms. "Breathe. Let things unfold the way they need to. You are blessed beyond measure."