For Nicole Fonovich, life was looking increasingly bleak. Born with two autoimmune diseases, a softball-sized fatty benign tumor between her shoulder blades, and a degenerative disc ailment, Nicole was struggling to tread the gray waters of her faltering health. Not only were her maladies causing her immense physical strife—including two surgeries on her lower back, another two surgeries to deal with the tumor, and a spinal fusion—they were also creating immense personal and emotional loss in the form of two miscarriages.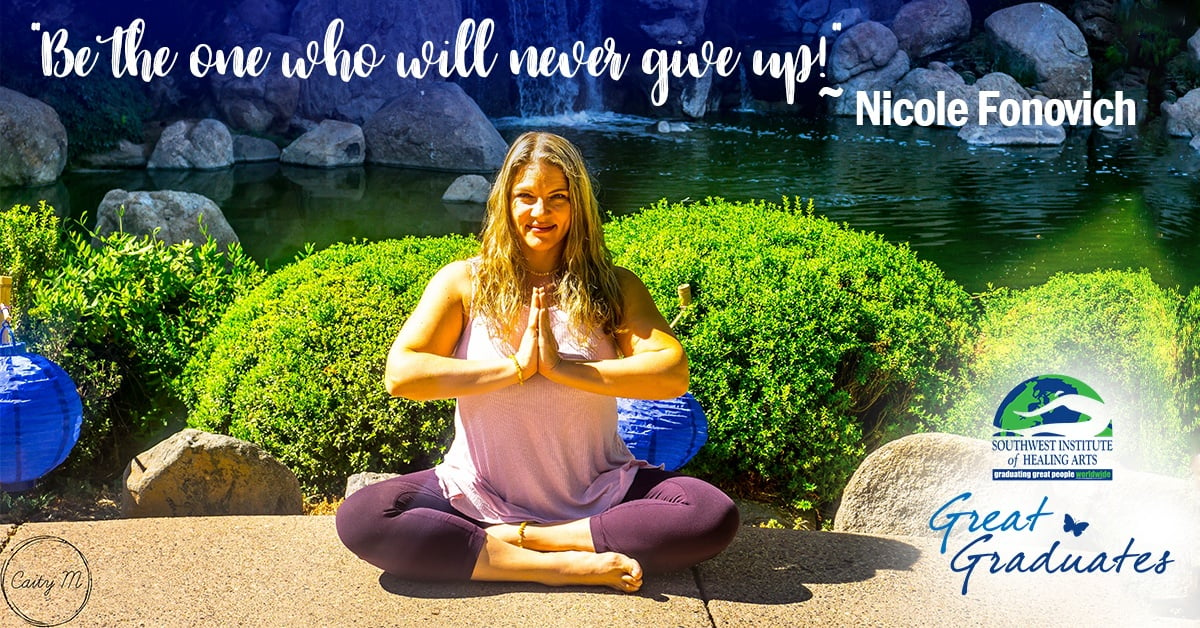 Facing the Pain
Throughout these struggles, Nicole pushed onward, determined to forge a meaningful future for herself. She pursued a Bachelor of Arts in Leadership and Advocacy at Kendall College and went on to receive her Master's in Educational Policy and Leadership at Marquette University. She worked to help students achieve their educational dreams for over a dozen years, the last three of which were spent as the Director of Financial Aid at Touro University, an osteopathic University in Vallejo, California.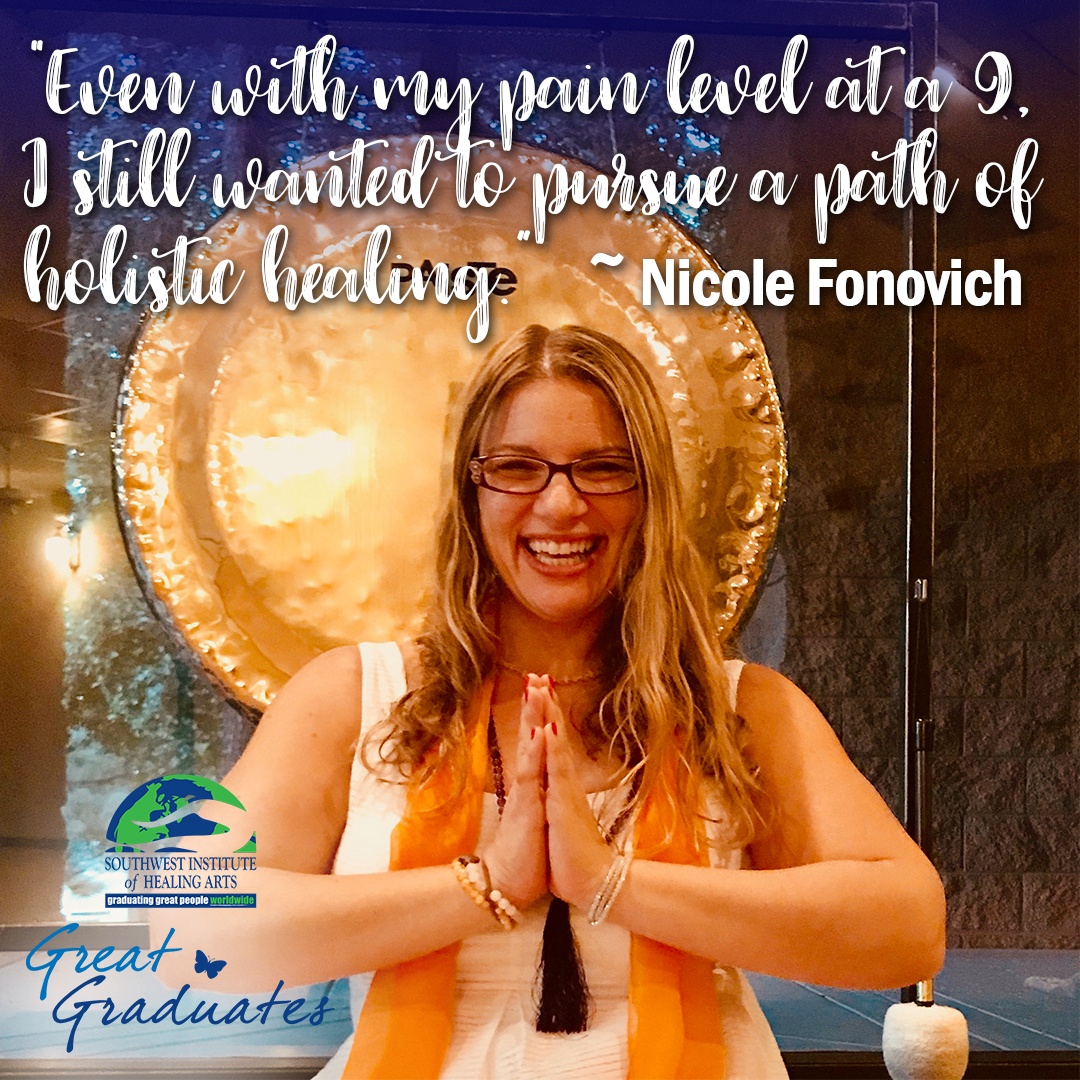 Still, the tremendous value she was adding to the lives of others couldn't resolve the turmoil raging through her body; the pain was simply too much to bear. "I was not sure that I was going to make it past 40," Nicole remembers, "and even if I did, I was uncertain about the quality of life I would have." Losing her father to cancer was the final straw—a loss so colossal that it pushed her, after years of nearly drowning in hurt, to take the first step forward on her journey toward healing.
With change on her mind and health on her heart, Nicole approached her doctor with a plan: to enroll at SWIHA and gain an education that would assist her in getting better. Although she had just been diagnosed with another three slipped discs in her neck, Nicole's doctor decided to give her his blessing. "He saw the passion and determination in my eyes and told me he supported my decision," she recalls. "He knew how much I loved yoga and how it had been such a vital piece in my mental, spiritual, and cardiovascular health. Even with my pain level at a '9,' I still wanted to pursue a path of holistic healing."
A Woman on a Mission
When you live with chronic pain, medical mishaps don't exactly come as a surprise. In the midst of Nicole's bold pursuit of a Holistic Practitioner Degree at SWIHA, she suffered another slipped disk in her lower back. Rather than letting this bring her education to a screeching halt, she simply kept going. "I didn't let it deter me," she shares. "I never missed one class the entire time I attended SWIHA. It was my mission to learn everything I could to both help myself and help others with autoimmune diseases— those who might think surgery is the only option or who feel completely stuck in their lives."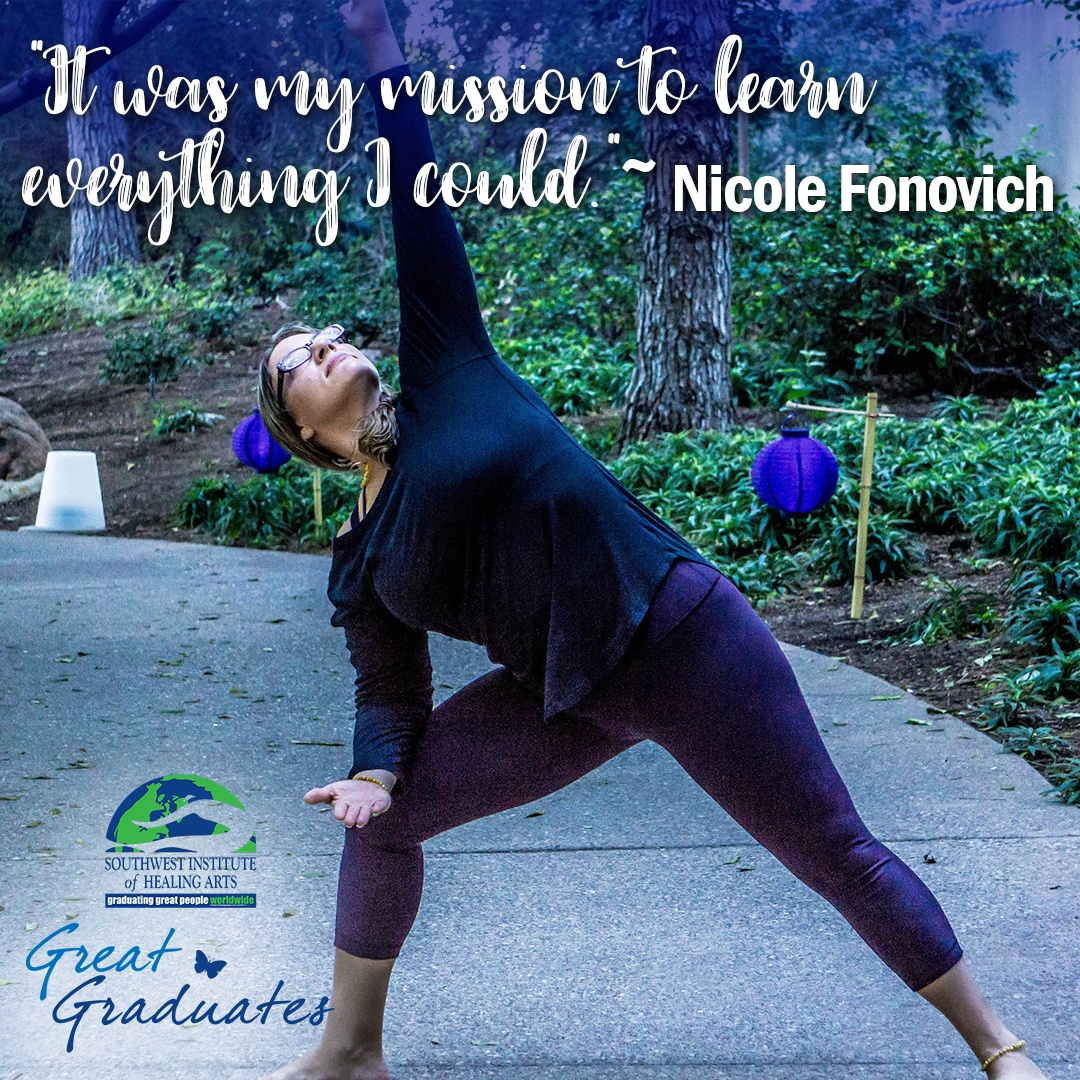 As part of her plan to further integrate the healing arts into her life, Nicole found herself under the yoga instruction of Kate Shipp, KC Miller, Duane Armitage, and Laura McKinzie— the latter who Nicole says changed her very opinion of what it means to be a yoga teacher. "Laura's poise, professionalism, tact, understand, and beautiful nature allowed me to see another side of teaching," she explains. "She is the kind of teacher I hope to become. She is a mentor, a guru, a supporter, and a role model."
Of course, it wasn't just the tutelage Nicole found at SWIHA that changed her life; it was also the modalities themselves and Nicole's whole-hearted willingness to apply them. "The program served as a suitcase of tools to help heal the past trauma that plagued by body for so long," she articulates. "I did the work that was expected of me… and then some. I went to all my doctor and therapist appointments, read, exercised, and learned how to meditate. The whole time, I never gave up hope of the dream of completing something that probably nobody else in my condition had completed before. If I could do it, I could be an example for so many other people who might be in the same boat."
A Three-Time Entrepreneur
By the end of her time at SWIHA, Nicole had successfully completed her degree—as well as 500 hours of Advanced Yoga Teacher Training and certifications in Hatha Gong, Restorative Yoga, Yoga Nidra, Transformational Yoga Coaching, Life Coaching, and Sound Healing!
Nicole is now the proud owner of Nicole Anne Yoga, through which she offers her services as a Life Coach, Health Coach, Meditation Instructor, Private Yoga Instructor, Holistic Practitioner, and more. Two of her favorite specializations to share with others are meditation and sound healing—modalities which she says have helped provide her with the most relief in dealing with pain. "During periods when I was not able to move at all, meditation and sound healing saved me from taking prescription pain medication, which I had been dependent on in prior years," she shares. "My pain level has been a steady '4' for months now. This is the greatest gift SWIHA has given me."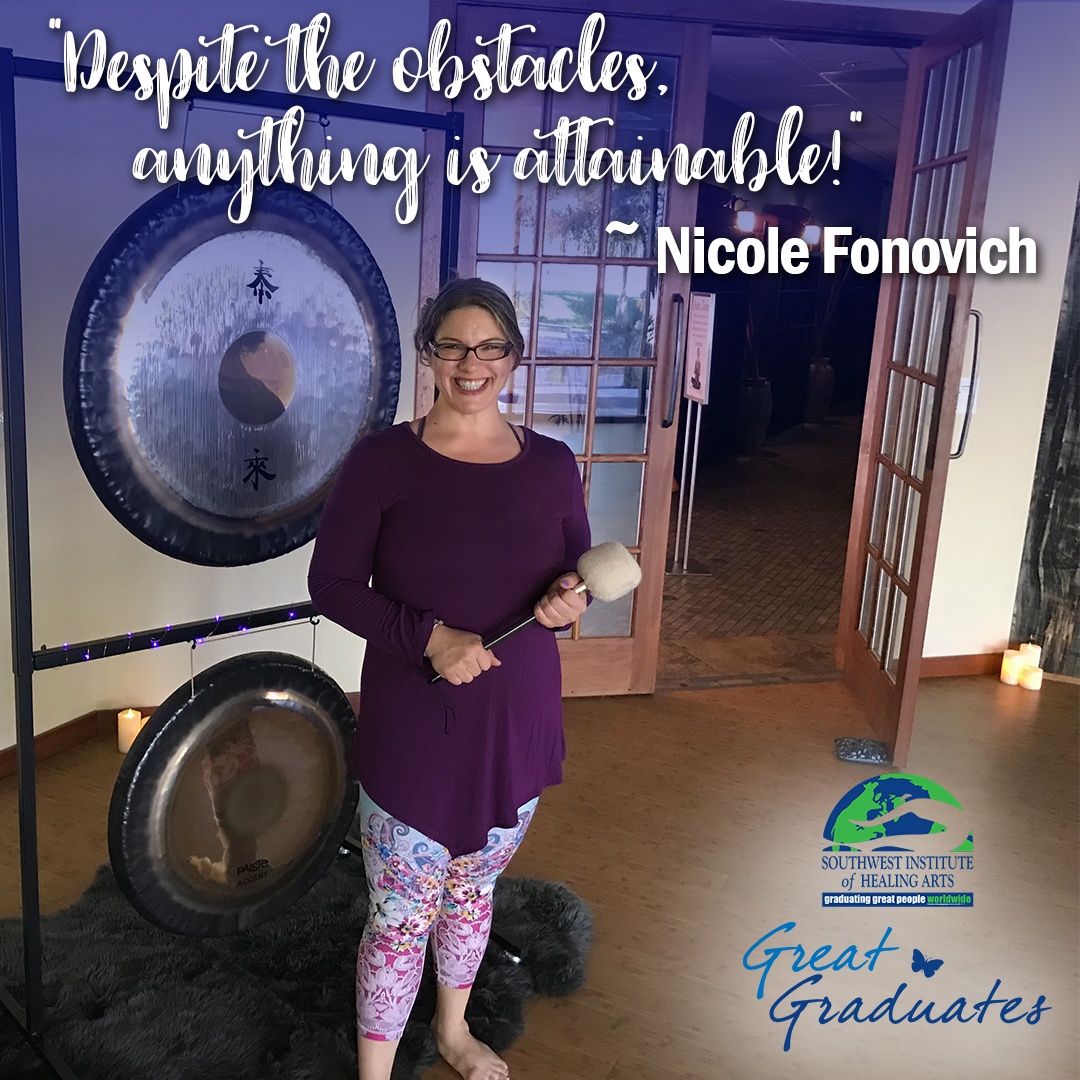 Yet, this was certainly not Nicole's first ride on the entrepreneurial merry-go-round! Nicole Anne Yoga is actually the third in a line of successful businesses started by Nicole, including N&L Enterprises, an Investment Real Estate Firm, and Luca Lashes, a multilingual children's book series which aims to help children be courageous in new or unanticipated experiences and which includes titles like Luca Lashes Moves to a New Home, Luca Lashes Visits the Eye Doctor, and Luca Lashes' Mommy Goes Back to Work.
On top of her vocational success, Nicole has also received Kirtan training and started a band with some fellow SWIHA students. "Music has always been a passion of mine," she discloses, "so it seemed only natural to yolk these all together. Using my voice, which I have found once again, and learning a new instrument, the harmonium, has been yet another wonderful addition to my life… and, eventually, the lives of others. We practice once a week and plan to have our first event sometime in June. Singing is yet another way to meditate, connect with others, and connect with the Divine. I'm not sure if it gets much better than this!"
At the end of the day, Nicole's greatest takeaway from her time retraining her mind, body, and spirit at SWIHA is one of perseverance: "You do not have to be the best," she explains. "Rather, be the one who will never give up. Despite the obstacles, anything is attainable!"