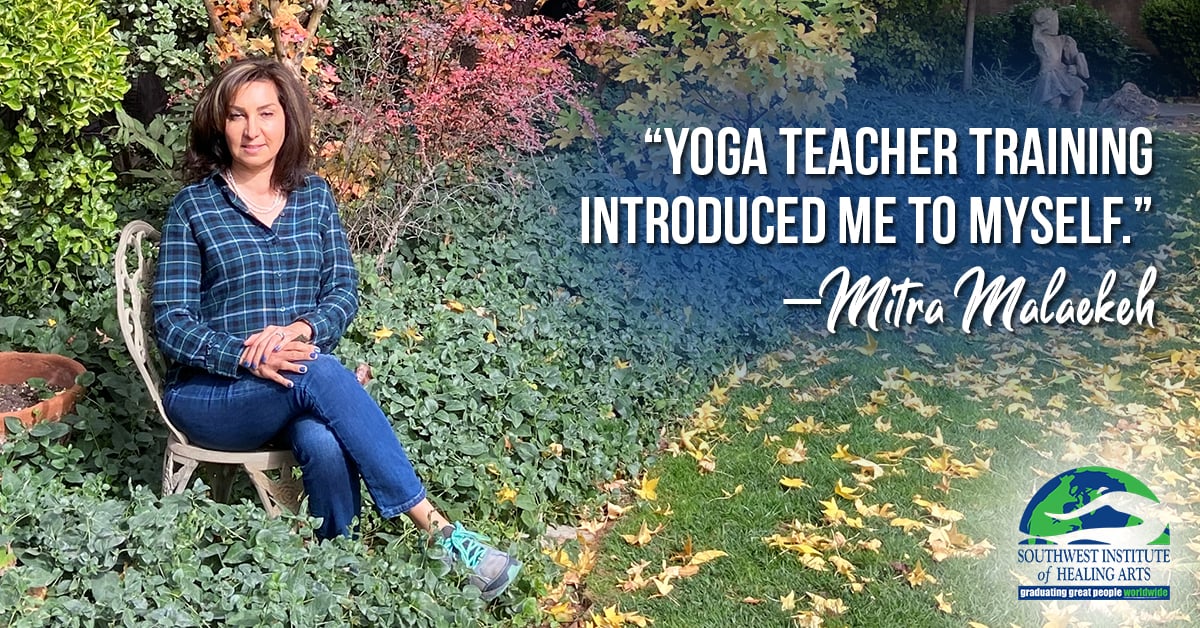 "I had it in my head that spirituality was against science," admits Mitra Malaekeh, who has 19 years of experience as a Microbiologist, "I came to understand that they are hand-in-hand for personal development and growth."
Mitra felt called to expand her understanding of the human experience beyond the physical and biological, and let her curiosity lead her to enroll in both the Life Coaching program and Yoga Teacher Training program at Southwest Institute of Healing Arts.
"I believe in the balance of body, mind and spirit," Mitra shares, "SWIHA directed me to this path. By taking the Life Coaching program I learned how to listen to others—sometimes that's the only thing people need. Yoga Teacher Training introduced me to myself, and helped me heal trauma that was stored in my body through years. By teaching yoga I can bring that healing to others."
She opted for the evening Yoga Teacher training schedule, where she learned Yoga Philosophy and practice movement two days a week. "After a long day at work, attending yoga classes felt totally relaxing, educational and right," she reports.
Mitra tells us: "My life has significantly changed by bringing balance to my right and left brain, using science and yoga at the same time."
She has adapted to this unique time by sharing yoga virtually: "I have been teaching yoga through Zoom since June of 2020," she explains, "I believe that in this time of uncertainty, being able to use the breath and connecting it to yoga moves and eventually using meditation has been tremendously impactful on me and my clients."
"Yoga has brought connection to my clients and reduced stress in their life. I am very thankful for ongoing support that I have received from SWIHA," Mitra adds.
"I have learned that life is an adventure. It doesn't have to look a certain way," she shares, "I would say the greatest lesson for me is how to use my breath to reduce stress and right away."
Her message for those feeling called to Southwest Institute of Healing Arts?"If you are looking to find yourself and find more meaning in your life, put yourself in any SWIHA program that calls you. You will come out transformed."