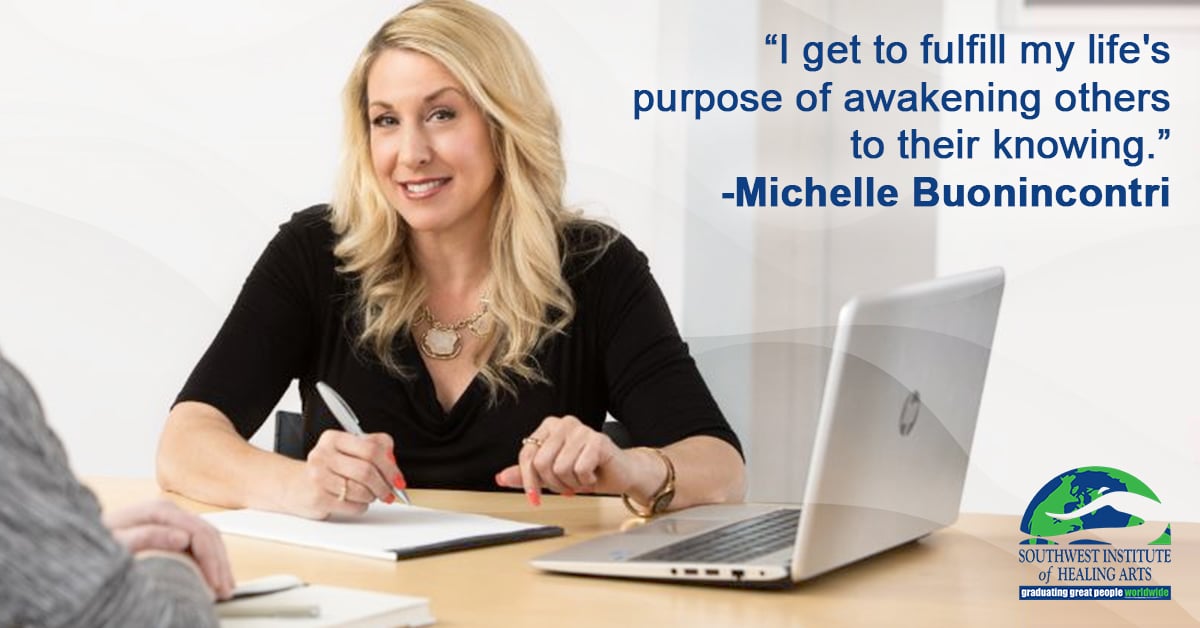 "I have always been an empath and someone that others sought for counsel. It was something that I pushed away for many years before attending SWIHA," Michelle Buonincontri tells us.

As in many stories we hear from our graduates, Michelle describes her discovery of Southwest Institute of Healing Arts as "serendipitous". She had moved from New York to Arizona and attended a Celebrate Your Life event on campus. "I immediately loved the curriculum and knew I had to do the Life Coaching program," she says.
It was a natural enhancement to her work in finance, where she is a Certified Financial Planner, Certified Divorce Financial Analyst, mediator and previously was an Investment Manager. Michelle explains that Life Coaching created the opportunity for her to pivot and transition her work into the realm of Financial Life Coaching.
"For me, Life Coaching is the essence of servant leadership," describes Michelle, "It's a humbling experience to support clients where they are in their life through active listening and questions, so that they may connect head and heart and come into their own knowing of what is right for them in any situation. It's a process that facilitates and strengthens the connection with one's own higher-self and intuition."
Through her business, Being in Abundance, Michelle now works with professional singles and couples, as well as women in transition (just starting a business, change of career, divorce etc.), that want to create financial sovereignty over their life. With her knowledge of Life Coaching, she assists her clients in creating a life vision, shifting limiting money beliefs, and managing their personal & business daily finances.
"Wealth is more than just money," she points out, "I help them create clarity & peace of mind."
Michelle continues, "I sincerely believe all areas of life are connected, as well as the past, present and future." She utilizes tools such as the Balance Wheel, Future Visioning, Enneagram, Ho'oponopono, examining one's money story, and using the four-step money coaching process developed by Deborah Price.
"Anything that promotes awareness, forgiveness and healing is a favorite for me!" she says, emphasizing that her coaching style aims to reframe the typical view of abundance.
Michelle reflects: "In lovingly supporting others through Life Coaching, I get to fulfill my life's purpose of awakening others to their knowing."