At Southwest Institute of Healing Arts, we dedicate ourselves daily to our mission of inspiring individuals to discover their gifts and graces and support them as they share their talents with the world in a loving and profitable way. It was this idea that resonated with SWIHA graduate, Melissa Richardson: "I didn't want to work for anyone else," she says, "I wanted to make my own way and chart my own course. I had my own ideas of how I wanted to participate and give to the world."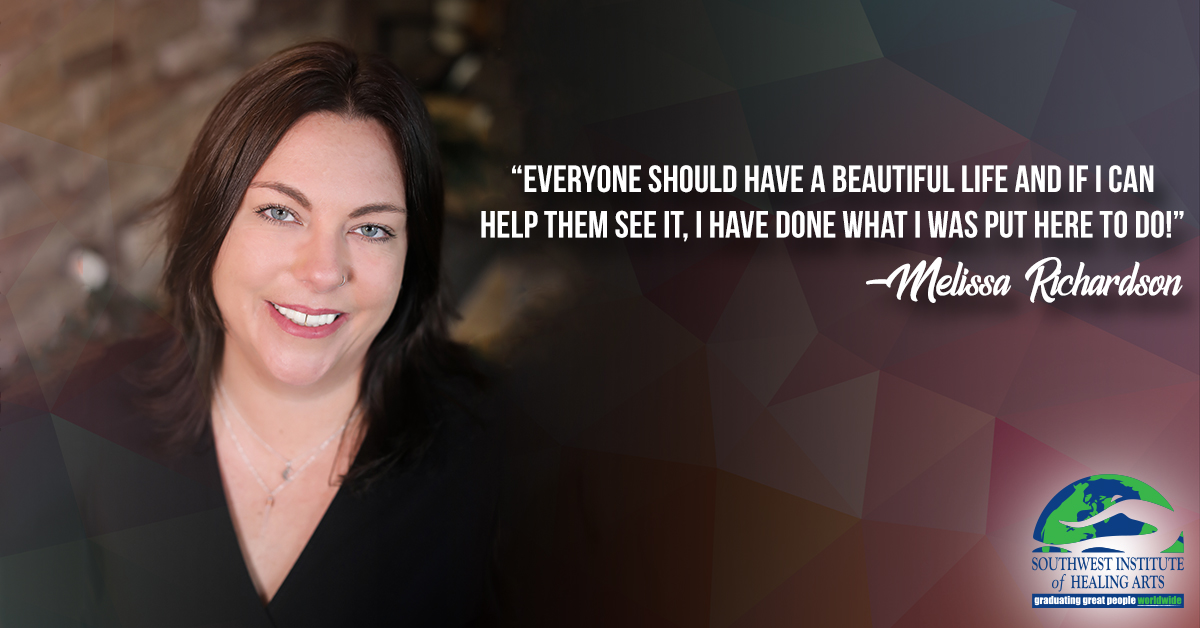 Melissa is a licensed Massage Therapist in Buffalo, New York. She loves what she does and one day realized that, while she was making a difference for her clients, she felt she was only helping them temporarily and in a physical way.
"We learn in massage school that muscle has memory," she explains, "This memory is more than physical. I knew there was a better way to help my clients with their pain. I just didn't know what or how."
We know that when you ask the Universe to serve, it answers! In Melissa's case, that answer came in the form of a SWIHA catalog in her mailbox.
Melissa tells us: "I signed up for the Mind Body Wellness Practitioner program with a concentration in Holistic Nutrition. I have always had a passion for helping others and this program has given me the tools to help others in everything. Mind, Body and Spirit!"
"Each one of my teachers and classes touched my soul in some way," she emphasizes, "The whole community had a part in shaping and guiding me into who I am today and increased my passion for helping others."
A New Way to Serve
Post-program, things moved quickly into place for Melissa, and though she has had to persevere through major roadblocks, she is all optimism: "[My life] has been on hold lately due to the COVID-19 virus, however, I am getting ready to launch my first Wellness Program in the coming weeks! My new business, a holistic wellness center, is starting to bloom and will offer Life Coaching, Mindfulness/Meditation, Holistic Nutrition Coaching and Toe Reading. These are all the modalities I learned at SWIHA and am excited to get them out into the world!"
Not only has SWIHA helped Melissa professionally, it's also profoundly impacted her personal life: "The greatest lesson I learned at SWIHA is that the healing process, while messy and scary, is worth it. You have to be willing to dive deep and let go in order to really heal. It is all a part of life's journey. Without it, you can not grow and bloom into the beautiful flower you were put here to be."
She credits her daily meditation practice and newfound awareness of observing versus judging for the biggest personal shifts.
"My defining moment and the gate to my right path was with my very first Life Coaching practice client. She is a friend and because I already knew quite a bit about her life, I was worried that I wouldn't be able to hold space for her like I should," Melissa explains, "Once we got to talking, all that worry just fell away. I found that I was more present with her than ever before, had zero judgment--which was always difficult for me--and really heard her. I was able to hold space for her and meet her where she was at. It was an amazing session for both of us! She still talks about it!"
She leaves us with this beautiful thought: "My journey has had a lot of bumps and detours. Some of them were amazing, and others were not so much. This is life. My life has been beautiful. Everyone should have a beautiful life and if I can help them see it, I have done what I was put here to do!"
You can check out Melissa's business on Facebook, or contact her by email.