Diversifying food choices is essential for keeping our gut's microbiome healthy. When our digestion is performing optimally, our bodies can absorb the maximum amount of nutrients from the foods we consume, thereby improving the performance of all of the systems that keep us healthy!
There is also mounting evidence showing that what we eat affects physical health and mental health. A great way to keep our mind, body and spirit happy is by consuming a rainbow...in the form of a salad, of course!
This dish is able to be completely tailored to your personal preference. Read the guide below for suggestions on creating your own Rainbow Superfood Salad!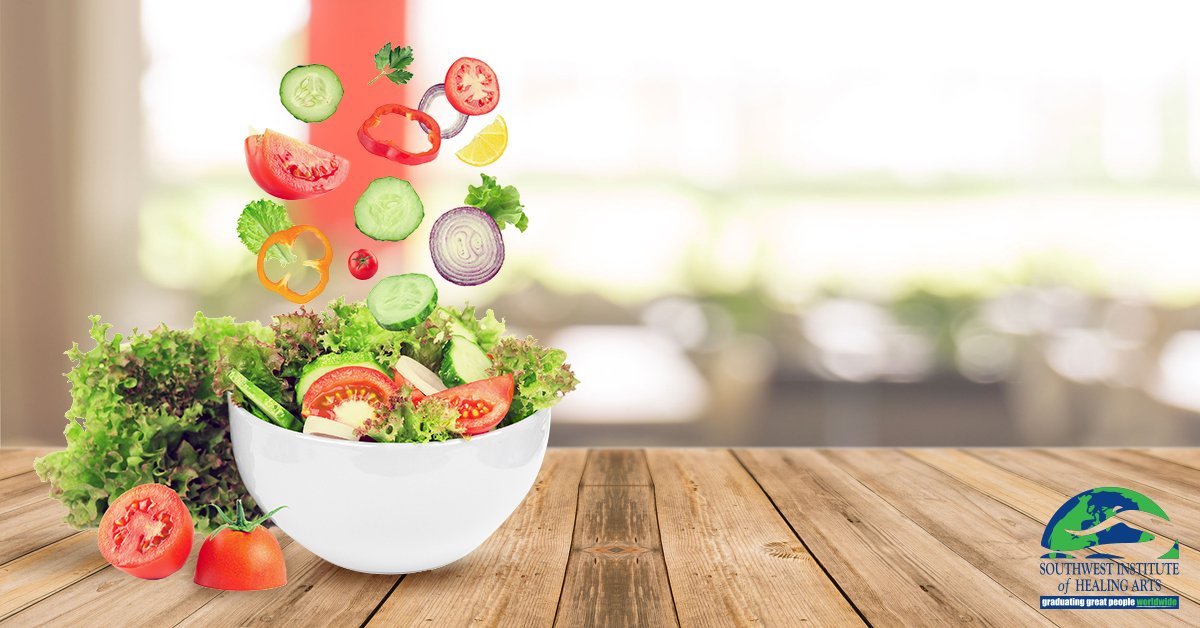 Begin With Green
Dark, leafy greens provide essential vitamins and minerals such as calcium, iron and folate. They are also a great source of fiber.
You can choose just one green for your base, or experiment with a mix! Some ideal options are:
Kale

Spinach

Collard Greens

Swiss Chard
There are also a number of green fruits and veggies that make excellent additions. Choose one or two:

Avocado

Broccoli

Cucumber

Zucchini

Peas

Sprouts
Keep it Bright With Orange and Yellow
Orange and yellow veggies are great for protecting our bones and vision! They are packed with benefits from beta-carotene, vitamin C and potassium.
Add a handful of sunshine-y goodness such as:
Julienned orange bell pepper

Roasted squash

Grated raw carrots

Diced mango

Golden figs

Steamed sweet potato
Pack a Punch With Red and Purple
Everyone loves a good kick in their salad, and many red and purple veggies add a perfect punch. They are also rich in antioxidants and phytonutrients, which are great for strengthening your immune system!
Toss in any of the following:
Raw or pickled red onion

Sliced raw radish

Grated beets

Sundried or fresh tomato

Roasted rhubarb

Strawberries

Pomegranate
Get Creative With Crunchy Toppings
Satisfy your senses by adding some crunchy goodness to your creation. Some delicious, healthy options (that are also packed with Omega 3's!) are:
Walnuts

Almonds

Cashews

Hemp seeds

Flax seeds

Pumpkin seeds

Sunflower seeds
Dress It Up With Homemade Dressing
The classic vinegarette ratio is three parts oil to one parts acid. Add a pinch of salt and pepper or fresh herbs, and you've got a great dressing that is fresh and healthy!
For oils, consider:
Olive oil

Sunflower oil

Sesame oil

Flaxseed oil
Some great acidic options are:
Lemon juice

Balsamic vinegar

Orange juice

Dijon mustard

Pomegranate juice
Want to Learn More Healthy Recipes?
Southwest Institute of Healing Arts' integrative and comprehensive nutrition programs teach you to bring about healthy lifestyle changes in your life and the lives of future coaching clients. We're not simply a nutrition school – we're an accredited college focused on mind-body-spirit health!