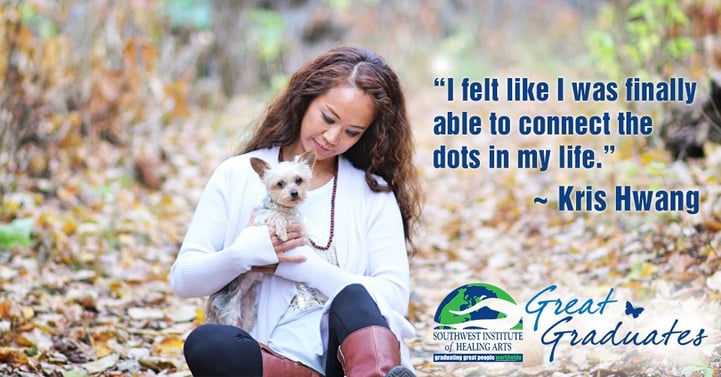 Way up in Anchorage, Alaska, SWIHA Graduate Kris Hwang comes from a family of entrepreneurs whose business has been running strong for 40 years. Growing up with that background had fostered a strong entrepreneurial spirit in her, as well as a desire to be her own boss and do what she loves on her own terms.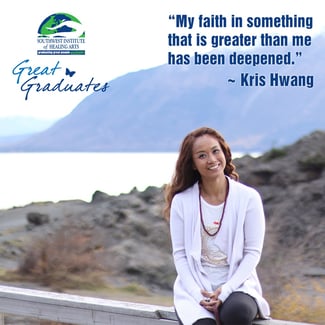 Kris' work as a bartender had left her feeling emotionally and spiritually drained. As an empath and highly sensitive person working in the service industry, it can be easy to give too much of yourself and take on the energetic and emotional baggage of your customers. Kris found herself seeking balance and looking to grow, and so she began practicing meditation exercises and nurturing a personal yoga practice— her first steps towards beginning a new chapter of her life.
In time, Kris happened across SWIHA's online programs. Initially she was interested in the Life Coaching Program. However, drawing upon her entrepreneurial roots, she realized that she wanted to provide a more diverse array of services to her future clients. That was when she decided to sign up for the Online Holistic Wellness Practitioner Program—now known as the Mind Body Wellness Practitioner Diploma—with specialties in life coaching, hypnotherapy, and nutrition coaching. At the same time, she signed up for a 200-hour Yoga Teacher Training Program being offered in Anchorage to round out her toolbox as a future holistic wellness practitioner. Being able to take classes online and on her own time allowed her to fit both these academic pursuits into her schedule while still working as a bartender and making a living.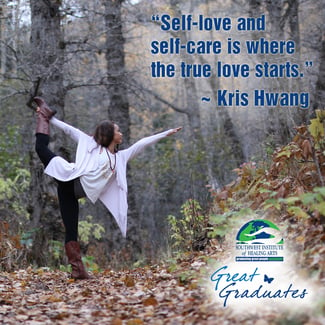 One of the things that Kris soon noticed was the synergies between the Mind Body Wellness program at SWIHA and her yoga training at home. "I was so amazed how the philosophy and the styles of teaching at SWIHA were actually very similar to what I was experiencing in my Yoga Teacher Training Program here in Alaska," Kris says. "It was a profound experience. I felt like I was finally able to connect the dots in my life as a complete person emotionally, spiritually, physically, and mentally." That feeling of openness and connection in all aspects of life is what makes Kris so passionate about Life Coaching. "Being able to stay open and receptive as a coach helps your clients to feel safe and comfortable enough to be inspired to heal and better themselves. "
These connections have helped Kris in her personal life, as well as in her business. "I have learned not to give away so much of my energy to people," she says, "I am more relaxed at work because I have learned what matters and what doesn't. I focus on being of service to people and accept that everyone that comes to my path is a spiritual assignment for me."
Speaking of her teachers and the online programs at SWIHA, Kris shares, "The support and guidance of my teachers at SWIHA brought out the best in me. Their strong feedback and efficient inspiring guidance helped me understand myself on deeper level. The relationship I have with myself has gotten stronger, my faith in something that is greater than me has been deepened, and I started to trust myself and let go of that which doesn't serve me in life. I have become closer to myself."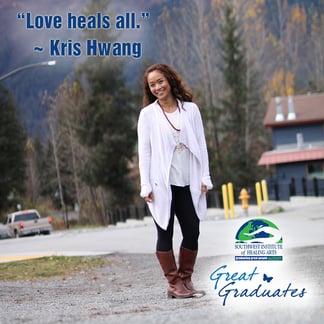 Now Kris is using her Mind Body Wellness Diploma to offer life coaching, nutrition coaching, hypnotherapy, and yoga through her business, Daily Wellness Training, LLC. Kris uses all of her modalities to help clients create meaningful change in their lives, working towards goals that they create together. Speaking of her coaching philosophy, Kris says, "I believe that we all have the answers within us; some of us just need some guidance along the way. That is where I come in. The skills I learned at SWIHA for how to really listen to your clients, the practices of how to make meal plans, and the powerful scripts for hypnotherapy inspire and motivate me to stay connected with myself and with my clients." Kris has been offering services for free since graduating a few months ago and is planning to continue to do so until the end of the year as one of the ways that she gives back to her community.
Kris says that for the first few weeks after she graduated from SWIHA, she felt bittersweet about the idea of being done with her program. SWIHA would be her first place to look for more training in the future: "Two years at SWIHA had brought me so much joy, emotions, new friends, and new opportunities," she reflects. "It was an absolutely humbling, amazing, and inspiring experience to be with great teachers and classmates. If I take healing programs again or further my study, it will always be at SWIHA. I have transformed myself as a whole person that connects with myself first, then with God, and then with other people. Always remember that self-love and self-care is where the true love starts, and know that love heals all."